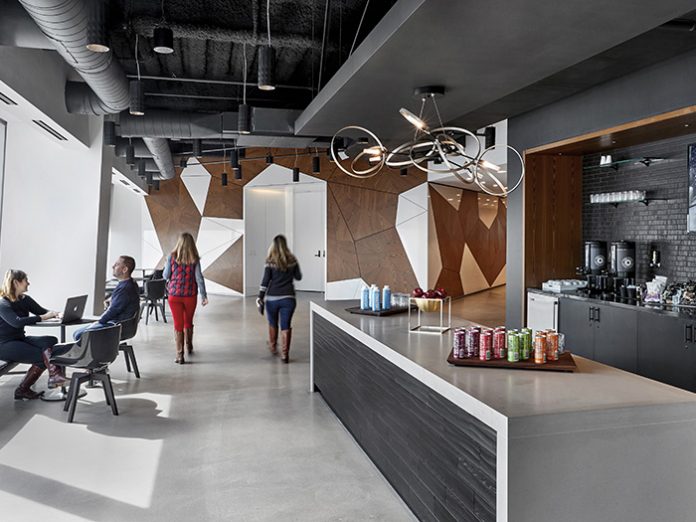 (US) – Thirteen years after the 9/11 attacks tore down the Twin Towers in New York City, the new One World Trade Center skyscraper opened on 7 November 2014. The tower is a 104-storey, US$3.9bn skyscraper and the tallest building in America at 1,776ft high.
A culmination of an amazing collaboration between the Port Authority of New York and New Jersey and The Durst Organisation, it was engineered to be the safest and most secure commercial structure in the world, as well as the most recognised and desirable office address in the world. Featuring three million square feet of office space spanning 71 floors, a breath-taking observation deck, grand lobby, and underground tunnel, the building is also LEED Gold Certified. Now more than 70% leased, the office tower includes a roster of more than 26 tenants representing business sectors including media, technology, financial services, advertising and biotechnology.
In February of this year, the opening of One World Commons was announced; a full service amenity space exclusively for the tenants of One World Trade Center. Located on the 64th floor, it serves as a world-class corporate and social hub, purpose-designed for workers to get away from the traditional office, but to also foster workplace creativity, collaboration, learning and development, and ultimately – a sense of place and community. The floor includes: conference, meeting and event rooms available for rent with a state-of-the-art social hub where people can congregate within the building, expanding their community, accelerating their learning and ingenuity and / or enjoying a game of pool.
In charge of bringing One World Commons to life was architectural firm Gensler; in collaboration with lighting design practice SBLD. Gensler has a long-running relationship with The Durst Organisation, having created various unique spaces together throughout New York City, and in 2014 Durst approached Gensler to develop a strategy to attract tenants to One World Trade Center. Through a highly collaborative design process, the architectural firm developed the strategy of creating a common amenity floor, open to all current and future tenants. The whole process from concept through to completion took around two and a half years.
"There were several parties involved in One World Commons and so our challenge was to meet and exceed each of the team's separate aspirations and input on the final design," EJ Lee, Principal and Design Director at Gensler New York, tells darc. "We also had to develop something that would attract prospective tenants – offering the best amenities design and experience possible at One World Commons. By working in a highly collaborative and transparent environment with each of these groups, we were able to fluidly define and receive the key parameters that made this project successful."
The design of One World Commons was an evolutionary process, with the brief changing several times – most specifically during the programmatic and planning concept phases. With each refinement of the program and plan, the look and feel of the design came more and more into focus, until Gensler was able to bring everything together into a single vision. Gensler's initial design concept was to create a space where technology meets fashion. Elegant materials are featured alongside raw finishes to create a very hospitable environment, inspired by some of the different industries occupying the tower. "The design concept played out really well and has exceeded the expectations of all parties involved," says Lee.
The decorative lighting specified for One World Commons played a primary role in defining the interior of this project. The first step was to define the lighting object and evaluate its performance before supporting architectural lighting was selected in the form of downlights, wall washers and so on. Decorative products from New York-based lighting brands Gabriel Scott and Stickbulb feature throughout the space, taking on somewhat of a modular system.
"The original gesture called for a single strand of Welles cubes to run the entire length of the space," Gabriel Kakon of design studio Gabriel Scott, tells darc. "As the project went on there were a few changes to the density of the chandelier and the option of breaking up the strands and creating clusters or clouds at random sizes and distances truly accentuated the organic nature of the fixture. The Gensler team seemed pretty set on a modular system. It appeared that their selection was motivated by the need for a dynamic or sculptural alternative to ordinary neon hallway lighting.
"It was nice to see the Welles reach its full potential as a modular fixture and branch out through the common space hallways. We've worked with Gensler a handful of times before, always on interesting projects. This one was particularly exciting, both due to the prestigious and iconic nature of the WTC site, but also given the scale and density of the fixture in question.
"The broken up clusters / randomness and overall asymmetry of the fixture come together in a strong and linear form offering both sculptural and lighting qualities."
This modular approach to the decorative lighting for One World Commons continued with the specification of Stickbulb fixtures, which was first approached by lighting designers SBLD Studio, who had an interest in certain designs from the Stickbulb X Collection. Two customised versions of the Truss chandelier were required – one elongated version involving six modules of the X concept inspired by hexagonal forms in nature, and another involving two modules. Additionally, several Sky Bang chandeliers from the standard collection were specified. "A studio visit was immediately required so that the lead Gensler designers, SBLD and client could view and approve the light output and quality of our designs," says Stickbulb's Christopher Beardsley.
"Up until this point X designs had only been offered with signature cast brass fittings but the interior specifications for this project called for polished nickel, requiring a new aesthetic direction for the hardware. A test sample of hand plated nickel proved very successful both in terms of finish and reflective light quality and resulted in a series of fixtures that the client was very pleased with."
"Both structural and mechanical elements dictated / limited the use of decorative fixtures in One World Commons to some extent," says Amy Ruffles of SBLD. "We like to give enough space around each decorative fixture so that the designed object and its ambient light can be appreciated. In some cases, the structure of the building, as well as mechanical ducts didn't allow enough space. Moving, lowering or relocating the fixtures was ultimately inevitable."
Kakon adds: "There were definitely some conflicting mechanical elements over the 50ft span. But the beauty of the Welles modular fixture is that by working with the architect's plan, we were able to locate every individual hanging point in order to clear all types of interference – mechanical, structural, decorative etc."
"Our collaboration with the lighting brands began as we discovered specific fixtures that we thought would be great in the space," continues Lee. "The Gabriel Scott Welles fixture was a critical element to the design, and maintaining its affect while coordinating with the existing and new architectural obstacles did prove to be challenging. We worked directly with Gabriel Scott to understand the precise flexibility we had in terms of the layout in order to accommodate our specific space constraints."
For SBLD this project was all about creating a welcoming, warm, comfortable space that you would find in a home, hotel lobby, clubs and so on, as SBLD's Attila Uysal explains: "We weren't looking for uniform illumination or high light levels, we were mostly interested in discrete pools of light.
"Neither concrete floor nor exposed ceiling were highlighted, the importance was placed on the vertical surfaces, transparency, furniture and decorative light fixtures.
"Bringing visible design elements and objects together is EJ's expertise and it was a pleasure to analyse selected fixtures for scale, light source and control in order to support the overall design. The LED light source allowed the design team to create a family of light objects."
For Lee, an amenities space such as One World Commons is a newer concept in commercial development and as such, the Gensler team wasn't driven by a specific baseline standard for how to design an environment serving multiple types of tenants. "This project allowed us to set a standard we are now seeing others follow."
"Office work environments have changed," adds Uysal. "The social aspect is as important as the work space itself. Comfortable, relaxing spaces that you can meet with your colleague or client and continue to work or entertain was a key focus of this project."
One World Commons was a truly collaborative effort with Gensler working closely with Convene, the operator of the space and The Durst and The Port Authority, which co-manage One World Trade Center. As well as this, Gensler's relationship with SBLD ensured a cohesive vision. Together the team created an exceptional space that supports how people work today and fosters spontaneous conversation and collaboration.