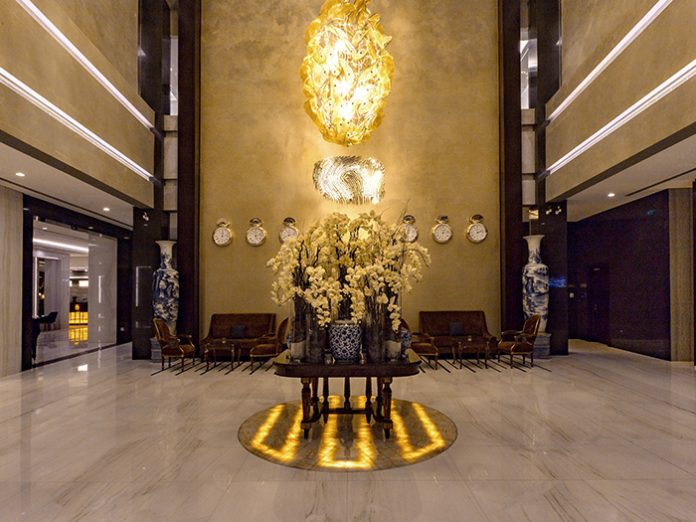 Nexo Luce brings Italian design and made-to-measure craftsmanship to Dubai's Grand Millennium Hotel.
Developed by RTS, the five-star 251-room hotel is a new development in Dubai's Business Bay area. The client's expectation for this grand hotel was to set a new standard of luxury in the growing area. Nexo Luce worked closely with interior designers from DIAR consult to develop the design concept of the hotel's decorative light fittings, all inspired by the desert's colour pallet and curved shapes.
The atmospheric ambient lighting scheme in warm amber with copper tones complements the sleek, stylish public and private spaces of the property. The lobby/lounge lighting features slim lined pendants made from polished chrome and glass cylinders in rich gold, suspended around a central sphere. The hotel bar area is adorned with rectangular ceiling mounted lights in stainless steel, covered with fine Italian fabric in an ivory shade. The lift corridors are enhanced by the wave-shaped complex chandeliers made from frosted amber and clear glass, infused with gold glitter while the spacious guest-rooms and suites feature combined custom-made decorative illuminations, bedside lights and spotlights, all manufactured and designed by Nexo Luce.
The most impressive feature greets the guests at the hotel entrance from the top of the 18 metre high ceiling. A 14-metre Murano glass chandelier spans three floors and is comprised of seven structured cage clusters made from steel wire and covered by 140 individually crafted amber glass leaves individually crafted by Venetian craftsmen. The shape of the leaves is realised in four types, which allow assembly outside the cluster, while the light sources are suspended inside the fixture.
For the hotel's ballroom Nexo Luce created 27 hand-carved chandeliers that fill the coffered ceiling of the three interconnected spaces. With white and warm hues the chandeliers are made from clear glass tubes assembled by a round mirror frame that creates a light refraction effect.