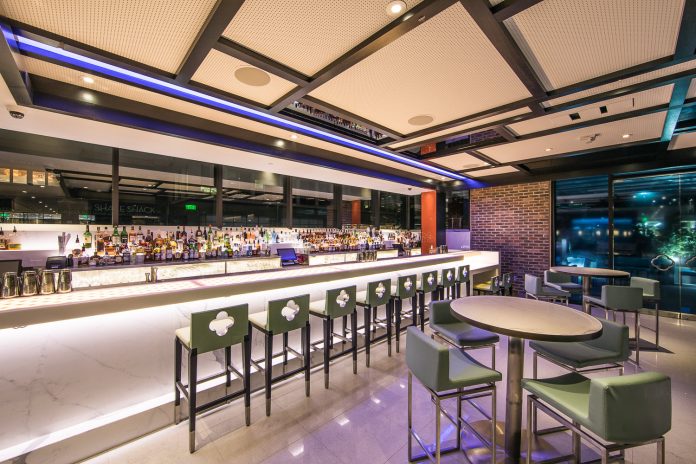 (USA) – Nulty has worked alongside interior design firm GBRH to create a dramatic lighting design concept for Yauatcha in Houston.
Set in the Galleria shopping mall in the Uptown district of the city, the lighting is consistent with the restaurant's principles and tailored to the nature of the space. A large glass facade greets guests upon arrival and acts as a picture window into the restaurant. Integrated lighting picks up and highlights a branded lattice effect, which frames the facade and utilises the brands signature blue.
The lighting scheme is designed to mirror the London branches of the chain, with lighting levels kept low and contrast ratios set high to add a sense of drama, whilst ensuring an intimate dining experience for guests. Key brand elements such as a sparkling fibre optic starry ceiling, are featured alongside small illuminated brass crosses integrated within the brick walls. Upon entering the reception area large feature pendants punctuate the space and highlight the concierge desk, whilst creating an incandescent glow to the surrounding space. A large glass fish tank is back lit, showcasing the brands signature colours and high level cove lighting washes down the marble wall highlighting the texture. Integrated lighting is used within a patisserie display that runs alongside the reception and is illuminated with layers of soft light to draw attention to the famous Yauatcha pastries for sale.
A large open dim sum kitchen sits towards the rear the restaurant and is illuminated with a higher level of light to reinforce the 'theatre' and draw guests focus to the specialist food being prepared. Clusters of bone white ceramic pendants are hung above tables and further enhance the sleek style of the interior, whilst creating narrow beams of soft light that graze the tables below. A bar area features narrow beam downlights that are positioned above the bench to draw focus onto the diners plates as they eat.
A large outdoor terrace is illuminated with layers of soft white light to create a calm and relaxed environment for diners. Lighting integrated into planters and foliage reinforces the outside dining element and uplighting used on stone columns punctuates the space and frames the border of the terrace creating a halo of light. An eye catching corner window installation visible from the outside has a projected flowing water effect that catches peoples attention and creates further interest.
Phillip Copland, Senior Lighting Designer at Nulty says, "The lighting for Yauatcha Houston helps celebrate the Yauatcha Brand in the USA, the lighting creates a memorable and unique dinning experience at the heart of the busy Galleria shopping destination".
Yauatcha Houston is the third restaurant in the Hakkasan group that Nulty has completed work on, the others being Yauatcha City in Broadgate Circle, London and Ling Ling, in Oslo.