Belgian-Colombian design duo Christophe Penasse and Ana Milena Hernández Palacios of Valencia-based practice Masquespacio speak to Maria Elena Oberti about the perks of working in Spain and why they believe that, when it comes to their success, more might mean less. 
Christophe Penasse: "Ana and I met at a bar in Valencia, where she was working as a waitress. I went in for a drink one night and saw her there, and well, as they say, the rest is history. We've been together ever since.
We opened our studio together in 2010, during the worst economical crisis to hit modern Spain. Ana had just finished her design degree and I was working for Makro, a supermarket chain from Germany, but wasn't enjoying it. She needed work and I wanted a change, so we decided to open a design practice together."
Ana Milena Hernández Palacios: "We were completely crazy!' (laughs). "
CP: "It maybe wasn't the best time to start a studio, no, but we did it anyway. There weren't a lot of opportunities at the time, especially in interior design. The few jobs on the market were more technical, and that has never been Ana's strong suit. She needs to be creating. So, we decided to invent work for ourselves, and opened our design studio. We started out designing low cost houses and apartments. We were in the middle of a crisis, so from a business perspective, that was the direction that made most sense to us.
"Our very first project was an apartment. You can still see it on our website. We aren't very proud of it, design-wise, but we keep it on our website because it reminds us of where we started. It was an important project for us because it made us realise that the direction we were heading in wasn't the one we wanted. One day the client came to us with a statue of an animal, and we just knew we were done."
AMHP: "We realised that residential design is much more about decoration than design. You need to adapt your style to match that of your client's, so in the end it's very difficult to be creative."
CP: "From the moment we saw that statue we knew we needed to focus our energy on other things. We did everything, from interiors, to graphic design to art direction. We needed to build our portfolio in the beginning, so we did whatever design jobs we could get our hands on. Now that things are different, and we have more choice, we want to focus only on product and interior design. That's where our true passion lies."
AMHP: "Those first years were horrible, with very little money and a lot of work. It was difficult, but we are what we are today because of it; it's part of our identity. It's really amazing to think how much has changed over the last nine years. Things have moved so fast. We started off just the two of us, and now we're a studio of nine people!"
CP: "We've grown a lot, but we also want to be careful not to grow too big. We can't do both, grow and be authentic at the same time. Authenticity is something we think about a lot these days, especially now that we're very busy.
"Lately we've been working on projects with very fast turnarounds. For example, we just started work on a new co-working space in Madrid. It's a massive project, roughly 3,500sqm. We have only fifteen days to develop and deliver a design. It's crazy. We've been waiting a long time for this, so we are managing it and enjoying it, but this isn't ideally how we want to work."
AMHP: "We've been very lucky to be able to work on a number of big projects, but moving forward we'd like to start doing less. We want to focus our energy on being more authentic, and to us that means working with fewer clients. Fewer clients means more time, and time is what we need to reach the quality of designs we ultimately want to be doing."
CP: "Everything we do comes from Ana. As the designer, she is behind everything Masquespacio creates. But, she is also only one person and can only handle a handful of projects at a time."
AMHP: "I have a team of assistants helping me, but I am the one doing all the designing. I think that's one of the reasons why people come to us. We give something that is more personal. It's created by one person. Even if I could do fifteen projects at a time, we'd risk losing something. We would lose our focus and our soul as Masquespacio."
CP: "Ana and I are Masquespacio. We're a perfect team because we compliment one another. She takes care of design and I do all the communication and marketing. We love working together and have a great dynamic. We have our own areas, but our visions always match. Even when we disagree, we know we're heading in the same direction.
"Everything we do as a studio is bespoke, we customise everything. The only thing we don't customise are the functional lights. Not because it isn't possible, but because we need more time for that. But the decorative lights, and everything else, we do custom. It's what makes our projects more authentic, they'll never be a copy of something else."
AMHP: "I love working with light because it has the potential to move us. Soon we'll be completing a new project that is all about light. It's very extensive and is taking us a lot of time to complete. We can't share too much at the moment, but what we can say is that it's going to be a culinary experience centred around light."
CP: "The nice thing about designing lamps is that you don't have a ton of requirements, so it's easy to have something custom made. That's one of the reasons why almost all of our custom designs also involve lighting."
AMHP: "Designing lights is my hobby. We've designed two commercial lights so far. The first was Shade for Raco. It's a big, big lamp made out of a lot of different contrasting materials. We wanted to make an artisanal lamp that couldn't be copied, using materials – raffia, leather, marble and brass – that have never been combined in a lamp."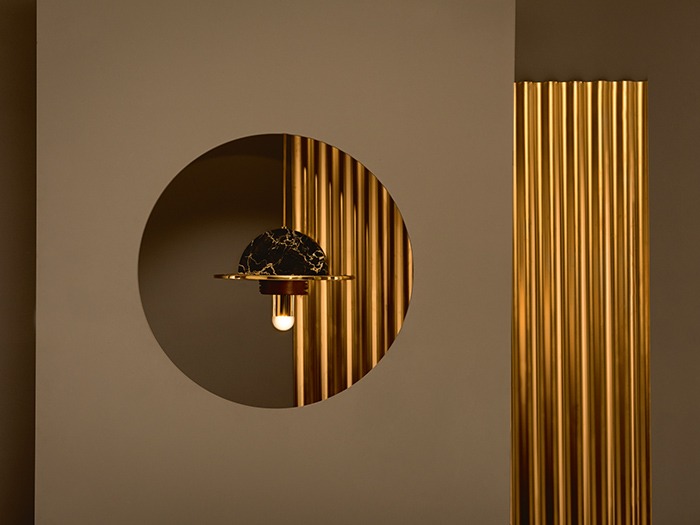 CP: "Photos really don't do the materials justice. It's not selling a tonne, which is a shame, because it's a very interesting lamp. Our second lamp, Wink though, (pictured left) is doing extremely well."
AMHP: "I love, love, love Wink! It's by far my favourite of all the lights we've done. I actually designed Wink without the intention of creating a product. The founder of Houtique asked us to do a store for him, and Wink was something I made to decorate the interior. I didn't like what Houtique was selling, so I created a light to decorate the store and help sell their furniture. The store never got built, but the owner liked Wink, so we decided to see whether we could turn it into a product. And, bingo, it worked and did really well.
"What makes Wink so successful, I think, is that it's very simple, but expresses something very strong. It makes people smile. I think that when it comes to design, people want emotion. They want to see designs that tell a story. That's the power of really well designed interiors. They trigger an emotion and take you on a journey."
CP: "Wink has done very well, but I wouldn't say we have a particular milestone project. Everything has happened step by step, probably because we are in Valencia. I'm sure things would have gone differently had we been in a big city like Madrid. Things would have definitely happened faster, but we also wouldn't have had the same opportunities. People here believed in us. I think that's what makes the people in Spain so special. They are much more open than, say, in Belgium, the place where I'm from.They gave us opportunities that I don't think would have been possible for us at the start had we been somewhere else."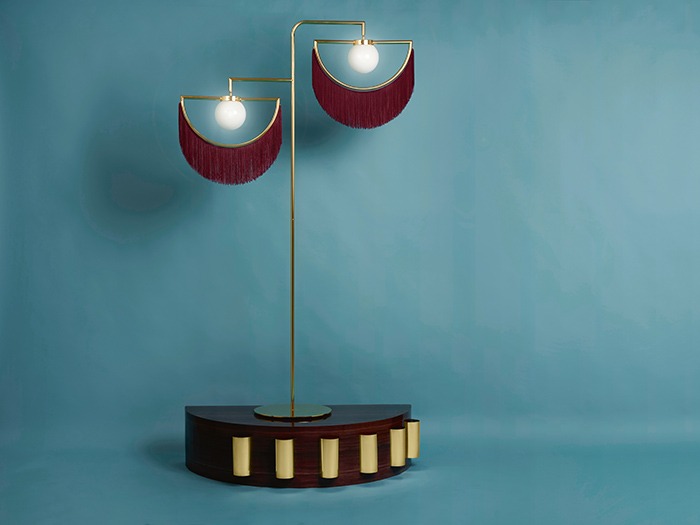 AMHP: "We started our studio in Spain mostly because of our circumstances. We met in Spain and were living in Spain, so we stayed. We weren't thinking of other countries back then. We wouldn't have chosen Valencia today, but Valencia was were it all started for us."
CP: "We've been thinking about opening another studio for many years now, possibly in Madrid. Valencia is a small city, so in a way it's a bit limiting, especially now that we're working increasingly outside of Spain. We also feel like we have the potential to be doing a lot more than we are at the moment, and maybe Valencia isn't the right city to explore that. That said, working from Valencia is really easy, and there are a lot of other artists, like Jaime Hayon, who live and work here and still do things on an international level."
AMHP: "Working in Spain has a lot of benefits, particularly for us as designers. It's easy to get things made here. Much like Italy and Portugal, Spain is a country of artisans. So, it's very convenient for us to stay here and produce our designs. But, as you know, the economy isn't very good here. €10 in Spain will get you an amazing three course meal in a superb location. It's a fantastic quality of life for a very low price. Spain offers a wonderful lifestyle, but as business owners, it's not ideal. Investments are smaller and there is less production."
CP: "Something else we've found is that people in Spain aren't used to working with designers. It's not like in Germany or in the Netherlands, where people understand the value of good design, and are willing to pay for it. To them it's very normal to hire a designer, to trust in their expertise, but for many people here it's still something new. This is something a lot of new designers in Spain struggle with.
"I think that as designers people don't always understand the value of your work. That's the biggest challenge, and has been since the beginning for us. As a designer you need to believe in what you are doing and be willing to fight for it. We've been doing this since the start. Things are much easier for us now, but in the beginning we really had to work hard to convince our clients of what we were trying to achieve.
"A project that could really change things for us is Land, which we recently presented for Poggi Ugo at Salone del Mobile in Milan. People often ask us what project has been the most important for our career, and this one could be it. To have a physical presence in Milan is very important as it offers you a window to the world."
AMHP: "We'd like to keep doing more of what we did in Italy. It's exactly how we'd like to be working. We started out by adapting our style to our clients', but now we finally have clients coming to us for our style. It's something we've wanted for years. I really think this could be our moment."