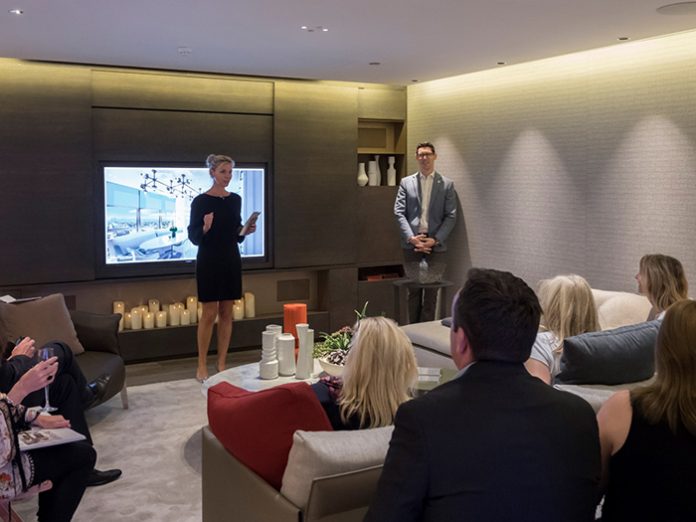 (UK) – Crestron and partners will explore design at FOCUS/18.
Crestron, will be collaborating with editor and journalist/interior designer, Kate Burnett, and Lighting Designer Rebecca Weir, to explore the innovative ways light and bespoke smart home technology can enhance interior design, during this year's FOCUS/18 event.
Burnett will be joining Crestron, along with selected Design Centre showrooms, to discuss the importance of brand collaboration and partnerships when designing and personalising a home automation project for a client.  She will moderate an inspiring panel discussion titled 'Collaborating in colour – bringing bespoke design to home technology'.
After training in interior design, Burnett worked in professional practice with one of the UK's leading architects. She then returned to journalism specialising in contemporary design and architecture and was editor of idfx for over four years. After a period as a regular contributor to various leading titles including London's Evening Standard, Financial Times, Blueprint and Elle Decoration, Kate launched Studio, a new title for professionals in high-end design. Studio is now published ten times a year as part of a print and digital platform centred around residential design.
As Creative Director for Light IQ, a leading lighting design company for the residential and commercial markets, Rebecca Weir will be joining Crestron to host a series of talks on 'the colour of Light". She will deliver 15 minute inspiring and practical presentations on lighting technology. Weir is passionate about harnessing and maximising the creative potential of light, by exploring and pushing the boundaries of illumination. This had led her to the successful completion of over 1,000 award-winning residential and commercial projects both in the UK and abroad.
As well as engaging in this year's theme of colour and its positive power, the talks will provide visitors with the inspiration and positivity to go bold with smart technology to enhance interior design. To register for the Crestron Focus events, click here or visit the Crestron EMEA Showroom, 2nd Floor, South Dome, Design Centre Chelsea Harbour.
The Colour of Light – hosted by Rebecca Weir will be held on Tuesday 18th September:
11am – 11:15am
12pm – 12:15pm
1pm – 1:15pm
2pm – 2:15pm
3pm – 3:15pm
Collaborations in Colour – hosted by Kate Burnett will be held on Wednesday 19th September:
11am – 12pm