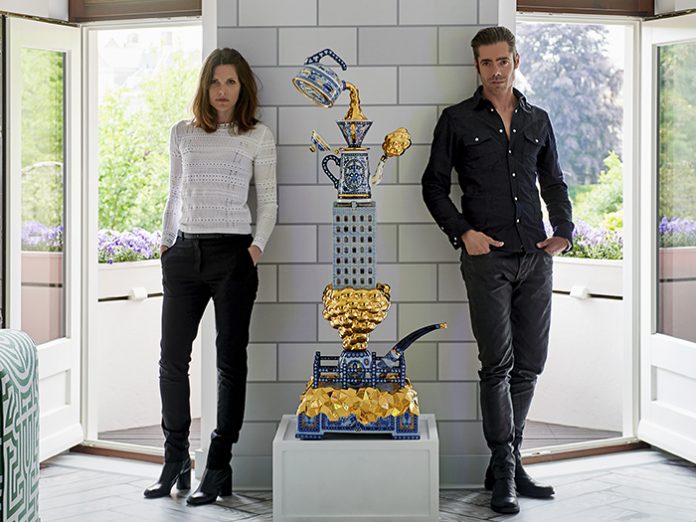 Studio Job recently collaborated with Italian lighting brand Slamp on a collection that is its most extreme yet. Launched at Euroluce, darc takes a deeper look into the influences behind the design.
Ever since their first encounter at the Dutch Design Academy in Eindhoven, Netherlands, Job Smeets and Nynke Tynagel have been soul mates in both life and design.
Today, they share two cats; a love for the everyday; a passion for lighting objects and have become contemporary cultural pioneers, revolutionising common preconceptions about the realms of art and design.
In their most recent work they find themselves collaborating for the first time with Italian lighting brand Slamp – bringing their iconic graphics to seven new lamps that make up 'The Lightning Archives of Studio Job' introduced at this year's Euroluce.
Iconic semantics meet Dadaist derivations in Studio Job's ode to the Tube, bringing a daring poetic aura to the historic Slamp masterpiece, first producted in the early '90s. The collection is illuminated by a strong, surrealist identity born of creative expression: Labyrinth, Love Peace Joy, Perished, Peace Skull, Faena Art, Bananas, and L'Afrique.
Luscious smiling lips, dancing animal skeletons, pop-art fruit, references to the Reinaissance and superstitious frights, are all part of the iconic quotidian, seemingly out of order, yet perfectly recognisable thanks to a series of graphic design principles.
Smeets and Tynagel's work is defined by their meticulous attention to detail, making every piece unique. Painted, rounded profiles, matching or contrasting semi-spheric buttons in predominant colours and specifically designed wire coverings are some of the various details used to complete their designs. Dense metaphoric suggestions, transposed cult references and two-dimensional forms take on depth when printed on transparent Cristalflex superimposed on an Opalflex layer, transmitting the light uniformly. The result is pure extremism, and the Tubes are a complete work of art, bathed in semantics, brought forth from a 'cabinet of curiosities' true to Studio Job's style.
Striving towards the creation of Gesamtkunstwerk, which sometimes translates poorly to aesthetics, but more precisely means a synthesis of the arts or universal artwork, Smeets and Tynagel often reference the German composer Richard Wagner's aesthetic ideals in their practice; seeking and moving towards the clearest and most profound expression of the stories and mythologies with which they engage and bring to life.
Studio Job's work is in the true spirit of the Renaissance where techniques are interchanged and where disciplines are disregarded towards creation of the new; where ideas and imagery are appropriated with ease, regardless of geographic or conceptual boundaries and repurposed into something new – where culture, spirituality and aesthetics converge in one cacophonous space and where production and craftsmanship yield one-of-a-kind objects and environments.
Looking back to where it all began, when asked what has influenced their designs over the years, the duo's answers ranges from Miffy and Roy Lichtenstein to Bowie.
"When I was a kid, I wanted to be free, like a famous pop star," Smeets tells darc. "When I was really young, I learned to draw at the kitchen table with my father who was an artist and antique dealer. Following school, there was only one course that really made me curious – Conceptual Design, which I did while balancing an 'education' in combining fitness with drinking and smoking weed!"
"My father was an art director for Weaving Mill de Ploeg and my mother a textile designer," Tynagel says. "I have been passionate about visual arts all my life but chose to study Graphic Applied Arts. I'm also really passionate about classical music, movies, art, cooking, friends and love."
"For me, it's about collecting and travelling, travelling and collecting, as well as sports," adds Smeets. "And yes, love of course!"
Through Studio Job, the designers have crafted a body of work that draws upon classical, popular and contemporary design and visual art. The symbolism and iconography that Studio Job creates is heraldic and regal, even in its pop cartoonish imagery. As sleek as the work can be, it is also instinctual and almost primal. Smeets describes their work as 'New Gothic', while Tynagel often speaks of the work by referencing a symphony orchestra.
The studio itself is made up of traditional craftsmen and contemporary industrial professionals from sculptors, furniture makers and painters to specialists in cast bronze, stained-glass, laser cutting and 3D printing, all of whom work to realise the designs in whatever final form may be required. This flexibility of application and realisation frees the studio from the confines of any one particular medium and allows for the work to speak for itself.
"Looking back on our work we've really done some brave, pioneering things by introducing 'art' into design," they tell darc. "Today, it has developed into a real, working model but 20 years ago, it didn't exist… we just followed a certain path at the time. When we started design was still about functionalism… Modernistic anchors. Now, design can be so much more. It can reflect time, it can be abstract… it's as though we have slipped into a Renaissance period.
"Design has great facets," Smeets and Tynagel continue. "You can reach a large audience. Still design, like fashion, is all about speed… One, after another… More, more and more. Sometimes we wish the pace was a little slower, but then we have so many plans and still so much to do and when it all comes together, when a piece is finished that moment of joy and relief is what it's all about… the birth of something."
While the pair note that product design is driven by a commercial engine of producing and selling as many products as possible, for them thankfully there is now sculptural design that has it's own parameters and when commenting on trends within design, tell darc: "Every interesting piece or product will stand the test of time and will be part of history. Look at the whole sculpture thing… in a way it is a NEO style. Look at the 16th Century as well, another renaissance period. The best example is the Green Vault in Dresden, commissioned by August the Strong, a billionaire of his time. Good product design needs to have authenticity, and should be well made with a raw soul."