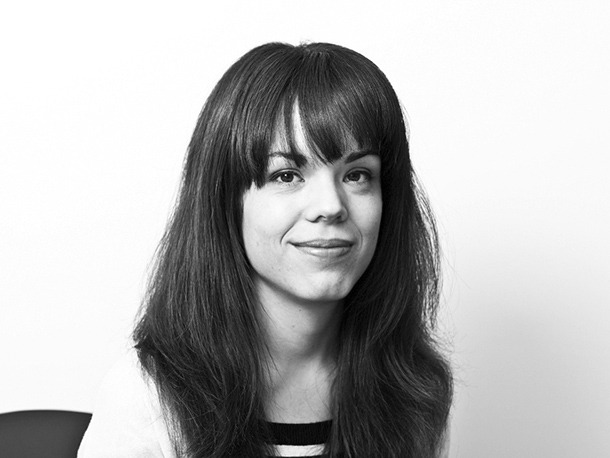 Karen Smart, designer with Paul Nulty Lighting Design, explains the trend of going back to basics for the use of exposed lamps in commercial spaces.
There's a resurgence of going 'back to basics' within the realm of decorative lighting. Influenced by the current trends in interior design, which are embracing minimalism and the atmosphere of the Victorian industrial age, the incandescent lamp has become a staple; in part because it emulates the minimalist candlelight, the antithesis of opulence, but also it flatters its surroundings giving a soft glow to hard surfaces. Hipster hang-outs inspired by the Manhattan loft and warehouse scene are tapping into the popular lighting look.
Lighting and interior designers are witnessing a huge increase in the use of filament lamps, warm LEDs, and designer lamps from the likes of Plumen and Buster + Punch, as these lamps become the centrepiece of decorative lighting schemes. The Plumen 001 is a low energy feature incandescent and an example of the retrofit trend. The name comes from a combination of beauty and function – 'plume' (in reference to the decorative feathers of birds) and 'lumen' (the unit for measuring light).
As lighting designers, Paul Nulty Lighting Design (PNLD) builds on such trends, elevating what is popular to the next stage; this includes delivering designs with new and improved low-energy versions. The classic E27 and Squirrel Cage lamp will never go out of fashion – and can be found in many designer homes. The rise of the industrial trend has also caused an increase in exposed bulb shaped lamps in commercial interiors; commercial clients now want the retro aesthetic of the Edison classic but as a low energy alternative to the incandescent lamp so they can save energy and cost.
What began as a nod to our industrial past has taken on a design life of its own, with designers harnessing some of the pared-down charm of the bare incandescent lamp on a power cable and propelling it into the future, with decidedly contemporary results that are anything but austere.
A great example is The Alice House restaurants in London. The lighting feature is created with bare incandescent squirrel cage lamps from Urban Cottage Industries. Hanging from cables from a central location at the top of the bar in the middle of the restaurant, the style is that of a cascaded web effect that embraces the whole restaurant.
In the 19th Century people were in awe of Edison's lamp and wanted to display it as an object of wonder, and we appear to have come full cycle as we embrace this aesthetic today. Now we are filling our homes with the latest lighting technology such as Compact Florescent Lamps (CFL) and Light Emitting Diodes (LED) as many low energy variations on the Edison classic have been created.
Until recently CFL and LED lamps emitted a cold ambiance and were ugly to look at but today's lamps are combining aesthetic with low energy. This means that adhering to sustainability regulations and reducing costs no longer have to be at the expense of good design. Commercial lighting costs can be very high if establishments need lighting on all day, every day. In average, lighting takes 25% of electricity bills in the UK so reducing costs is crucial – but implementing ugly lamps and bad quality lighting is not the answer.
As designers, it is our role to execute good design with functionality and form, challenge current and previous practices, and improve on what we have already achieved. The result is that we will continue to shape mood and atmosphere across every sector, tuning events into positive experiences and in a way that is sustainable and affordable.
A selection of our favourite lamps…
Incandescent Range – Urban Cottage Industries
Urban Cottage Industries has a great incandescent range with a variety of filament styles and lamp shapes; the benefits of using an incandescent as a light source are they provide a cosy mood and intimate atmosphere. This is due to the lamps having a full spectral output, similar to candlelight, in that they include all colours of the light spectrum from blue to red in an even curve and this, in turn combines to form 'white light'. Artificial lighting always seeks to stimulate the emotions driven by natural light; if you dim an incandescent lamp the curve slips gently towards the warmer end of the spectrum, this follows the natural progression we expect from a bright white sun to a warmer image at sunset.
While incandescent lamps are popular, the challenge they pose is that they are also less energy efficient. Less than 10% of the energy used by the lamp produces light, the rest escapes as heat. They also use more electricity than energy-saving lamps, and most last only approximately 3,000 hours.
In 2009, the EU introduced legislation stating that all frosted lamps must be of Class A energy standard and hence sounding the death knell for all frosted incandescent lamp sources. According to the EU ruling, there are no replacements for clear incandescent lamps so these can remain in circulation. However, the UK seems to be ahead of itself in this instance as the voluntary phasing out of all incandescent lamps is taking place.
001/002 – Plumen
Plumen was awarded the Brit Insurance Design of the Year by the Design Museum in London and the prestigious Black Pencil at the D&AD awards in 2011. It is widely considered the creator of the world's first designer low energy lamp. By adapting the CFL manufacturing process, it has created visually striking lamps that save up to 80% on energy bills and last eight times longer than a standard incandescent lamp.
They are not as energy efficient as LED but they do make a design statement and have been a commercial success across the globe. Plumen has been specified in many commercial interior design projects and has been a favourite with clients who want to invest in an energy saving design classic.
LED Buster Bulb – Buster + Punch
Available in gold, smoked and crystal coloured glass, each 3W dimmable warm white LED lamp is designed as a statement piece, more about ambience than bright illumination. The resin light pipe at the centre of the lamp range is where all the magic happens. It allows the lamps to create a subtle ambient light, whilst at the same time throw focused spot light onto tables and surfaces below. The lamps also have a 10,000 hour lifespan and consume just 1/20th the energy of incandescent bulbs.
They're not just a straight copy of an incandescent squirrel cage lamp but a clever twist on the classic. The resin light pipe at the centre is a great filament illusion and proves in many ways to be more realistic than LED filaments. The coloured glass options will also allow for interesting installation combinations; we are particularly intrigued by the smoked glass option.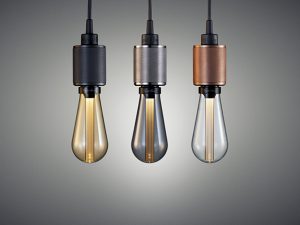 Crystal Clear Bulb – Lee Broom
Taking inspiration from the delicate craftsmanship of crystal cutting, Crystal Bulb combines industrial influences with decorative qualities, transforming the everyday lamp into a beautiful ornamental light fitting. Each LED crystal lamp is handcrafted using traditional techniques and hand cut with a classic crystal pattern inspired by those found on traditional whiskey glasses and decanters. Inside the lamp is a dimmable luxram 2W power LED capsule with a 45,000 hour lifespan.
We love the way the LED light source catches the light of the cut crystal to create the illusion of a sparkling lamp. These lamps are perfect for luxury hospitality interiors and have been popular with interior designers who already consider it a design classic. At £119 a pop though they are resigned to special projects for clients who want that extra wow factor.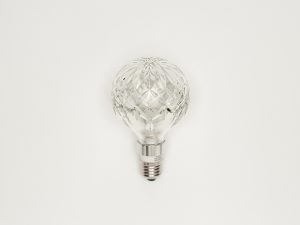 LED Crown Brass – MEGAMAN and Tom Dixon
MEGAMAN's Crown Brass LED lamp was specially commissioned to combine with Tom Dixon's Cell Short pendant and wall light. Now a standard product, the lamp provides functional lighting with a dramatic touch. With a unique, brass-plated design, this A60 shape lamp delivers non-glare lighting, just like bowl-mirrored incandescent lamps, with a brass, 'gold-look' coating, while saving up to 80% energy when compared with incandescent lamps. The lamp is also capable of dimming and has a 30,000 hour lifespan.
The Crown LED range has been a popular choice with interior designers as the metallic-plated crown top works well with the industrial look which is popular at the moment.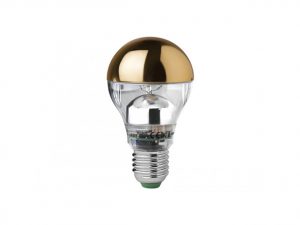 Dim to Warm LED lamp – MEGAMAN
The MEGAMAN Dim to Warm lamp emits a warmer light when dimmed. The colour temperature of the LED lamp changes from 2,800K/2,700K to 1,800K when the lamp is dimmed from 100% to 10%, simulating the characteristics of incandescent and halogen lamps. At 6W and with a lamp life of 50,000 hours it's also pretty energy efficient too.
The lamp itself is not very aesthetically pleasing but the dim to warm effect is sure to be a hit with those working in the hospitality sector – especially those with bars and restaurants. The dim to warm effect is the perfect way to set the mood in an environment where a cosy atmosphere is important.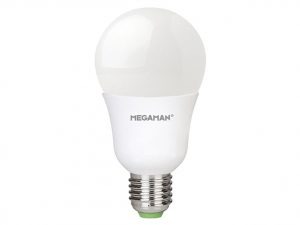 LED filament range – Enigma Lighting
Enigma Lighting has just launched an LED filament style lamp range which is sure to be popular with clients. The LED Filament lamps look just like their traditional incandescent counterparts thanks to a unique new LED technology that allows for very small LED emitters to be arranged in a linear filament style arrangement. These emitters are then powered using a traditional glass insulated circuit similar to that found in a traditional incandescent lamp. The end result is a lamp that functions and looks virtually identical to an incandescent.
LED filament lamps typically have a shorter life span than that of regular LED lamps with most rated at 15,000 hours but these figures are amazing in comparison to traditional incandescent technology which lasts just 500 to 3,000 hours.
Enigma Lighting's 6W squirrel cage lamp uses very little electricity and is dimmable which makes it very versatile. The lamp also retails at just £17 and is sure to be a market contender at this price.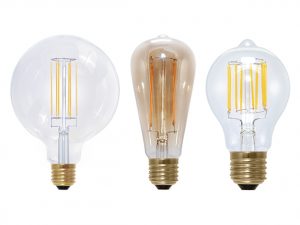 Master Clear LED – Philips
What makes the new Master Clear LED bulb particularly special is the lens inside, which not only works as a light diffuser, but does so in a way that looks like a sparkling filament. The lamp will be a big hit for those who want as close a match to the traditional incandescent A60 lamp. The 6W lamp runs for up to 25,000 hours and is dimmable for flexibility and retails at around £12.50 so is the most affordable on this list. I can see this in people's homes, not just in commercial projects and that is very exciting.