A new home in New York city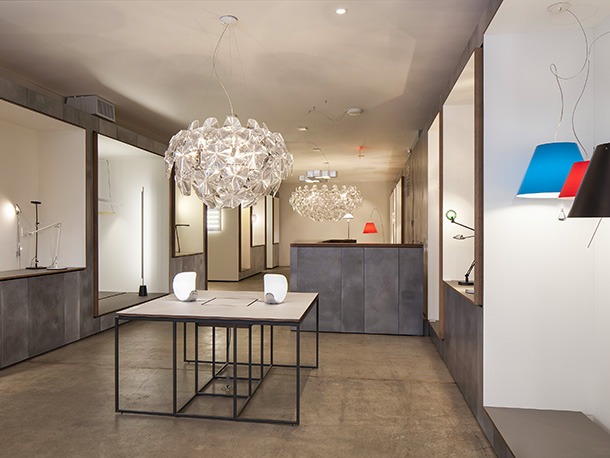 (USA) – Luceplan, Milan design lighting company, and Modular Lighting Instruments, Belgian manufacturer of architectural lighting systems, have launched a new co-branded showroom in New York City's Soho neighbourhood.
Patrizia Vicenzi, General Manager, Luceplan; Bart Maeyens, General Manager, Modular Lighting Instruments; and Giuseppe Butti, CEO, Luceplan USA, celebrated the showroom's official launch at a cocktail event on March 11th at 14 Wooster Street – inspired by the Italian and Belgian homelands of these companies. Vicenzi said: "Linking a major Italian design brand to an architectural and technical lighting innovator was a logical and strategic pairing for both companies. This showroom serves as a source for engagement where architects and interior decorators, design professionals, builders and consumers can view and experience the products and understand their capabilities in person."
Modular L.I.'s three-year plan is to become a must-buy fixture for American architects and their projects, and eventually become one of the leading brands in architectural lighting in the US. The new showroom currently carries the best-selling collections and popular brands include: the Smart series, Mini-Ritm, Spock and Stove.
The Project
Designed by architect Amedeo G. Cavalchini, the space exemplifies synergy between decorative and architectural lighting fixtures and offers architects and designers a one-stop shop for projects. Cavalchini's design was initially inspired by the actual products that would be showcased there – looking at the technical, commercial, economical and aesthetic components. Set on two floors, Cavalchini divided the showroom's main level into 22 light boxes each infused with a special still life, using new materials such as the de Castelli etched aluminium walls and pine wood slats. The lower level mixes old and new, integrating the original redbrick columns with modern lighting elements, meeting space and informal seating areas featuring furniture from Buzzispace.