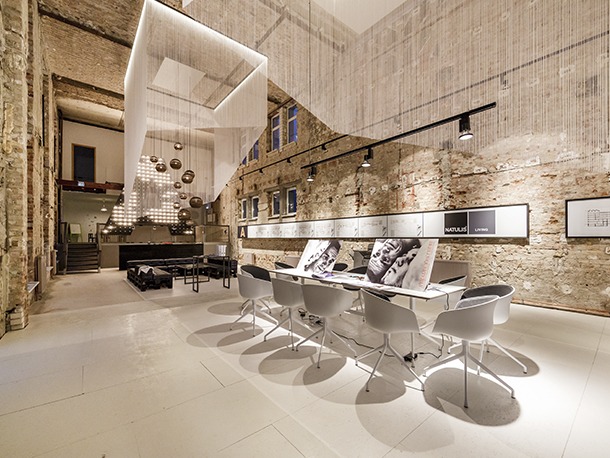 Tucked away in an industrial building of Berlin, occupying the former space of a 1920's cinema is 'A Space', a temporary showroom for Natulis Group. Designed by plajer & franz, the focal point of the space is an 'A' shaped lamp installation inspired by illuminated cinematic advertising from the twenties era.
An eye-catching space with convincing charm, 'A Space' is a fascinating symbiosis between industrial attributes and high-quality materials. With the space completely gutted, allowing for a blank canvas, the previous false ceiling has been removed to reveal a room with almost eight metres of ceiling height, referring back to its original cinematic use, while the walls have been stripped back to their raw, primary state exposing brickwork and traces of repair work from over the years.
A secondary lighting feature makes use of high-end design from Graypants and its Moon lampshades that are made from recycled cardboard boxes and hang down from the ceiling. Additional decorative elements come from Lightyears' Carvaggio lampshade in black, while general ceiling lighting on the power rail is provided by Ansorg's Bit BTC spotlights.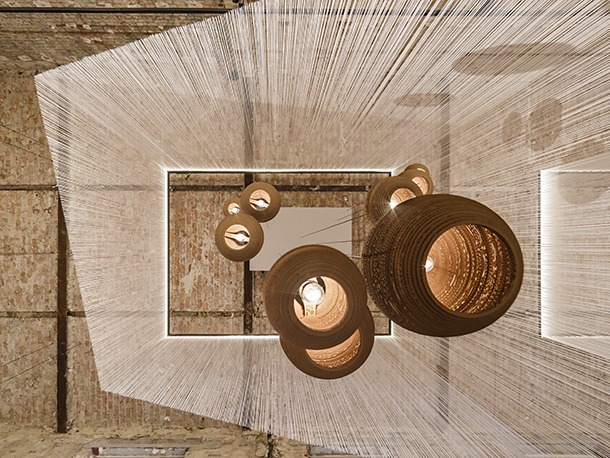 Serving as a space to present and sell lofts in the Arkona Courts, the design of the showroom had to correspond to its functional purpose and offer spacious presentation opportunities as well as lounge areas for client communication. While a city map of the area greets customers, a model of the building and floor plans on the walls give a visual idea of the apartments up for sale. Working with the lighting, seating furniture throughout is made of dark oiled standard industrial palettes covered with premium quality upholstery, while all tables are made of black steel. At the end of the room there is a small bar for snacks and drinks made from Aleppo pine, while five-metres of long thread curtains hang above the consultation islands serving as partitions throughout the space, and to ensure younger guests do not get bored, a kid's corner awaits.