Delta Light – Reflections
Delta Light's new lighting range Reflections makes use of the brand's experience in light technology in a more decorative way. In an exclusive interview with darc's Editor Helen Ankers, Maarten Demunster expands on the concept behind the range.
Delta Light is known worldwide for its technical, architectural lighting applied by architects and designers within the specification market. To further expand its offering, the Belgium-based company is upping its decorative solutions, with more expressive designs, resulting in bold new shapes, finishes and colours. The recently launched Reflections collection aims to give specifiers the opportunity to combine both Delta Light architectural and decorative lighting solutions in their projects. 
Made up of three variations of fixtures – the Soiree, Mello and Miles – for one of the designers behind the collection, Maarten Demunster, Reflections is all about trying to use Delta Light's experience in light technology in a more decorative way. Speaking exclusively with darc, he says: "LED technology has changed the world of fixture design drastically – not only technically but also in their form. Miniaturisation is a trend in the architectural market and has become unstoppable.
"Lighting is often used as an expression of the user – alongside their furniture, the art they choose to put on the walls, or the car in their garage. Thanks to LEDs and the consequent miniaturisation, the focus of lighting has moved on to the functionality – creating different atmospheres with light. Decorative lighting still has a more expressive function and is becoming increasingly important in creating these 'atmospheres' when combining it with the almost invisible architectural lighting in a space. We are now able to design a decorative, signature fixture in a design typology that is combined with our architectural lighting experience – not only in its form but also its light output."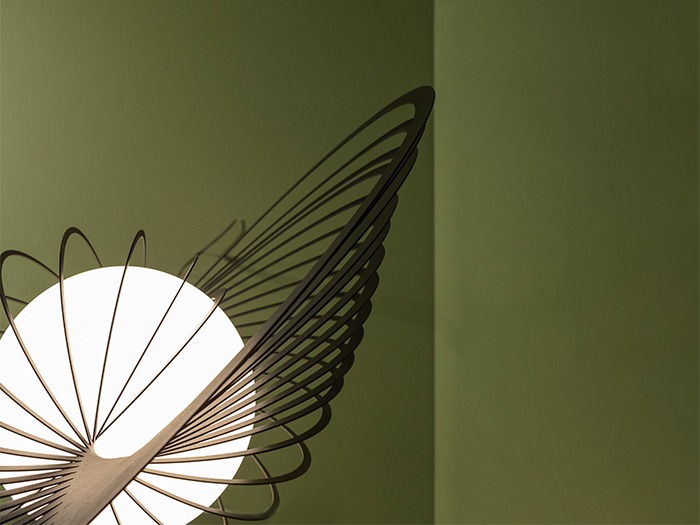 Having worked in product design for over 20 years, Demunster's passion for design began at an early age and at sixteen he had grand plans of becoming a fashion designer; but with a mathematics teacher as a father, his parents had other ideas. "I was influenced by the Antwerp-6 when I was a teenager – a group of Belgium fashion designers including the likes of Dries Van Noten and Walter Van Beirendonck," Demunster tells darc. "Like my father, I was also good at maths and so pursuing an education in engineering was an obvious choice for my parents – we compromised at product design, which led me to the University of Antwerp."
As well as inheriting his father's aptitude for mathematics, the pair also share a keen appreciation for the arts, which filters through to Demunster's designs today.
"I have a collection of Belgian contemporary art from the 50s up to the present day," he says. "Having studied the work of Marcel Broodthaers, Philippe Vandenberg and Mario De Brabandere gives me the oxygen I need to breathe!
"The education I received was often focused on a signature design style and a lot of designers work that way… If I am honest, even today, most of the designs I start out with have a clear 'Maarten Demunster Signature' but this is followed by an in-depth design process that removes elements rather than adding to the design. Styling becomes a delicate balance between the ordinary and the sublime rather than shouting out and using forms that have only an aesthetic function."
Having worked predominantly in product design for the architectural lighting sector, Demunster has been working with Delta Light's Paul Ameloot for the past decade, whom has, over the years taught the product designer that good design is about more than winning awards.
"Paul Ameloot convinced me after a while that 'commercial' isn't a swear word and that good design is not just 'good' for the designer involved, or the end user, but for the entire chain of people that are engaged in the lifetime of the product, as well as the environment and also what is good for the company!
"Most of the products designed at Delta Light are architectural lighting products – designed to service the architecture and the people who use it. It is a tool we give to architects and lighting designers to pronounce their designs, to give the space some atmosphere or to create some functionality.
"As such, I would describe most of our products as 'introvert designs'. The architecture of a building is the most important element; light is then used either in a functional capacity or for aesthetics, to strengthen the architecture. The form of a light fixture is in the function of the light…"
Referring back to the Reflections range, Demunster expands on its concept: "For the Miles family, we were searching for a kind of 'forgotten' archetype. A shape that is recognisable but not too obvious. I was inspired by the paintings of Giorgio Morandi – I started with one shape and made variations of other forms but with the same base. The result is pure eye-candy! A collection of four purely handcrafted glass shapes, each in four different colours, each recognisable yet unique in all respects.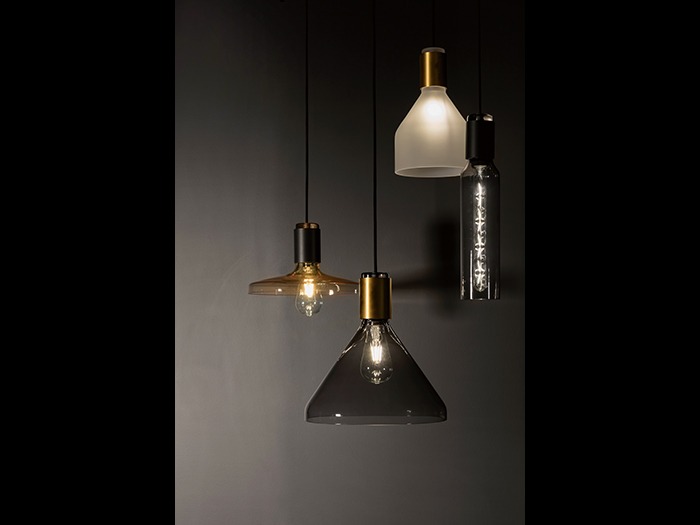 "It is a family of suspensions that play on the visual contrast between the coloured and white blown glass, combined with different shapes and colours, also ideal for multiple compositions. All shapes and finishes are inspired by the interplay of opacity, translucency and transparency. Its translucent or milky forms and dynamic light offer a countless number of scenarios.
"When switched off, its transparency makes Miles almost disappear. When switched on, it provides a cosy and stylish luminous presence, stimulating senses and perceptions.
"For the Soiree family, we started with the idea of creating a volume with only one sheet of metal. Big impact with the minimum amount of materials is for me, the essence of product design! The range has been designed to be voluminous, lightweight and transparent. Its sophisticated form creates a dense and decorative effect, filled with a warm light. It takes its inspiration from many angles, from the play of light and shadow in architecture to natural light effects, the shape of everyday objects and sculptural art.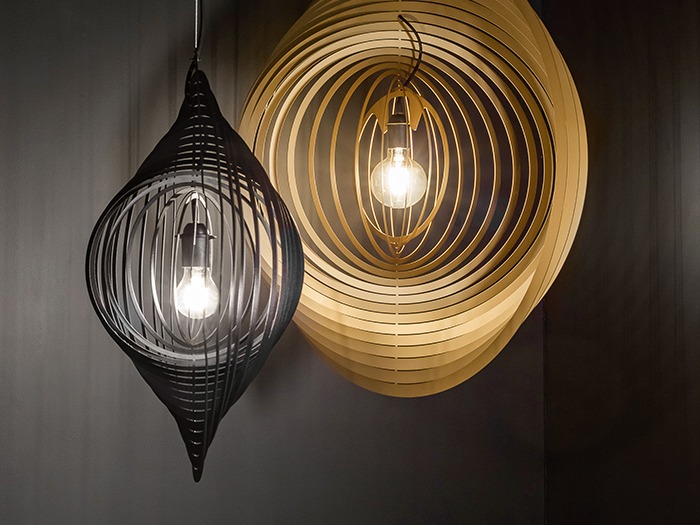 "The result is a nest of lights, made of circles or rectangles, both structural and decorative – generating a seductive luminous effect. Even when not turned on, they bring texture and character to rooms, defining different areas with small and large contemporary pendants. The interaction between the pure circular and rectangle forms, with the warm light sources and the symmetric configurations triggers a dynamic tension.
"And then finally, there is Mello; our search for a more present and flamboyant suspension resulted in a co-operation with master glass blowers, with whom we worked on the balance between object and light, between subtle colours, densities and transparencies. When turned off, its colours gain definition; when turned on, they disappear with gentle luminosity. The Mello offers a sense of special intimacy with direct light on its below surfaces. At the same time enhancing the space with warmth, elegance and transparencies."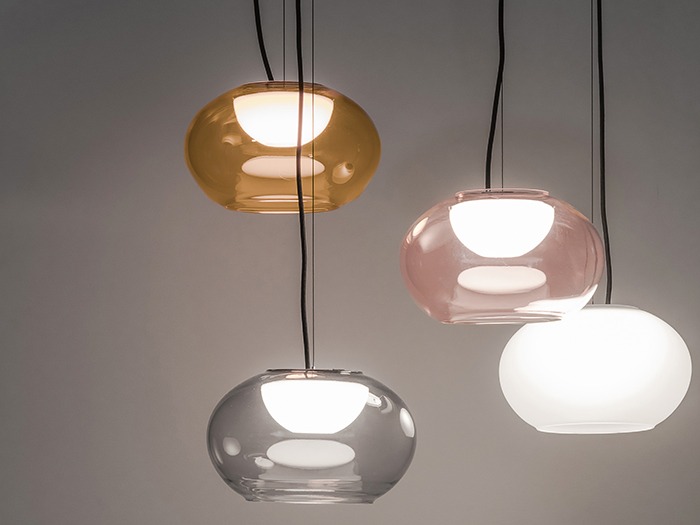 Challenged to create a set of more decorative and expressive shapes, Delta Light, presents us with a series of new adventures in luminaire design. Reflections is a poetic expression of craftsmanship, light, technology, texture, shape and mood.