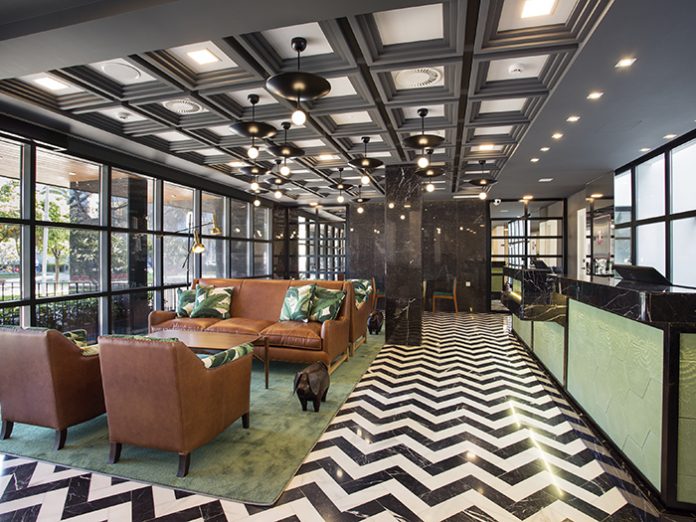 (Global) – Room Mate Hotel is growing from strength to strength with various openings over the past twelve months. darc looks at just four of it's latest offerings and how lighting works to create a friendly yet individual and luxurious, boutique atmosphere.
Bringing an innovative approach to the tourism industry, Room Mate Hotels, founded and chaired by Kike Sarasola, has expanded substantially in the past year, opening a number of new locations globally.
Working with various interior designers, each hotel has it's own personality yet adheres to the brand's philosophy – with design as an integral and distinguishing feature.
The creative process begins with the selection of a property: a city centre location plus a building with heritage that provides a story and personality to the project. Designers are invited to create bold, individual and welcoming spaces that, alongside a friendly service, impart a feeling of staying at a friend's home.
In April last year, Room Mate Valeria, Malaga and Room Mate Giulia, Milan, were added to the hotel's repertoire. RM Valeria features interior design by Victoria and Sylvia Melian Randolph and is located in the heart of Malaga, offering 61 rooms and a terrace with stunning roof top pool. The third RM hotel to frequent the city, Valeria's rooms are inspired by its location and decorated in seafaring shades.
Working with lighting design practice Studio Ibu, Melian Randolph Interior Designs looked to incorporate decorative lighting elements that were a modern take on Andalusian classics. In the public areas there needed to be enough light for work, but that wasn't overwhelming, while in the bedrooms there had to be a choice of lighting to keep clients content with more of a subtle ambience.
"Decorative lighting is of utmost importance," commented the interior designers. "It can make or break any project; Studio Ibu chose elements that would achieve what we had in mind for the technical parts as they could offer us a wider variety of elements to choose from. The choices in lighting available are unlimited and a lighting designer can narrow it down to follow your specifications."
In terms of challenges at Valeria, in some areas of the building the ceilings were very high and in some parts very low. It was important the lighting felt consistent throughout so the team worked to adapt the same lighting elements to the different heights.
"Lighting is essential to the interior design and can mask any flaws or technical issues that cannot be solved, while enhancing important features," continued Melian Randolph. "It contributes immensely to the general atmosphere of a space and can change a mood entirely. In a hotel project you can never be too bright or to subtle… there has to be enough of each.
"We loved working in Andalucia, an area we know well and we were able to incoporate a traditional Andalusian courtyard into a more modern environment with black pebbled floors and a moorish fountain. As well as this, the glass coloured light sculpture – designed by Atelier Mel in the breakfast room is bold and fresh."
The design for RM Giulia comes from award-winning architect Patricia Uriquiola, who lives and works in Milan and took a personal keen interest in the project. Referencing the city of Milan and taking inspiration from typical Italian domestic spaces, she added a vintage touch to create welcoming, familiar surroundings.
For the hotel lobby floor, Uriquiola selected the same pink marble as found in the Duomo of Milan. The predominance of this colour in her designs has become one of her trademarks, while throughout the hotel guests can admire works of different Milanese artists, photographers and illustrators. In terms of lighting for RM Giulia, Uriquiola made use of lighting fixtures from Flos, Fonderia Innocenti, Marset, OLuce and Servomuto.
For RM Anna in Barcelona and RM Grace New York, the interior design services of Lorenzo Castillo were called upon. Discussing the lighting for both, Castillo told darc: "The lighting is without doubt, the most important element of a project because if the lighting is amiss then everything else will be a disaster, regardless of how intelligent the concepts are. The lighting has to be adjustable, not excessively bright and comfortable for reading or working.
"I use a great deal of indirect light that is as warm as possible. I have always been a defender of incandescent lighting as opposed to LEDs but thankfully, LED lighting has evolved and now has warmth that is similar to that of traditional light alternatives.
"In general, my interior designer facet also extends to the light fixtures and I combine classic styles with a modern sense of lighting. For example, one of the most striking elements of the Grace hotel is the lobby, where more than 40 brass fixtures designed by myself, have been installed along the walls. They are reflected in the mirrored ceiling to create a fantasy world of lights and golden hues inspired by the night. They're kind of 70s New York glam!
"We did something similar in the bar at Grace with a golden, plant-shaped wall lamp from Chelsom Lighting. The light and how it reflects in the mirror is extremely subtle and welcoming."
For Castillo, while lobbies were once places for the sole purpose of welcoming guests and checking in and out, in today's hotel environment, while they should remain functional there also has to be a surprise element to them. In the same way, hotel bars are increasingly integrated into the lobbies, so that the reception area becomes an experience.
"You have to feel welcomed yet feel the atmosphere of the hotel through its decoration and people," says Castillo. "The lighting must be inviting and cozy and the decoration must have some kind of magic where guests and locals have the desire to chat and have a drink as if they were in a fashionable bar or pub.
"A couple of decades ago, hotel bars and restaurants fell from grace but that's something which has completely changed thanks to the importance given to their decoration and lighting."
Reflecting on RM Anna, Castillo tells darc that one of this hotel's strengths lies in its lighting: "Take the brass and glass columns in the breakfast room for example, they create a classic Hollywood style.
"I also designed the shell-shaped wall lamps that look like they're straight out of the film 'The Little Mermaid'. It is very practical to work with professional lighting companies for projects such as this, which is why we turned to British company Chelsom for Grace and Dutch company Eicholtz for Anna."
Having worked on previous RM hotels, Castillo reflected on some of the challenges faced with these two most recent projects. "Grace took much longer than expected due to certain issues with the construction company and countless permits that were needed in New York. Anna on the other hand was completed in less time than planned, although the design concept was underway for close to three years as the project was more complex. We had already renovated the Grace hotel eight years earlier and the aim was to move up to a higher category. In comparison, Anna was a completely new project that involved converting an office building into a hotel that was to become the company's flagship establishment.
"In recent years there has been excessive use of neo-industrial styles with Nordic, Swedish and Danish influences, when designing Anna I wanted to veer away from this trend and return to Catalonian Mediterranean roots, Dali and classic Picasso, who searched for inspiration in Catalonia's Grecian-Roman fountains in the 1930s.
"Grace was an extremely complicated project because it is housed in a tall, narrow building with a very cold, industrial feel and little natural light due to its location in the heart of Manhattan. This was addressed through the use of colours and prints, as well as carefully designed lighting.
"The building that houses Anna was much more straightforward thanks to its notable architecture, extensive facades and location on Barcelona's Ensanche. The challenge was to define a different style unlike anything that was being created in Barcelona at the time."
Thanks to considered and inventive design by all the teams involved, all four new hotels have their own personality while representing the Room Mate brand and ethos – taking the hotel chain to the next level in hospitality.
www.lorenzocastillo.org
www.melianrandolph.com
www.patriciaurquiola.com
www.talasur.com
www.studioibu.com