This January, Israel-based Aqua Creations reached its 30th anniversary. Looking back at some of its iconic designs, darc Editor Sarah Cullen sits down with Founder and Creative Director Albi Serfaty to reflect on their third decade of lighting creation. 
Born in Jerusalem, Serfaty grew up in a "handy family", with one brother a watch maker and another a painter. As the youngest, he was keen to assist with the various building projects, which acted as his "formal" education. By the age of 13, he received a dark room and camera as a present from his brothers and became a self-taught photographer. 
Serfaty describes his hands-on childhood as one that was "all about problem solving in an aesthetic way". He continues: "I love the need for the new, but also admire the old. My favourite object is over 200,000 years old; a working tool from the Stone Age, and it is perfectly handmade. Often, I think about the prehistoric person as a designer by need. I never decided to become a designer, I just became one, and I am also a designer by need." 
Taking photography into a career, Serfaty became a Still Life pro in the advertising world. But eventually his creative disposition found other avenues to explore. "It became boring for me to take photos of tea bags and such. All I wanted was to work and look at cool things. I opened a creative studio named Communication Factory, which was a group of photographers, copywriters, and graphic designers, offering creative services for advertising companies. After a few successful months we merged with an advertising agency, and one year later as creative director I understood three things: The advertising world is not for me. My passion for photography doesn't get satisfied here, and it is going to be a long race with lots of mistakes and it's better to have my own company.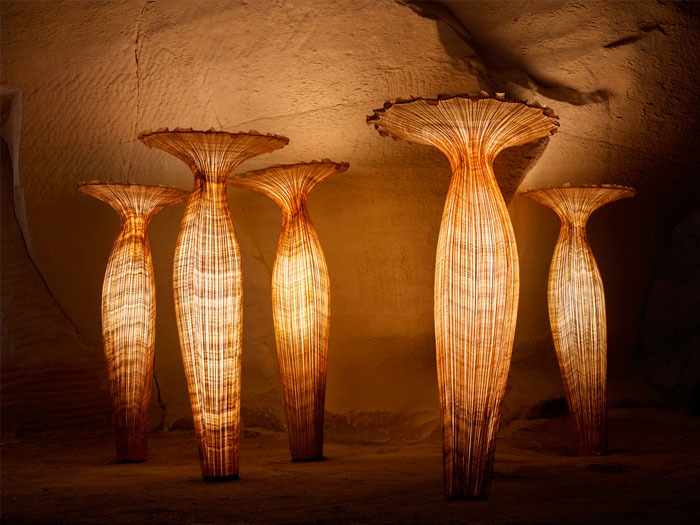 "With this in mind, Aqua Creations came to life straight from the coral reefs of north Sinai (Egypt) and up until today I have the opportunity to make wonderful objects and to take their photos."
The coral reefs mentioned are located in the Red Sea, which Serfaty discovered while on a snorkelling trip. The "underwater life, organic shapes and natural forms" are what inspired his first collection's design. "It is incredibly beautiful, and the ever-changing nature never fails to inspire. 30 years ago, there was very little organic and sculptural design around, and we felt we had something special on our hands."
The Aqua Creations studio resembles Serfaty's childhood experience and is led with a strong family ethos, comprised of members of his family and close friends. "We are a family," he states. "Some have been with Aqua from the beginning. We are a part of each other's daily lives and major life events such as weddings, and we see each other's children grow up." 
It was at Milan Design Week 1997 that Aqua Creations was first shown to the design world and general public, rubbing shoulders with the likes of "Ingo Maurer with his endless creativity, Ron Arad with his poetic metals, Droog Design with their ideas – design was also around," reflects Serfaty. 
Displayed at the InterNos gallery, Aqua's products stood out among very minimalist "white on white" products, as described by Serfaty. "We were with the wrong products at the wrong time, but in the right city. Milan loved us and we were gracefully welcomed. To this day I still feel an appreciation for this city and its elegant and free-minded people."
Further to their time at Milan Design Week, he adds: "When we first presented our works, the public and art scene loved our designs as much as we did ourselves. The sculptural, organic, and emotional design is what's still at the core of Aqua Creations' DNA today. 
"There was a crazy amount of creativity in one place. Also, the Italian companies like Cappellini, Flos, and Luceplan were exploding from creativity. We all felt part of a new design movement. Our contribution in this new world was the use of organic forms, soft materials, and emotional design – inspired by nature." 
The majority of Aqua's pieces are created using silk the team has sourced from the same traditional weaver's village in south India for the last 30 years. The village produces Aqua's signature Tusser silk using silkworms that live in the forest. Moths are then allowed to emerge from their cocoons naturally before the empty shells are harvested, soaked in boiling water, and softened into silk.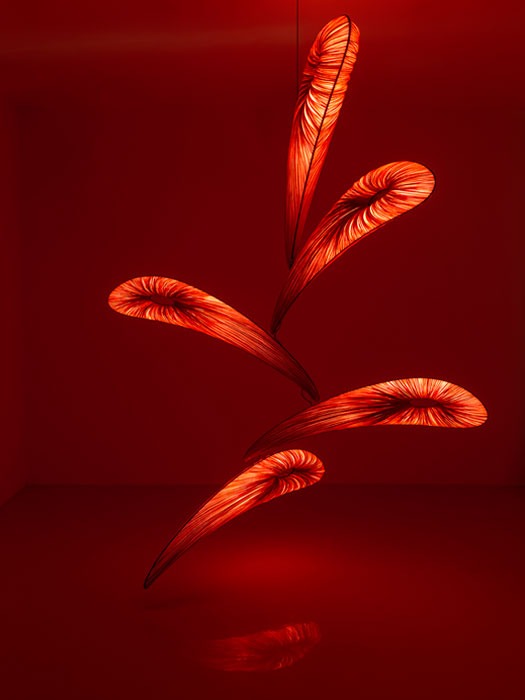 For the studio's new limited-edition collection of Morning Glory, the weavers have created Desi silk, a special raw silk that has a unique natural colour that is both beautiful and strong. 
The silks are then dyed in Aqua's studio using its signature range of 16 colours, or it is digitally printed using its L&LD Live & Let Dye programme, which was developed in-house at the studio. After printing, the silk is hand-pleated and applied to the lamps. 
When asked about his experience of working with light, it is evident it is a medium that he has worked with closely for a long time before becoming a product designer. "I've worked with light as my main tool in photography, as it is with my design. I make rules and also enjoy breaking them. Light should bring emotions, beauty and of course some light to a space. 
"Now, I'm working on a new collection, which combines technology and craft in an exciting new way for me. It is a game between 2D and 3D illusion with our signature silk, but in a new and refreshing way. 
"Good product design should include a balance between so many things, but mainly it needs to surprise." 
Looking back at some of the studio's most notable projects, Serfaty reflects on the project for Oceanic Park in Valencia, Spain, which they completed in 2000. The team was hired to create a custom-designed centrepiece for the Submarino Restaurant in the heart of the Oceanic Park. However, at the time Aqua didn't have any light fixtures large enough to fill the space. "After seeing the location, while sitting in a bar we drew up the design on a paper napkin," he says. The result was an 1800kg, 15-metre diameter light sculpture. In turn, its Stand By family came to life shortly after, inspired by the designs for this project, and has since become one of the studio's most successful collections.
One of the most frustrating things for Serfaty as a product designer is the time it takes for a design to come to fruition, yet at the same time, its most rewarding aspect is seeing a final design match closely to its original sketches. This was true for the Oceanic Park installation. 
Another notable project the team recently completed was for car brand Suzuki. "[We] were commissioned by Suzuki Israel to design a centrepiece for the new main branch and showroom in Rishon LeZion, Israel," says Serfaty. "Three Nana 200's, in a bright red colour, fan out across two floors, sending a warm glow across the entire space. The lighting fixtures are suspended amidst the central stairs, which at the ground floor is surrounded by a Japanese Zen Garden."
What lies ahead for the studio? Serfaty continues to explore and experiment with designs using natural materials and how they work in collaboration with light, producing lots of new designs in response to and influenced by the world around them. "We love organic materials, but we also love to innovate," he explains. "My focus at this time is the technical aspect of lighting. We are now working on a new silk collection that is our thinnest design yet. This is a fun challenge for me, which allows me to push the limits of what we thought was possible for Aqua Creations, while still being able to make the design that Aqua is known for.
"We are also currently working on the MakeLight Collection. A range of small and smart lamps that can be controlled by an app, which we are developing in-house, the first of its kind from our studio. The lamps are made to influence your mood and state of mind. We will share more about this by the end of this year."
And finally, inspired by the Covid-19 pandemic, the studio has created Code 130°. "I felt a responsibility to create a way to light up the future. This is my joyful colorful contribution to elevate our lives; we all need to lift ourselves up.
"Design's most important role now is to deal with climate change. Most aspects of our life have to do with consuming goods, which are created by us the designers. We must give our children the chance to live on this planet peacefully. I think that design has a huge role in not stealing the future of our children, as said by Greta Thunberg."