JOI-Design's co-managing directors Peter Joehnk and Corinna Kretschmar-Joehnk, along with interior designer Irina Schneide, ask: Acoustic Lighting – multi-functional luminaires that are on-trend?
Interior design is an artistic composition, with lighting and acoustics essential tools of the palette in determining the success or failure of an overall scheme. Having appropriate levels of illumination not only influences the general atmosphere of spaces, it affects peoples' wellbeing, from moods to circadian rhythms to energy levels. Acoustics go hand-in-hand with lighting when it comes to creating places that evoke positive emotional response. Contemporary architecture favours openness, brightness and generosity of space. Exposed concrete and expansive glass façades predominate, but it is precisely these materials that amplify disturbing sound waves. 
As the use of spaces evolve in reaction to lifestyle preferences for shared experiences, designers cannot focus on lighting without considering acoustics. Whether restaurants, hotel lobbies, meeting areas, lounges and especially open-plan offices, high amounts of public traffic always come with loud noise levels that are often perceived as unpleasant. Since lighting is an essential function in every room, it makes sense that fixtures with the added bonus of sound-absorption would be a welcome benefit.
Today's trend for open offices means acoustic wellbeing and effective lighting are essential for productivity, reduced eye strain and mood levels that encourage cooperative frames of mind amongst colleagues. Thus, many manufacturers have taken up the challenge to combine the growing demand for designs that are not only aesthetically pleasing, they feature problem-solving functionalities, too. Numerous issues can be addressed at once, planning and assembly costs are reduced, and new, interesting products can transform impressions of a space.
A wide variety of design styles are now available, from those with classic elegance to those that are futuristic, minimalist, extravagant or playful. At first glance, their dual functionality is not immediately apparent. It is only on closer inspection that the fixtures' acoustic properties are revealed. Felt, acoustically absorbent fabrics, and even extraordinary materials such as moss are preferred. With products available in diverse sizes, colours and variations, they offer versatility to complement an interior designer's vision for a space. Clever use and positioning can even eliminate the need for conventional acoustic ceiling tiles.
Our studio's interior designers are always in close contact with manufacturers, and, working closely with our specialised division, Products by JOI-Design, they develop new solutions and products. Their goal is to create the best possible results, ones that meet the business needs of our customers as well as a space's design and functional requirements, resulting in individual solutions tailored to the particular demands of each project. Our product designers are keen to explore the emerging realm of custom acoustic lighting products for future projects.
However, JOI-Design's interior architecture and design teams already combine acoustic elements with lighting products in a variety of ways…
In all the examples that follow, acoustic and lighting elements have joined forces to resolve design dilemmas with aesthetically-pleasing solutions. The preference for shared spaces, sustainable materials and clean-lined interiors continues to flourish. So there's no reason why stunningly-designed acoustic lighting pieces can't resolve noise, illumination and environmental challenges in one fixture, reducing building costs while quietly – yet boldly – stealing the limelight.
Capri by Fraser Berlin | JOI-Design's concept for the Capri by Fraser Berlin interprets the brand's philosophy of referencing the unique spirit, place and story each hotel's locale. Vibrantly-coloured design elements and flexible furniture create an assortment of textures for sound absorption – especially important as the hotel is a tourist destination in itself. Roman archaeological excavation works are visible below the lobby's glass floor, so the right lighting and acoustics were vital for creating the proper environment.
The slogan of the hotel's Asian restaurant, 'dip into history' references the Singaporean roots of Frasers Hospitality. As it is a popular spot for tourists, noise control had to be considered along with illumination that showcased the cuisine's fresh and colourful vegetables. Honeycomb acoustic wall elements and suspended acoustic luminaires made with sound-absorbing materials were installed as practical yet decorative solutions.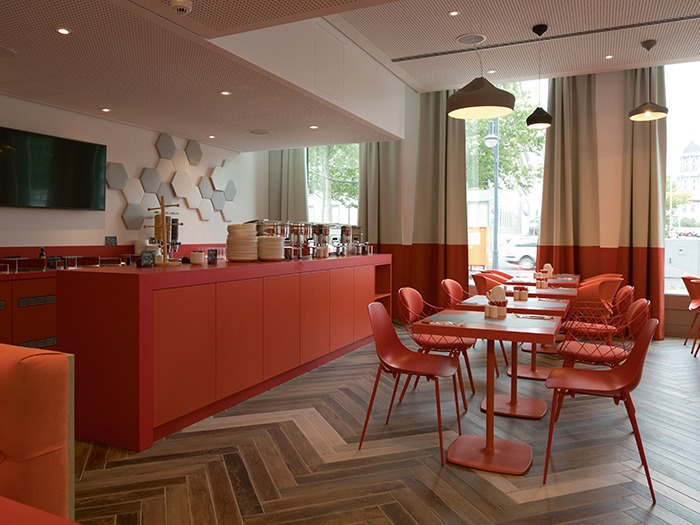 Öschberghof Hotel | For the spa at the luxurious Öschberghof Hotel in Donaueschingen, Germany, we designed a niche that integrated acoustics and lighting to create a peaceful oasis. Adjustable lighting and sound-absorbing textiles covering clean, simple forms invite guests to linger and relax in quiet calm. Another space within the Öschberghof combines function with design. Cosy seating nooks are equipped with sound-absorbing materials and lighting specially designed for focused tasks, creating a quiet space for concentration during business guests' meetings.
Salomon Hochschule | Following the adage that necessity is the mother of invention, JOI-Design made a challenge a virtue in the student café at Salomon Hochschule in Berlin. Existing columns in the spacious dining room were disguised with acoustic 'wall art' panels reminiscent of cafeteria serving trays. Swivel lights were integrated to individually illuminate the room and tables.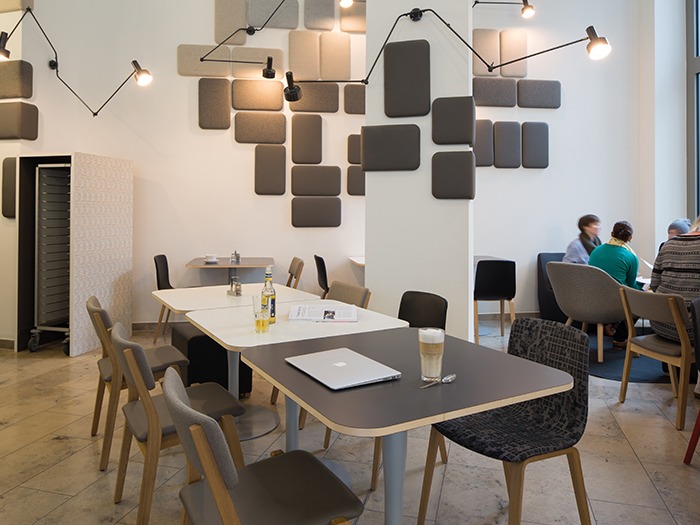 Hyatt Place | A combination of moss and lighting adorns the foyer wall in the lobby of the Hyatt Place in Frankfurt. This living green element not only radiates freshness and inspires the wellbeing of guests, it is also 90% sound-absorbent.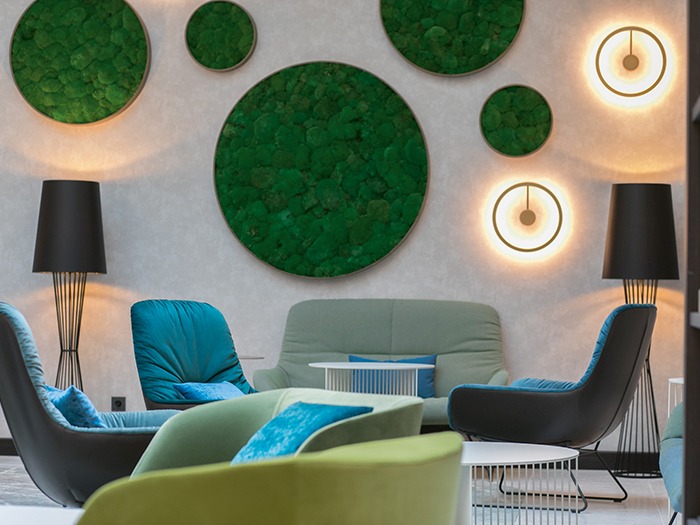 Neuer Marstall | For the Neuer Marstall in Berlin, acoustics were featured centre stage as a design feature of this mensa, or student café. An acoustic sculpture 'floating' above the seating area was specially developed to improve the sound quality in the room while softening the potential glare from overhead lights.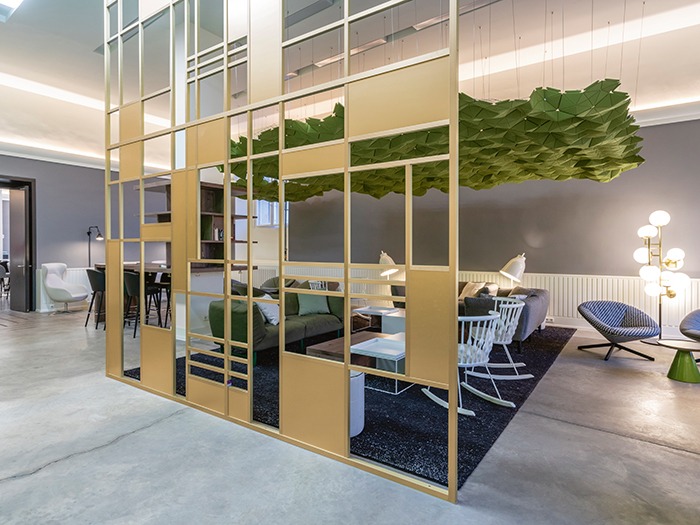 Hardenbergstraße Mensa | Sophisticated solutions were developed for the Hardenbergstraße Mensa in Berlin, where high ceilings in the sunlight-filled room had the potential to induce echoes that would amplify student chatter. Acoustic panels were transformed into art through the integration of decorative patterns on the fabric, and pillar corners were covered with leather where the hand can touch, and above, with felt, for added noise absorption. Silver-coloured pendant globes introduce focused light for students studying while they eat.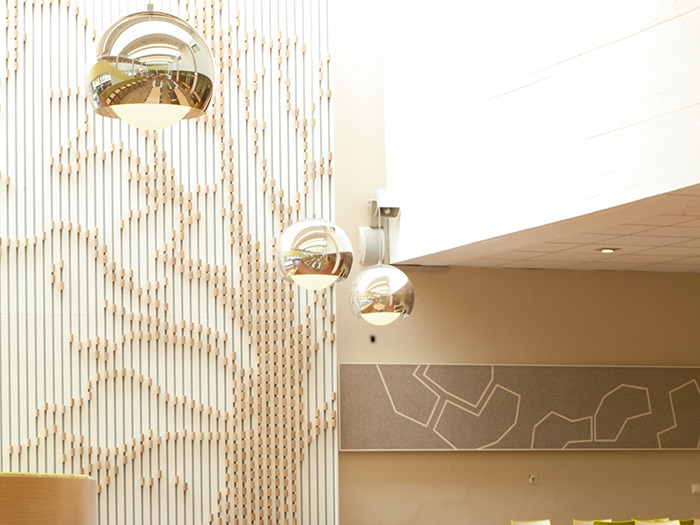 Mensa Oase Adlershof | Mensa Oase Adlershof in Berlin features room dividers covered with woven strips of felt in various colours, creating an artistic wall mural out of acoustic materials. A range of light levels interact with the undulating 'ribbons' to create depth and shadows. Having room dividers with superior sound absorption allows the café to host simultaneous events without one disturbing the other, while adjustable lighting offers a range of moods from morning to night.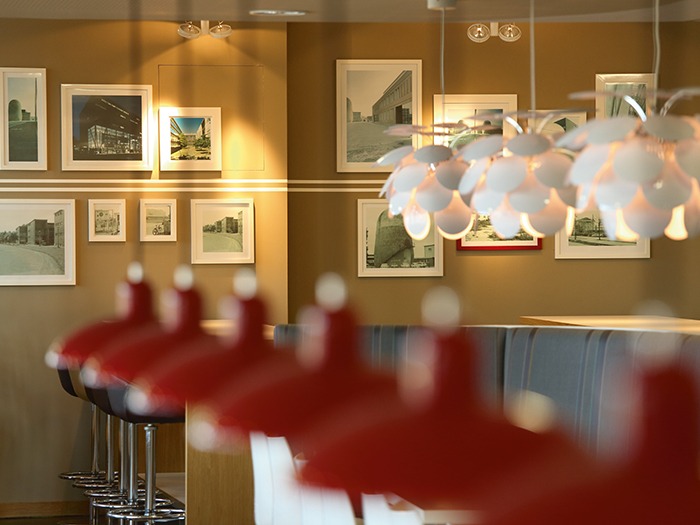 Moxy Frankfurt | At the Moxy Frankfurt City Center, decorative textiles are hung from the high, open ceiling, along with assorted fabrics, carpets and cushions to absorb the noise from the energetic crowds in this lifestyle hotel's lobby. An eclectic mix of decorative and functional lights brightens and warms the concrete walls.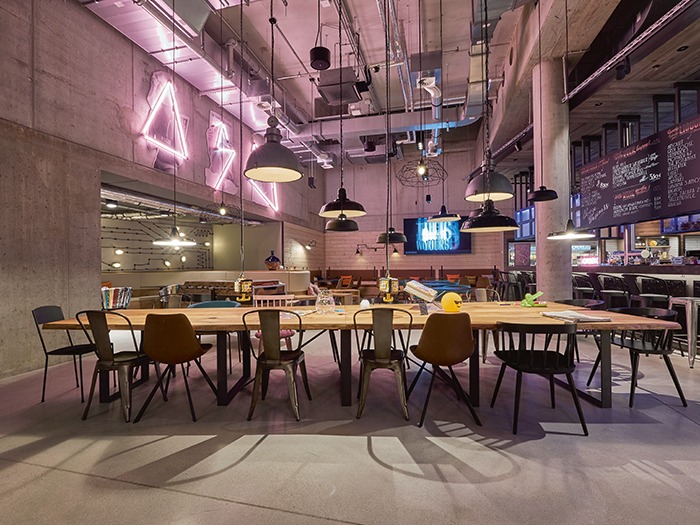 JOI-Design's Peter Joehnk, Irina Schneider and Corinna Kretschmar-Joehnk