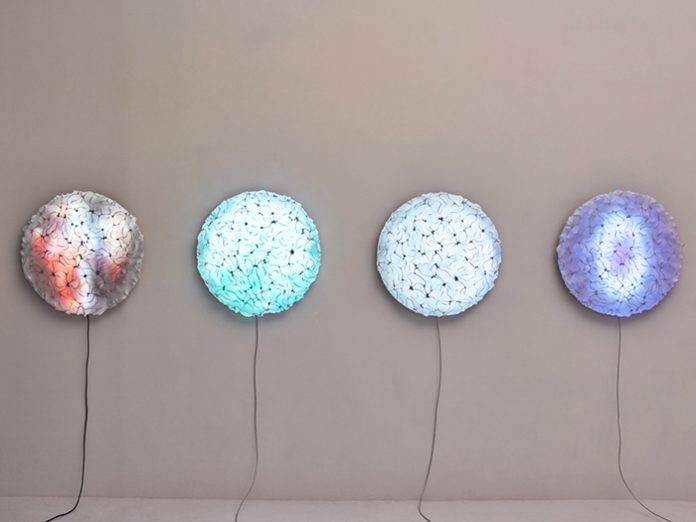 (US) – Aqua Creations introduces Lucky Lamp and Simon Says Suspended as part of the firm's Albi Serfaty's collections.
As an aesthetic yet functional extension of the existing Mimosa collection, Lucky Lamp blends Aqua's signature craftsmanship with groundbreaking technological innovation. Formed into a contemporary circular form, Lucky Lamp features a polymer-sprayed shade that uses laser cut technique.
Unique to this lamp is a technology of addressable RGB LEDs, where each light is controlled by a micro-computer to alter colour, motion and intensity. This technology enable Lucky Lamp to display five motion-lighting variants – Kaeidoscop, Fire, Water, Earth, and Wind, made adaptable with Warm, Natural and Cold colour temperatures. The 920 LEDs enable both the colour and motion options to be dimmable from 0.1 to 100%.
Simon Says Suspended is the latest addition to the Mino Collection, a line characterised by streamlines, geometric shapes. Also available as Simon Says Yes, No and Maybe, Simon Says Suspended can be hung individually or combined in different compositions of sizes and colours. The lights are created using clean lines of silk draping framed by mahogany wood or oak to provide a modernist aesthetic that ties with the overall collection. The lights are sculpted on a specially developed vacuum formed polycarbonate shell, lit with LED lamps.
Lucky Lamp and Simon Says Suspended are currently on display at Aqua Creations' recently opened SoHo NYC flagship showroom, located at Aqua Gallery in New York.
Founder of Aqua Creations Albi Serfaty: "My idea behind the Lucky Lamp was to create a light that has multi-faceted applications. It can be used as a piece of art and as a provider of light, content and movement, as well as a very simple, yet interesting object of interior décor. For the Simon Says Suspended, I was deeply inspired by organic philosophy and the idea to create a framed straight line object that truly embodies both modernism and creativity."