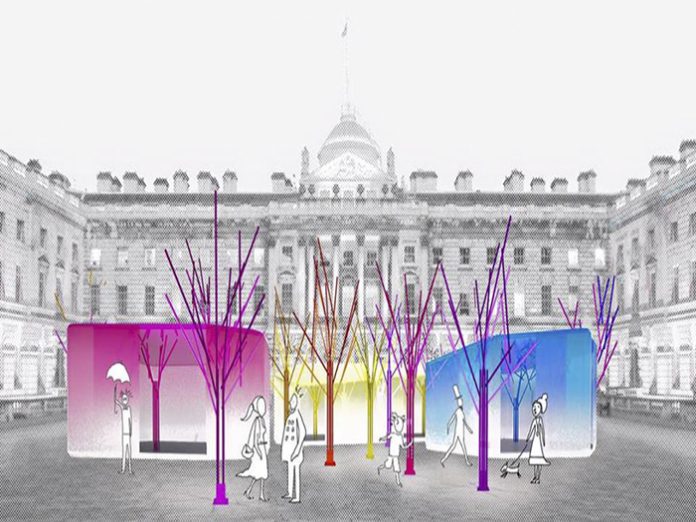 (UK) – New design and architecture fair ArDe explores the urban future at Somerset House, London, from June 8 to 12.
ArDe is a new architecture and design fair exploring 'The Near Future of a Global City'. This five-day event uses everyday human experiences to encourage wider debate about innovative and holistic approaches to much needed change in the city. Architecture and interior design practice Universal Design Studio founded by Edward Barber and Jay Osgerby in London, have been commissioned by Arde to design the overall experience of the fair as exhibition designers.
The fair provides a compelling combination of exhibitions, conferences, seminars and think-tank programmes across and throughout Somerset House. With themes around urban density, societal trends, technological advances and environmental needs, ArDe invites guests to an experiential journey through a series of uniquely curated installations that challenge established views of architecture, art, interior design, landscape, and property development.
With immersive exhibition spaces designed by both emerging and well established firms, visitors will experience the practical imagination of great minds in the industry sharing a vision of how lives will be different in the future and how people can make cities more resilient as well as sustainable, yet still beautiful.
By exploring our urban landscapes in new ways and through a range of special exhibitions, ArDe considers the way people eat, sleep, wash, travel, play and work in cities, and how these daily rituals might alter as the landscape changes. By engaging brands, developers, designers and architects, ArDe will show that only a holistic approach to these disciplines can generate successful and new models that will affect daily lives.
The Edmond J. Safra Fountain Court will be the stage of an installation by landscape architect Günther Vogt and artist Dan Graham. Having exhibited in Marseille and Place Vendome, ArDe is proud to host their first installation in London.
Spanish Architects, Teresa Sapey Studios have created a triplet of Fireflie pavilions. Situated in the Edmond J. Safra Fountain Court, these spaces are intended as places for transiting and socialising. As Fireflies biologically emit a fluorescent light, so too will the pavilions at night, illuminating the courtyard with colour and energy.
Echlin, Tree Box and Deirdre Dyson are collaborating to create the 'Garden Balcony', a green garden wall setup both interior and exterior, that's dedicated to providing sustainable and aesthetic solutions by sourcing locally manufactured, recycled and environmentally friendly materials. This will be a thriving ecosystem in the heart of Somerset House with the well thought out narrative of providing transformational change to our urban environments. Additionally, ArDe will set up a shop selling technology products and limited edition furniture and design objects.
More confirmed exhibitors include, James Turrell, Lasvit, Santa & Cole amongst others.