Artemide expands with new showrooms
(Worldwide) – Artemide continues to grow with new flagship stores in Chicago, US, and Warsaw, Poland, confirming expansion strategy involving significant cities and shopping districts. Both designed by architecture firm Studio de Bevilacqua, the Chicago store is a 2,800sqft showroom, showcasing the full range of Artemide lighting solutions, including new products, iconic fixtures and the latest innovative lights for architectural projects.
Studio de Bevilacqua maintained the integrity of the industrial building, incorporating the existing structure and architectural details, like exposed brick walls and wooden ceiling beams, into the design. By adding walls to separate without enclosing display areas, there is a seamless flow from room to room. Suspended cloud ceilings allowed Artemide to display ceiling and suspended fixtures at a realistic height without compromising the original ceiling structure.
Three large windows on West Hubbard Street allow passersby to look in through the entire space. The showroom is designed to serve as an exhibition space and lighting competency centre. It serves as a meeting point and consulting space for design professionals working on residential, hospitality, office, retail and outdoor urban and landscaping projects.
Founder of Artemide Group Ernesto Gismondi commented: "The Chicago market has been integral to the growth of Artemide in North America. We are thrilled to re-open this location for the sophisticated consumers, interior designers and architects of Chicago. Through the new showroom we will showcase a wide array of products that reflect the lighting competences that the Artemide team has developed over the years."
Further to this, Artemide open the first branded showroom in Warsaw, Poland, including Central and Eastern Europe. In the centre of the city's university district, the showroom is hosted inside a historical building containing the Idea MM exhibiting venue, a partner in the introduction of Artemide in Poland and distributor of international furniture brands.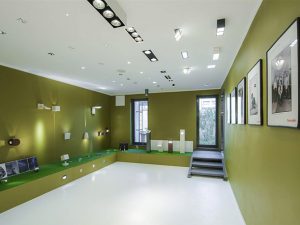 The showroom offers high-level technological solutions for the lighting sector and an overview of the highlights of the Design and Architectural, Indoor and Outdoor collections of the Artemide and Danese product range. Conceived to provide a comprehensive overview of Artemide appliances, the one-storey showroom features spaces designed according to different colour codes to introduce smart lighting projects, closely focused on sustainability and designed by international architects and designers.
A place providing the right solution for any project, the showroom stands as a reference point for designers, a lighting consultancy centre for architects and professional lighting designers, offering a blend of products, competence, and design. Lighting specialists can find interactive and multimedia catalogues, supported by digital services that ensure perfect energy management for a sensible use of lighting, including the TCO (Total Cost of Ownership) calculation system.
Artemide's Chicago showroom