Artemide repurposes Discovery Space for social distancing
(Italy) – Italian lighting brand repurposes Discovery Space as a tool to help with social distancing within a workspace or restaurant environment.
Interpreting the need to delimit personal spaces with a light that takes care of its users' well-being as well as creating an engaging atmosphere, rather than a return to the typical cubicle layout, which evokes small and cramped spaces, Discovery – although it provides a solid barrier – can either be transparent or can add ambient light to the room, making it feel a lot more open.
The Artemide team has recently introduced the pieces within its own Pregnana headquarters in Milan, as lockdown restrictions are eased in Italy and companies plan a return to office-based work.
Artemide's Carlotta de Bevilacqua tells darc: "Discovery was first designed in 2015 by Ernesto Gismondi, my husband and founder of Artemide. The Discovery family continued to evolve until today, when we have been able to transform the challenge of social distancing into an opportunity to improve the environmental quality of a space and create a positive and pleasant outcome.
"Discovery Space delimits the personal space, which protects the health of our workers. However, rather than creating closed divisions, it is unique in adding the right light to the environment. This is, in my opinion, the right approach to react to this crisis: to innovate in a disruptive way.
"At Artemide we have always placed a great importance in innovation and we therefore approached this issue in a creative way, for a solution that can be used in our own headquarters as well as more widely in workplaces, restaurants and other open-plan environments.
"With the Artemide App, individuals can personally intervene to manage their own light and create dynamic situations with a 'Human and Responsible Light', and when it is possible, if we want, we can simply reopen the space by changing the installation position, making it a very flexible solution."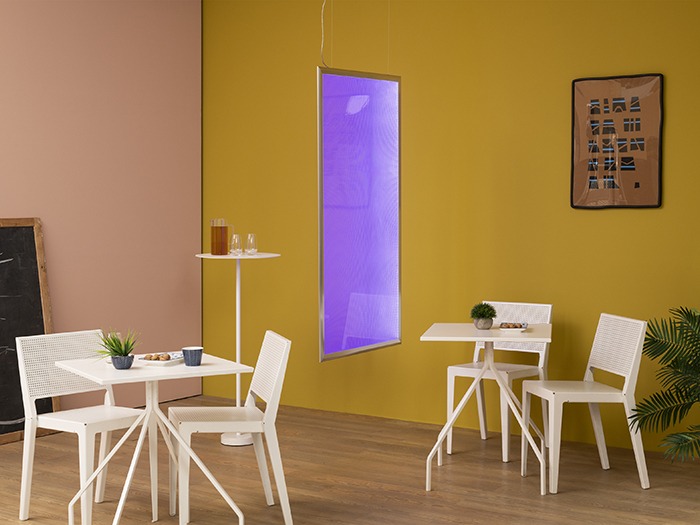 A vertically installed Discovery Space becomes a perfect element to separate workstations or restaurant tables, not only by delineating and protecting but also adding an aesthetically pleasing focal point to the room.
Thanks to its different levels of transparency, Discovery Space has the ability to create various environments depending on the time of day or interior setting. Its light, which can be set to a wide variety of shades from white, to tunable white and coloured, allows for not only an optimally lit space but enhances the psychological and physiological well-being of those using it.
Discovery Space is a piece that is based on minimal geometry. It has a very slimline profile and is incredibly minimally invasive within its environment. Each element acquires volume when it is turned on thanks to the light that draws the central emitting surface. A very light aluminium ring houses an LED strip that injects light into a specially worked surface of transparent PMMA.
The diffuser is composed of a perfectly transparent PMMA surface, processed with microparticles so small that the surface is hardly perceptible when the appliance is turned off. When the appliance is turned on, the transparent interior appears to fill with light as if by magic, as the absence is turned into a perfectly diffusing emitting surface.
Looking ahead to the future, it is a flexible piece that can adapt well to changes in the layout of a space. The same fixture can be suspended vertically, horizontally or according to any other inclination thus allowing in the future to maintain perfect functionality by changing the installation, eliminating the divisions but maintaining correct lighting.