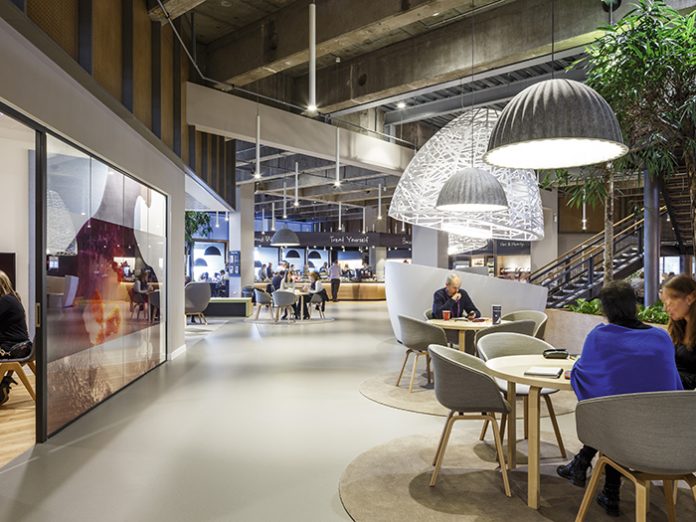 Inspired by the site's history adjacent to the ancient Silk Route trading network, interior designers SpaceInvader worked with Enigma Lighting to recreate AstraZeneca's Macclesfield campus in the UK, offering a new found flexibility more akin to the medical researcher's forward-thinking values.
Medical research company AstraZeneca's (AZ) Macclesfield office, Middlewood Court, was in desperate need of a revamp to bring back to life a fading 1960's building that reflects the true nature of a modern, dynamic company. Manchester-based interior design studio SpaceInvader worked with lighting consultant Enigma Lighting to repurpose the campus, originally built as a manufacturing and packing facility in the 1960's, and re-define the future of AZ's workplace portfolio.
SpaceInvader Design Associate and Lead Designer on the project, Sarah Dodsworth commented on the priorities of the Macclesfield campus that underlined the design team's vision: "Recent organisational changes meant that AZ's priority was to instil a sense of pride back into the Macclesfield campus and re-affirm the company's position in the North West."
Hugely important to SpaceInvader's vision of redefining the campus was the relevance of silk to the office site. Middlewood Court sits adjacent to a stretch of the Silk Road, a series of trade routes along which cultural knowledge and commodities such as silk were exchanged between the East and West. This was pivotally important to Macclesfield's development as a silk producer in the 18th and 19th centuries, as today, both synthetic and natural silk fibres are leading to breakthroughs in modern medicine. The silk concept was a huge driver to the holistic design through the introduction of a 'Silk Route' that flows through Middlewood Court. This acts as the principle thoroughfare featuring bespoke Silk Route central pendants, made in a collaborative effort between SpaceInvader, Enigma Lighting, manufacturing firm Woodcraft Joinery and Northern Lights. The silk route central pendants house Enigma Lighting's Cocoon Ring pendants, echoing the shape of informal silk spun cocoons that provide cluster meeting spaces to promote the exchange of knowledge between colleagues.
The consensus of the design team was that the existing environment, inflexible layout, out-dated infrastructure and fit-out did not meet AZ's global workplace philosophy – iWORK – that promotes an activity based working philosophy, nor did it reflect a progressive pharmaceutical company. Dodsworth commented on SpaceInvader's approach to capturing AZ's personality and vision for the future: "Middlewood Court is not the home of a buzzy media company – it is home to 1,000 highly intelligent, highly trained scientists, IT technicians and human resource specialists who need quiet areas for focussed work, collaboration zones to share knowledge and breakout spaces where they can remove themselves from the pressures of their role and take an hour to recharge, refresh and socialise with colleagues. Fundamental to the design brief was the ability to deliver a state-of-the-art workplace that would encourage and nurture this cultural shift towards flexible, collaborative working at AZ."
An intelligent lighting scheme was essential in developing this kind of set up. Having worked together in the past, Middlewood Court was the first opportunity for SpaceInvader and Enigma Lighting to engage from initial concept to implementation and delivery. Dodsworth continued: "This proved a real success and strengthened the interior design scheme. The interior and lighting design work intrinsically well together. The lighting fundamentally dovetails with the interior scheme and the two cannot be separated as individual aspects of the overall – that is the true success. The lighting assists in creating the perfect atmosphere and ambience across the varied range of workspaces, appropriated according to the style of work that is undertaken in each area.
"Lighting is fundamentally important to support employees to undertake their roles successfully and comfortably. I personally believe that achieving the creation of a successful lighting scheme is one of, if not the trickiest of elements in an overall interior design scheme."
Enigma Lighting worked to embody AZ and Space Invader's visions of form, function and flexibility through the lighting. Enigma Lighting Sales Director Paul Shoosmith commented on the collaboration between the two design firms: "The brief was all LED, DALI dimmable and using SpaceInvader's vision, the brief never altered. It was refreshing to all be working with the same goal and pulling in the same direction."
SpaceInvader's design response to realise a flexible space that supports a democratic activity-based culture with no cellular offices and no owned desks, was to create notional neighbourhoods across the open-plan floorplates. Each neighbourhood provides a variety of work settings to encourage the full spectrum of work styles, with flexibility offered by non-allocated desking, and departmental organisation defined by neighbourhoods, or team bases.
The design brief stipulated that the building should become a hub to encourage all employees across the campus to utilise the facilities provided, which flow through and around Middlewood Court's Silk Route. Along Silk Route flows the entrance, breakout areas, four meeting rooms and a communal café, where Muuto's Under the Bell pendants are suspended over café tables and seating alcoves. The creation of a new entrance on the north side creates a welcoming arrival experience for visitors and employees.
Each of the four meeting rooms take on unique shapes and use decorative lighting to give each a different personality. Meeting Room One houses warm coloured rugs and wooden floors for a comfortable ambiance, complemented by Luceplan's Archetype LED pendants to offer a homely glow. Meeting Room Two features DARK's Aba-Nuit LED lamps in pendant and floor forms, while the third meeting room sees a green ornamental pendant structure, fixed to the ceiling, with Artemide's Tolomeo LED pendants attached, playfully leering down. The fourth meeting room opens a conversation with the rest of the office with Artemide's Castore pendants – these are also seen dotted elsewhere throughout the building.
Middlewood Court relies heavily on its decorative elements to define spaces with decorative lighting, working to ensure areas are still dedicated to certain tasks, with each requiring a different personality of lighting.
The desk spaces make the most of an abundance of daylight flooding in through large windows, working with the architectural lighting to ensure a fresh and bright working area for optimum productivity. Both Anglepoise's Type 75 and Luceplan's Costanza desk lamps provide task lighting for each individual desk top, allowing employees to adjust their lighting levels according to their needs throughout the day. Elsewhere throughout the open plan desk space, lounge chairs offer zones to relax by the illumination of Calligaris' Sextans floor lamps.
Another unique space offered by Middlewood Court is the Brew Hub, which is exactly what it sounds like – a space to enjoy Britain's favourite drink. The Brew Hub reflects the openness of the office space, outlined by the lighting structure of Enigma Lighting's Flex Set and LED filament lamps, strung from a frame and suspended over the coffee table.
In order to reduce energy consumption and maintenance costs, the installation of this complete lighting scheme required Enigma Lighting to replace all existing fluorescent type lighting with LED fittings throughout. The all-new LED lighting is complete with a full dimmable lighting control system and daylight sensors to ensure lighting turns off ten minutes after no detection of movement. As a truly thoughtful and functional design, Shoosmith commented on how Enigma Lighting's scheme interacts with the overall design of the office: "It offers a visually stimulating space that is warm and flexible. With different colours, shapes and materials, it's a unique and inspirational space where the lighting creates the right mood."
With lighting at the forefront of this project's success, Dodsworth commented on the importance of lighting in offices generally and what a properly developed scheme has achieved for Middlewood Court: "All too often a lighting scheme is produced simply to satisfy the latest building regulations and budgetary constraints, rather than developing a scheme by understanding the requirements unique to each project. The result is that very often, spaces are overlit, uncomfortable and with no degree of management or user control. By challenging the norms, we have been able to produce a comfortable environment that supports the nature of the work undertaken, while being aesthetically beautiful and underpinning the overall design concept."
Championed by a forward-thinking client, this project delivers a workplace transformation and complete overhaul of a once traditional cellularised office culture and way of working. The design process and finished product can now go on to inform a more progressive approach to workplace design across all AZ sites, using decorative lighting as a definitive tool to encourage healthy and productive work environments.