Atrium launches Louis Poulsen and BIG Ideas Keglen pendants
(UK) – Latest Louis Poulsen and BIG Ideas collaboration officially launched at London showroom on 27 February.
Designed by BIG Ideas' Partner, Jakob Lange, the pendant family comprises four cone shaped pendants that each deliver a different diffusion of light using a unique curved glass insert built into and adapted for each version of the lamp.
The Keglen range represents a further development of the Tripitz pendant, originally created for the Tripitz Museum in Blåvand, Denmark.
During the launch Andy Young, Technical Director and Architect at BIG Ideas, gave a presentation to a full house of industry professionals and press. Afterwards, Young sat down with Ellie Stathaki, Architecture Editor at Wallpaper magazine, for a Q&A session where the floor was opened to the audience for questions.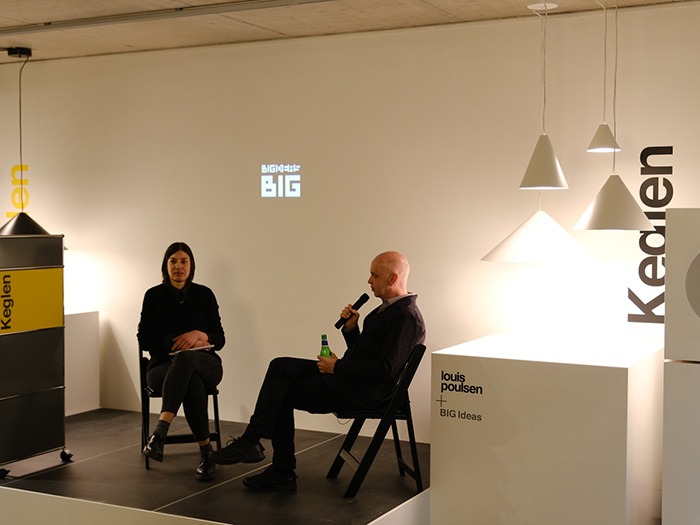 Lange describes the main feature of the pendants as "an organically shaped glass that sits inside the base of the cone, resembling a water droplet shaped by physics and the cohesive forces of nature. The glass and its conical housing combine to deliver an attractive and glare-free downward light, which when used in different combinations as at Tripitz, is perfectly suitable for any interior. Keglen is particularly suitable for restaurants, hotels and other public spaces where ambience, intimacy and good illumination are essential components of the interior design."
"The Keglen is aimed at making the world a little less messy," explained Young. "It's great for something that was designed specifically for a purpose has now found success afterwards for a wider audience. The Danish design brings such an honest joy and the collaboration between two Danish companies is a lovely thing to see."