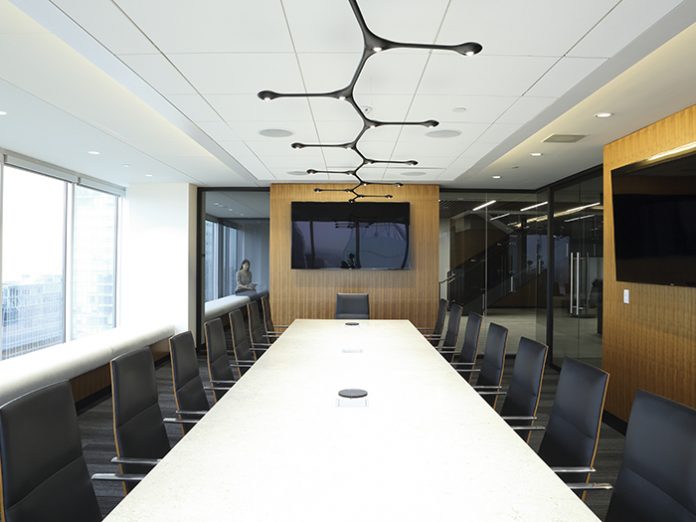 studio B architect's vision for commercial real estate firm Avison Young's Vancouver headquarters needed dynamic lighting to reflect the energy of its client.
studio B aimed to create a space that would connect people and reflect Avison Young's values, at its Vancouver headquarters.
Partner at Vancouver boutique design firm studio B architects, Michelle Fenton thought, "a well-tailored suit would be the right approach for the team at Avison Young; clean, well fitted and exquisitely detailed."
Inspired by the beauty of the Pacific North West as well as emerging technologies, Studio B takes the approach that design not only encompasses the hard wall and edges of a room, but how it feels when it is in use, how one transitions from one room to the next, and what draws the user through the space.
Fenton sees lighting as a big part of that, as she tells darc: "Lighting is one of those subtleties in design that often gets forgotten, or is not integrated into the overall design. Clever use of lighting in concert with overall design can greatly enhance the experience of living in a space."
A commercial real estate services firm, Avison Young's headquarters includes a café and several small meeting rooms. Fenton comments: "Light can evoke a sense of place if selected appropriately. Throughout the project, our approach was to highlight the different types of areas with feature lighting. The goal was to create a different feel for each of the types of areas within the office. Given that the overall material design was fairly consistent, varying the quality and look of the lighting allowed us to vary the mood of the spaces. The café lighting was a bit more relaxed and playful while in the boardroom we opted for something more slick and badass."
Studio B had a clear vision from the beginning of what the lighting in the boardroom should be like. "We were looking for something unique that spoke specifically to our client. This is why we chose Tokio's Carbon Light in the boardroom – it's evocative of a high end well-tuned racing bike; fast, efficient, cutting edge design and very, very slick." Through the intelligent use of lighting, studio B succeeded in highlighting the client's nature as a dynamic agency.
This energetic office project serves as an example of the power and versatility of decorative lighting to define a room's personality. With dynamic lighting features, a working environment is brought to life to reflect the nature of its employees and the philosophy of the company.