Bath Abbey, UK awarded 2021 [d]arc awards 'Best of the Best'
(Global) – [d]arc awards prove massive success for seventh year with 550 attendees at Fabric, London.
On the evening of Thursday 31 March 2021, the design community came out in force at Fabric nightclub in London to support the only peer-to-peer lighting design awards in the world and find out which studios had won in this year's prestigious [d]arc awards.
Sponsored by Applelec; Delta Light; formalighting; iGuzzini; Kingfisher Lighting; Lutron; Rako; Seoul Semiconductor; Tryka and We-ef, Mesh (bar sponsor) and Linea Light Group (photo booth sponsor), an astonishing 15,000 votes from designers were received in total while 262 project entries and 92 product entries were submitted. The 2021 entries came from all over the world, with 42 countries represented this year.
Awarded the coveted [d]arc awards 'Best of the Best' for 2021, was Bath Abbey in the UK by Michael Grubb Studio, which won the Places – High Budget category. This award is given to the project that received the most amount of votes out of all the project category winners.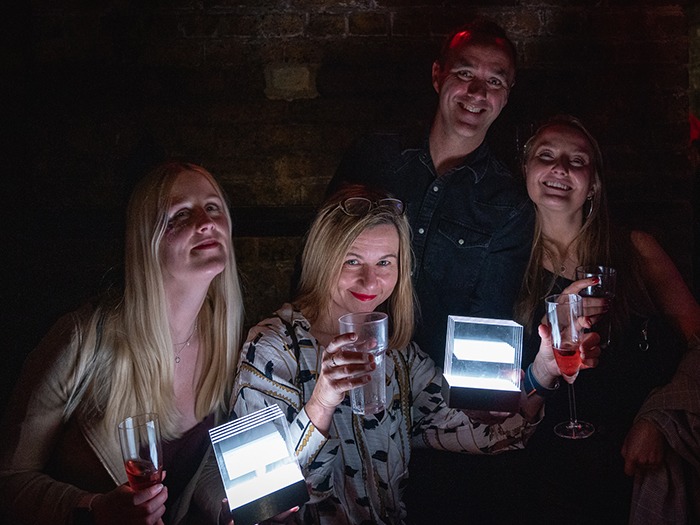 The Bath Abbey Footprint project is a historic £19.3m transformation programme of restoration work that aims to provide contemporary and sustainable solutions to meet the needs of the Abbey.
Commenting on this year's awards, [d]arc media Managing Director, Paul James couldn't be happier with how the event has gone, saying: "It was fantastic to hold the [d]arc awards as a live event again. The lighting design profession thrives on face to face interaction so this was a welcome return. To have 550 people at Fabric was great to see! I want to thank everyone that entered, voted and came to the awards ceremony. A special thank you to the sponsors and lighting design partners who put so much effort into the installations. They all looked spectacular and bring something special to the unique format of the [d]arc awards. I can't wait to do it all again next year!"
Returning as an in-person event for the first time since 2019, [d]arc night proved once more that it is the 'must-attend' party for the design community. Held for the second time at the legendary Fabric nightclub in London, alongside the awards presentation, guests enjoyed a night full of entertainment including karaoke, a photo booth, neon face paint as well as DJs, along with complementary food and drink. The event was once again live streamed on Youtube to a wider international audience.
The light installations this year were themed around 'Songs' and the nine design teams were all tasked with making their installations as sustainable as possible.
LDI teamed up with Lutron and Applelec for their installation based on Fireflies by Owl City.
WSP worked with Seoul Semiconductor and themed their installation on Toploader's Dancing In The Moonlight.
Michael Grubb Studio and We-ef also used Dancing in The Moonlight as their inspiration but by the artist Jubel NEIMY.
Hoare Lea & Kingfisher looked to Deee-Lite's Groove Is in The Heart.
Foundry and Delta Light went with The Smiths' There Is a Light That Never Goes Out.
Buro Happold and iGuzzini based their installation on Clair De Lune (Moonlight) by Claude Debussy.
MBLD and formalighting were inspired by Billy Ocean's Red Light.
dpa lighting consultants and Tryka went indie with Muse's Supermassive Black Hole.
Foster + Partners, along with Rako, turned to Dance into the Light by Phil Collins.
Entries for the 2022 [d]arc awards will open on: Monday 11 April, 2022
For full details on all the project and product winners and further awards information head to: www.darcawards.com
All images: GavriiLux