When it came to lighting up Beechmont House, EAB Homes £6.5m residential gem in Beaconsfield, Alexander Joseph's brief was to produce lamps with traditional influences, yet focus on contemporary style.
The property effortlessly marries contemporary living with state-of-the-art technology, so it was important to ensure this core relationship continued through every facet of design; this meant only luxury cordless lamps would do.
A key objective was to use lamps that could be moved between rooms, giving the owner the ability to create a fresh look whenever they chose, or to provide additional ambiance in key areas when entertaining. A good example of this was creating an oversized Amber lamp for use in the reception hall, that could also be used in the beautiful kitchen, or outdoors to stage an alfresco meal.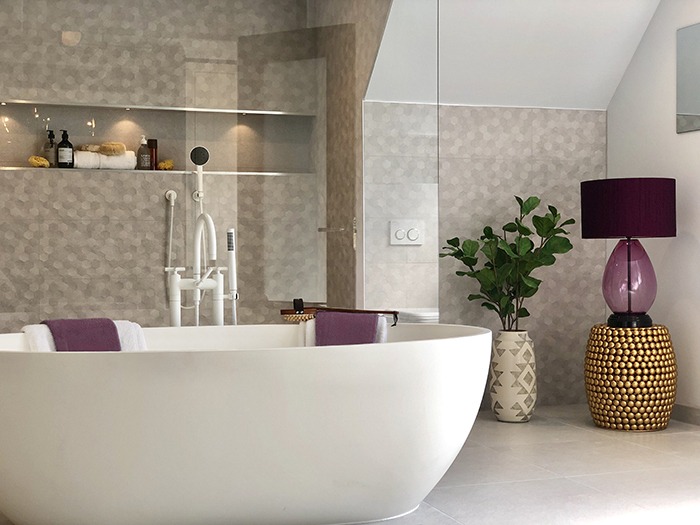 One of the most impressive features of Beechmont is the 1,300sqft lavish Master Suite with separate his and hers dressing areas and en suite bath and shower rooms. In the lady's bathroom a soft Aubergine colour was used to match the décor and linen. In his dressing room a masculine Charcoal lamp takes pride of place on an imposing table and seating area at the centre of the room. Both these lamps could easily be used in the main reception rooms, or in the garden.
The cinema room called for something decadent, so we chose a cordless lamp with an olive glass body, placed upon a brass base, then paired the piece with a bottle green silk lampshade, the inside of the shade was finished with a Pistachio silk.
The formal lounge demanded something unique. The challenge was to create a striking statement lamp with a slender body which didn't obscure peoples view of each other. The Alexander Joseph design team created a glass lamp that colour matched the coffee table and complimented the soft furnishings, right down to the inlayed marquetry on the chrome lamp sconce.
Ceramic cordless lamps were used throughout the house to add warmth to functional areas such as the coffee bar within the master suite.