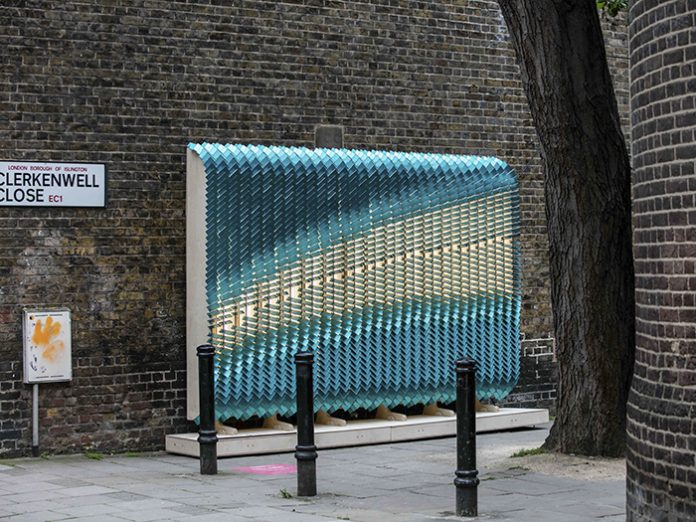 (UK) – Giles Miller Studio presented Billboards at Clerkenwell Design Week 2016 to lead visitors around events.
Working with the concept of wayfinding, Giles Miller Studio produced a series of four large-scale abstract signage sculptures. Square glass tiles were composed to create a centralised 'swoosh', featured in each sculpture, designed to subtly evoke the movement of visitors to the next festival destination. Each sculpture is lit from within and omits a warm glow come nightfall, ensuring their functionality at all hours of the day.
The functional sculptures were produced in collaboration with British Ceramic Tile, who celebrated the launch of their new London Hub in Clerkenwell during the festival. The sculptures were composed of over 8,000 hand-crafted tiles in an array of metallic colours. Each structure adopted a scale-like composition of overlapping tiles, creating an intense sense of depth and movement.
This is the third time the Giles Miller Studio has designed and crafted an installation for Clerkenwell Design Week and Billboards both represents the functional sculptural artworks the studio is known for, as well as the studio's on-going creative development.
Photo: Sophie Mutevelia