Buster + Punch showroom opens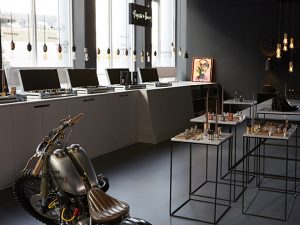 (UK) – Buster + Punch open debut London showroom in the Hop Exchange adjacent to Borough Market. The showroom will exhibit its collection, including the Rockstar Bar, Hooked lighting and recently launched electricity range.
Visitors will have access to new limited edition collaborations and pre-launch prototypes from London workshop, including custom motorcycles, jewellery and LED Buster Bulb launching from the 18th March.
Designer and Founder of Buster + Punch Massimo Minale commented: "We hope this showroom becomes a place where our visitors and trade clients can meet our makers, designers & collaborators including musicians, fashion designers and street artists."