ByBeau's newest bespoke creation Dusk has been a work in progress as the team waited for technology to catch up to fulfil the aesthetic desires. The stunning installation transforms any space from dawn to dusk. 
Dusk, created by studio ByBeau, is inspired by the time of day when shadows grow and light becomes copper-gold; dusk.
Each copper body of Dusks' stalactites forms the base to apply precious metals like gold, silver or a myriad of non-precious finishes. This flexibility allows full customisation to create a "personalised sunset".
Beau McClellan, Creative Director, says: "The ideology behind Dusk was a form that would work equally well within both classical and contemporary environments. Dusk soon became an exploration in temporality; waiting for technology to catch up with a design intended to prevent time from doing the same to its aesthetic."
Hand-ground crystal tips are seamlessly attached to each copper finger, with each angle precisely aligned. Great care was taken to ensure that no trace of manufacturing threatened the organic feel of Dusk.
The angles refract and reflect light throughout the chandelier, bouncing it from element to element. "This produces a sensory experience reactive to the configuration and scale of the whole piece. Flickering and glistening; alive with the arcs and patterns created," adds McClellan.
Each finger houses a powerful LED – of specific colour temperature – that is small enough to fit comfortably within. "The breakthrough unit used in Dusk combines extraordinary power with compact size. A challenge to the clean lines of the design was posed by the more powerful LED requiring the incorporation of a far more effective heat sink to dissipate the temperature.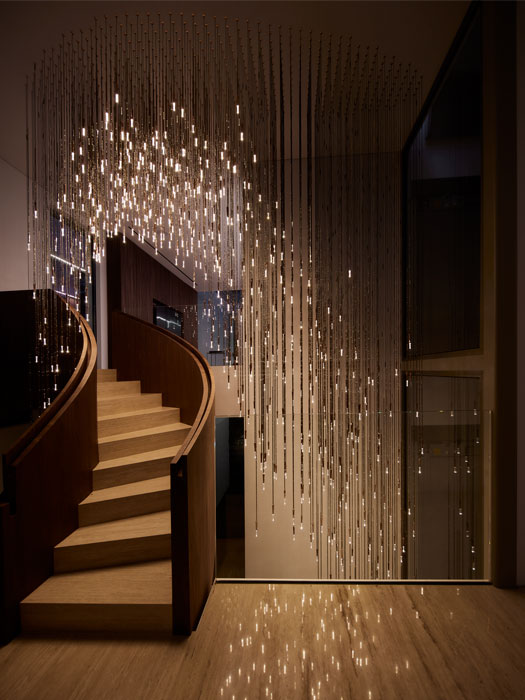 "Dusk aptly transitions between day and night without imposing the ambience of either. Twilight has an illusionary nature with the sun neither above the horizon nor below it; a balance of day and night – there cannot be one without the other, yet they cannot exist at the same time. Our Dusk represents dualism; a bond of form and function, of classical and contemporary…of night and day.
"Dusk is a piece that showcases many of the philosophies that define the work of ByBeau. The time it took to produce is a testament to our team's dedication to their art. As artists we seek to challenge ourselves; to produce the creative, rather than the easy," McClellan concludes.