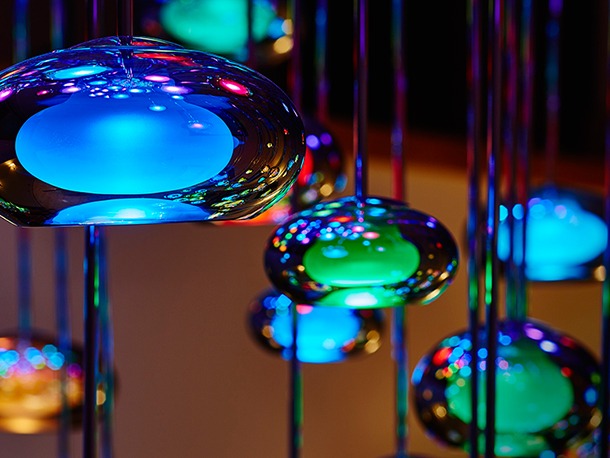 (Portugal) – Dimple is a modular chandelier system designed to allow a number of configurations and made from the highest quality handblown glass with a unique two way mirror-coated finish.
A darc awards entrant in the 'Lighting Designers' Favourite Decorative Lighting Product' category, Dimple is available in both chrome and a bronze finish, unveiling the extra interior glass ball when it's on and offers a flexible modular chandelier system to suit interiors of all sizes, starting from a single pendant through to multiple pendant configurations.
Every drop of the chandelier can be configured with a RGBW LED chip, with a combination of natural whites or a single warm white LED. Each drop can be individually controlled via DMX to offer a variety of possibilities. The system is designed to work with its own control system or already installed control systems like Lutron or Crestron.
During the day the chandelier works like an organic sculpture with the mirror coating reflecting the natural light and its surroundings. At night it becomes an exquisite light show that can adapt to the moment.