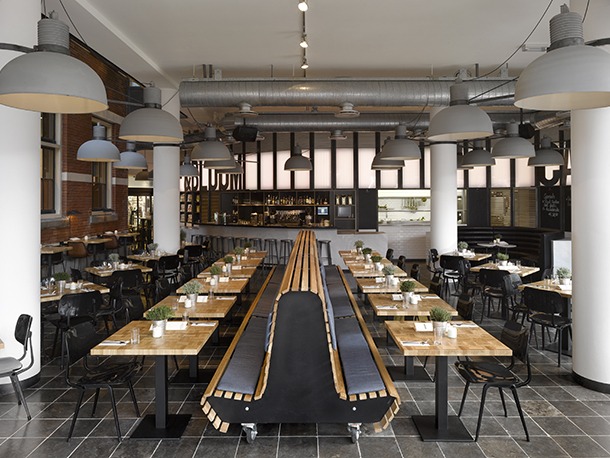 Situated on the ground floor of the Kalvertoren shopping centre on Amsterdam's Singel canal, Calf & Bloom is a new eatery, created as a direct replacement for the site's former incarnation, Replay Cafe. Far from making a few minor cosmetic changes, the venue's owners opted for a total overhaul, drafting in Concrete Architects to create a new interior design and branding.
The new identity reveals a fresh set of aspirations for the venue. The new name – an anglicised amalgamation of two nearby landmarks, the Bloemenmarkt (flower market) and Kalverstraat (calf street) – gives the brand an international flavour. As well as indicating its own location in a flourish of American-style shorthand, it promotes the notion that this is a public space, a hidden indoor square in which to meet and relax with friends.
A wall of opaque light panels and louvers, set within a raw steel framework, separates the front of house and behind-the-scenes services, and includes a variety of functions by serving as a menu board, newspaper display and chalkboard. Sweeping between the venue's front and rear facades, this wall with its illuminated panels underlines the 'exterior space' aesthetic, a concept further emphasised by silhouetting the Calf & Bloom name against the panes in large, steel lettering.
The new interior is given an industrial feel with the inclusion of high-bay style lighting. Measuring 78cm in diameter, these Lozz Extra Large shades are part of the Frezoli collection from TierlanTijn Lighting. TierlanTijn began producing the range four years ago, with each piece designed, developed and produced in-house at their Netherlands atelier. Each shade is formed from aluminium and suspended either from the ceiling by chains or from one of the venue's cylindrical pillars using a metal bracket, custom made for the project by TierlanTijn.