Carl Hansen & Son launches Opal by Esben Klint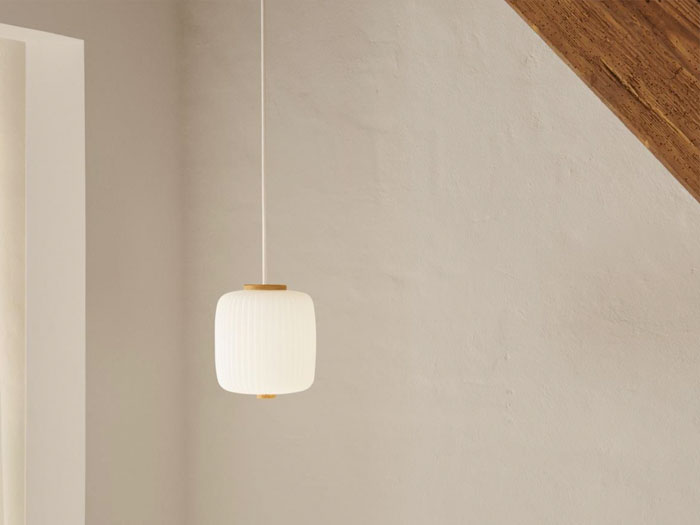 (Denmark) – Danish architect and cabinetmaker Esben Klint, son of world-renowned architect Kaare Klint, will be joining Carl Hansen & Son's prominent group of designers when the EK61 Opal pendant is added to the growing lamp collection.
The classic lamp, which was designed in 1961 but has never been in production before, is now being launched in mouth-blown opal glass and solid oak.
Klint worked throughout his life as an architect and cabinetmaker, where he managed to create a distinctive line of furniture and large edifices, but now he is especially remembered for his lighting designs. Klint was enthusiastic about working with pleating, and in 1961 he created the Opal pendant in pleated plastic. At the time, however, the design was too complicated to produce, which is why it was stored in the family archives for 60 years – until now, as Carl Hansen & Son is putting it into production.
Knud Erik Hansen, CEO of Carl Hansen & Son, says of the launch: "When the Klint family introduced us to the Opal pendant, we were convinced that we wanted to give the design the life it deserves. The pendant is understated and elegant, and its soft, indirect light and classic materials give it a tactile expression that goes incredibly well with the rest of Carl Hansen & Son's design classics."
The Opal Pendant, which has a pleated, super-elliptical shape with distinctive top and bottom pieces, evokes traditional Chinese lanterns, while the lamp's materials – mouth-blown opal glass and oak – give it a classic, eternal look. The lamp's oak top and bottom pieces have been meticulously turned and honed by hand, and the pleated shape of the lamp also imposes great demands on the glassblower to achieve a smooth, distinctive shape.
Speaking about the launch of the Opal pendant, Esben Klint's widow, Marion Klint, said: "Of all the many drawings we've saved over the years, this lamp is one of those we would love to see produced, so it's with pride and joy that Esben's pendant is now being revealed. Although Esben originally created the lamp in pleated plastic, we're enormously pleased that the lamp is now being launched in glass and wood, as this has an ennobling effect on the design."
In recent years, Carl Hansen & Son has added several lamps to its collection, including the MO lamps by Mads Odgård and pendants by Bonderup and Thorup. About the thoughts behind the growing lamp collection, Knud Erik Hansen says: "When you come from Denmark, where it's dark six months a year, being interested in lighting and lamps comes naturally. In addition, we aim to provide the very best design-led products, and we're always looking for products that can enhance our existing portfolio. This is also why we see great potential in the Opal pendant, which elegantly complements our collection and blends in beautifully above the dining table, in the hall, in the living room or in the bedroom, and it's a lamp which can stand alone or be combined in clusters."
The EK61 Opal pendants come in three sizes and will be in stores from December 2021.