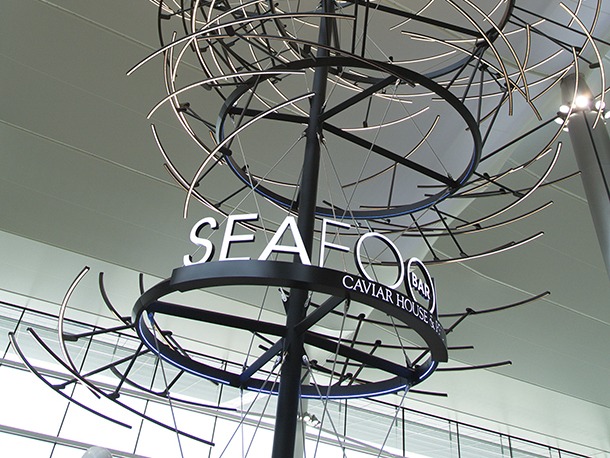 When Caviar House & Prunier won the bid for the most important retail space at the epicentre of London Heathrow Airport's new terminal, T2 'The Queen's Terminal', it also undertook the requirement to deliver a central sculptural feature to be integrated within the restaurant. Upon the recommendation from the retail directors at BAA (British Airport Authority), it commissioned Cinimod Studio to conceive, develop and produce an iconic sculptural intervention to mark its presence within the terminal, and to provide an impressive and memorable addition to the overall terminal.
Emergence captures the re-imagined movement of a school of fish moving underwater, a playful reference to the core business of Caviar House. It is a sculptural expression of the light patterns and shimmers that are created as a school of fish moves in harmony within water.
The structure comprises bespoke LED arcs spiralling thirteen metres up to the ceiling, made from engineered carbon fibre composites as found in the newest airplanes. The resultant form manifests a kinetic moment frozen in time and then re-animated through cutting edge interactive digital lighting. The sculpture is an iconic and memorable scene that sets the brand up for incredible exposure to the millions of travellers flocking through the terminal on a daily basis.
Each arc of light, controllable in movement, mimics the shimmer seen against each fish when they move in unison. Held together through beautiful mechanical fixings, each sits in the space above the bar, as a weightless mesmerising glow. This fragmented shimmer of scattered light translated as a fish vortex achieves a light movement that mimics that of the lateral line system that fish have, where each arc or 'fish' picks up the movement of its neighbour and mirrors the action in perfect synchrony.
This disparity between the perspectives of an outside observer of the shoal and that of a member of it leads into an interesting area known as Emergence. Cinimod extracted these natural principles by arranging each component, carefully creating absolute synchronisation within the overall form, where light sequences played through each arc really brings it to life.
Emergence has been extremely well received by the public, and has delivered on the design intent to provide a unique lighting installation that captivates the public. So much so that it has been shortlisted for a darc award.
It is interesting to see how Cinimod Studio has delivered a complex and ambitious installation that is firmly rooted within the commercial sensitivity of the client. Emergence serves as another example of how Cinimod Studio utilises innovative lighting technologies to underpin ambitious and memorable lighting interventions. In common with the studio's other works, the lighting takes centre stage, it is the playful manipulation of light that the public engages with and has impact from. Prior experience has demonstrated a link between Cinimod's lighting features and attracting business to its customers, with Emergence it has developed one of the most ambitious and commercially rewarding iconic lighting features for this superb brand.