Clarges Mayfair brings high-end living to the heart of London. Layered lighting from StudioFractal complements a blend of traditional and contemporary materials – the result, super-prime luxury.
Clarges Mayfair is a super-prime luxury residential development in London, comprising 34 apartments, a private wellness spa with 25-metre swimming pool, fully equipped gymnasium, private cinema and underground garaging.
Architects Squire & Partners created classical architectural rhythm and proportions, fine quality craftsmanship and Martin Kemp Design developed an interior aesthetic with a blend of timeless Britishness and influences of both Art Deco and Classicism. Lighting designers StudioFractal worked closely with the client British Land and the design team to craft a carefully layered lighting strategy that links the various interior spaces and accentuates the materials and details across both the interiors and exteriors.
The lighting was developed to create a series of layers of light that helped reduce contrast by day and reveals the architectural forms, volumes and sumptuous materials and details throughout. Lines of light accentuate stepped forms in the ceilings, stone walls, and provide discrete levels of illumination, while accent lighting illuminates a curated art collection and bespoke wall lights draw the eye and provide rhythmic accent to the public spaces. Integrated lighting within the bespoke cabinetry highlights the wall displays and combined with table lights and artwork lighting, creates a relaxing lounge environment for residents. Configurable meeting rooms and a private cinema benefit from a dedicated lighting approach that provides appropriate illumination for working or relaxing.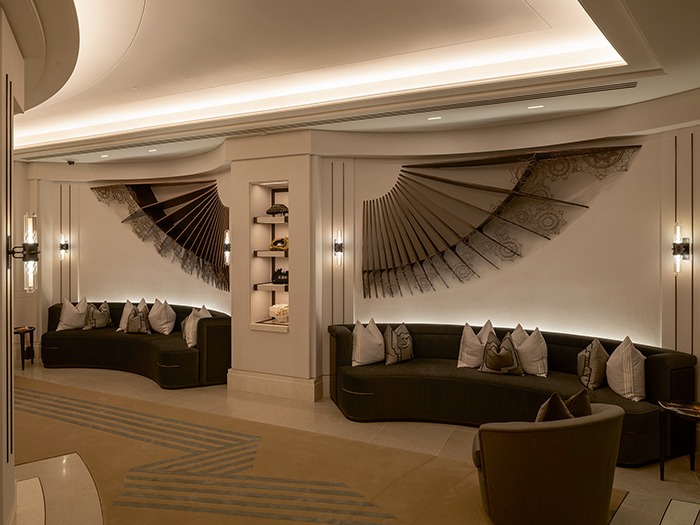 "As the client and interior design team wanted a visually captivating scheme that showcased the blend of Deco and Classicism styling, it became clear early in the concept stage that light sources needed to be either completely hidden or decorative to establish a balanced ambience between the texture, tone and appearance of the materials and the volume of the architectural spaces," says StudioFractal's Tim Downey. "The main lighting considerations were all focused on the quality of light. To ensure quality in each space we balanced the technical aspects of the light source – colour temperature, colour perception, output, distribution and so on – with the materials and surfaces that were being illuminated. We created a carefully nuanced background layer of amenity and detail lighting that allowed the decorative fittings to take centre stage.
"The decorative lights were all specified in conjunction with Martin Kemp Design and reinforce a visual consistency with the materials; they have been designed and specified to work alongside the architectural lighting. Material finishes, lighting colour temperatures and output were all balanced during the specification process."
The decorative fixtures were provided, in-part, by UK-based Dernier & Hamlyn, which produced 70 bespoke wall lights for the project. The unique fittings required a range of specialist metalworking techniques, including knurling, casting, machining and spinning. The bespoke lighting studio also provided four beautiful wall-mounted floor lamps for Clarges Mayfair that feature hand-turned vertical rods and silk shades with handmade Tudor ruff style trims, giving playful reference to London's history.
"The final lighting scheme is stunning and exactly what's needed for this very high-end residential development," Dernier & Hamlyn's Managing Director Jeremy Quantrill tells darc. "Everything we do is high quality bespoke so it was 'business as usual' for us, but I think what made the project stand out was the combination of craft techniques employed and the keenness of the design team to participate first-hand by talking to the people making their lighting and then watching it actually happen on the shop floor.
"There were natural challenges associated with producing the high quality required – the fixtures needed specialist, very labour-intensive techniques such as hand cutting glass and we worked closely with both Martin Kemp Design and Studio Fractal to ensure that aesthetic, practical and cost considerations were met to everyone's satisfaction."
Oliver Davies, Associate at Martin Kemp Design, commented on the collaboration with Dernier & Hamlyn: "At Clarges Mayfair we were keen to keep everything British. The bespoke lighting is a key element of our design so selecting a UK manufacturer that has a reputation for high quality and we could trust was essential. Our team worked closely with theirs to produce light fittings that met the brief in ways that were practical and cost conscious, whilst maintaining the intricacy of the design. Working with Dernier & Hamlyn was a real pleasure and seeing our lights develop from drawings to reality at its UK-based factory, reinforced the legacy we have instilled in the project."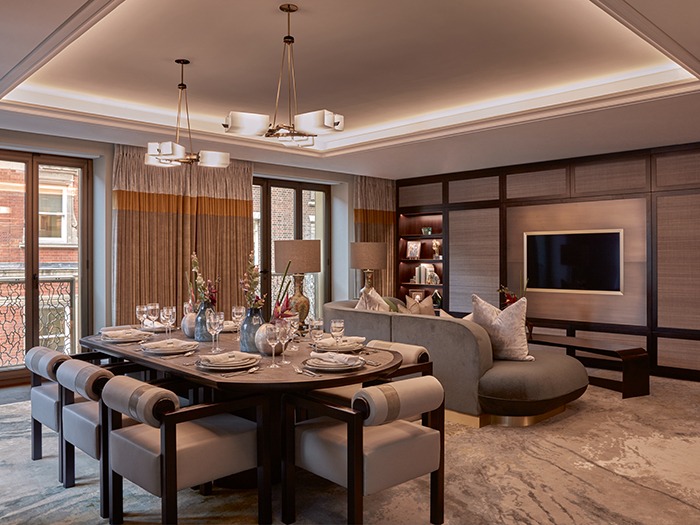 One area that is particularly striking at Clarges Mayfair, is the atrium, where a sweeping stone staircase, with illuminated treads, descends to the lower ground where lines of light from StudioFractal in ceilings, columns and walls continue to accentuate changes in surfaces and draw the eye up to the triple height Amaranthyne light sculpture created by British lighting installation specialists Haberdashery. Located within the dome ceiling of the atrium space, it is a fitting view for residents and visitors to the Clarges Mayfair address.
The name Amaranthyne is derived from a Greek word meaning 'immortal or unfading'. Haberdashery's Ben Rigby talks darc through the sculpture's development: "We wanted to create a sculpture that was a constantly evolving, never-ending world of colour. This story with light slowly evolves throughout the year, revealing nine sections of illustrations across 32 panel sections, across which, thousands of tiny hand-adjusted metal tabs interplay with light and shadow, and in turn, are flushed with colour.
"The range of hues represent colour ranges we identified in the different seasons of the year – celebrating cool morning tones, rich sunsets, mists and rain, all choreographed in sync with the real rising and setting sun outside – both in time and orientation.
"Across the decorative surfaces, the artisanal history of Mayfair was researched then interpreted into graphic form; details from brogue shoes, watch mechanics, hands of playing cards and fine umbrella handles for instance are laid across details taken from a historical map of the area."
All of these details are revealed then hidden again as the lighting cycles evolve every hour of the day, reflecting off the 250,000+ individually-positioned tabs across the 32 decorative panels. A faceted collar detail inspired by an Elizabethan ruff surrounds the perimeter, anodised in gold to frame the sculpture when viewed from below, acting as a defined boundary against the stone façades of the atrium.
"Nestled within the centre of the sculpture is the Oculus; a convex mirrored surface that reflects the space below and allows the viewer to become part of the sculpture," continues Rigby. "Various lighting effects can be projected out from its perimeter giving an additional means of transforming the look of the sculpture with light."
Tim Downey adds: "The atrium light installation is spectacular and a testament to the vision and hard work of Haberdashery. British Land wanted us to make the atrium light feature blend with the rest of the project – so we paid particular attention to the colours and levels of light emitted and made sure the lighting across the adjoining spaces complemented the visual effect. Direct light sources were avoided and the lines of light within the atrium walls draw the eye up to the roof installation."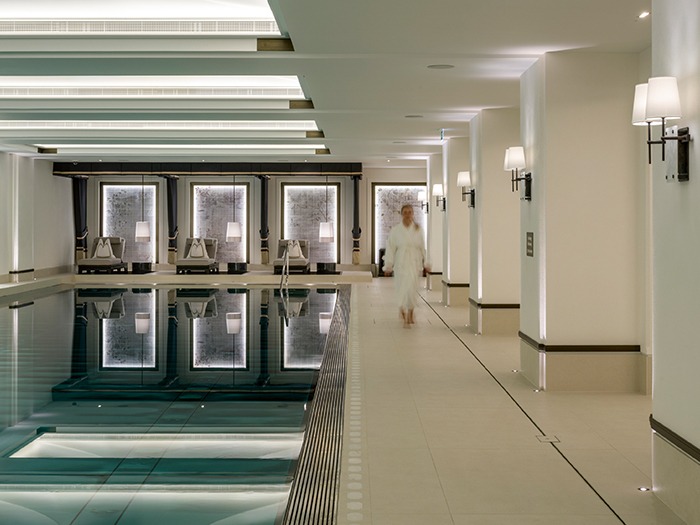 Elsewhere in the Clarges Mayfair building, three levels below ground, archways of light and bespoke wall and pendant fittings lead to a contemporary British spa, featuring a full-length, double parabola illuminated Barrisol ceiling above the 25-metre stainless steel pool. A combination of architectural and feature lighting highlight personal Cabana's, showers, a hydrotherapy pool and separate sauna and steam rooms as well as a series of personal treatment rooms. Another illuminated Barrisol ceiling is featured in the fully equipped gymnasium.
Moving up to the apartments, a comprehensive lighting strategy was developed for all 34 apartments and associated terraces. Decorative ceiling fixtures, floor lights, wall lights and table lights from Alexander Lamont, Lum Fardo and Otoro are supported by concealed ceiling and wall cove lighting, accent downlights and integrated joinery lighting. All lighting is colour matched and controlled via a discrete lighting control and AV system.
Commenting further on the lighting scheme at Clarges Mayfair, Michael Poots, Partner at Squire & Partners, said: "Our ambitious vision to deliver a new grand house on Piccadilly, that was both luxurious and intimate, utilising a huge selection of luxury materials and intricate crafted detailing was fully embraced and enhanced by StudioFractal, which provided an invaluable contribution to the design, product sourcing and delivery of this project.
"The studio's design team illustrated full understanding of the complicated elements of the design and we had absolute confidence in their judgment in the evolution of the design details to ensure the design intent was delivered at both the macro and micro scales of the project."
Maria Averkina, Head of Clarges Mayfair, added: "The success of Clarges Mayfair has been in the precision and craftsmanship the whole team has carried out, from beginning to end. Light and lighting are vitally important in making great architecture and intimate spaces and the creative talent and technical expertise has achieved an elegant and sophisticated lighting scheme for the project."
Images: Gareth Gardner, James Newton & Joakim Blockstrom