Paris-based industrial designer and scenographer Constance Guisset chats with Maria Elena Oberti about how the open-mindedness of her fellow Frenchmen helped her become the boundless creative she is today.
A self-professed professional neophyte, French designer Constance Guisset has made a name for herself, both at home and abroad, with her whimsical objects and spaces. Rather than relying on what she knows, she continuously challenges herself, taking on projects that require her to delve into new disciplines, forever putting her skills to the test. With more than two decades of design work under her belt, she's mastered the art of being a perpetual beginner. From sculptural lamps to ethereal stage designs, her creativity knows no limits, and, as we learn, it's all thanks to her native France.
"I became a designer quite late, I was 25 when I decided to study design," she tells darc. "I wasn't exactly sure what I wanted to do at that time, I just knew I wanted to do something creative that would also allow me to work independently, as my own boss. I considered a lot of different careers, like becoming an artist or a surgeon, anything that would allow me to work with my hands. I knew very little about what it was to be a designer before I decided to become one.
"The decision to study design in France was a natural one for me. I'd worked in Japan for a period in my early 20's, but by the time I decided to switch to design I was already back in Paris, so it made sense for me to do my studies here. I still had some doubts going into it, but I submitted my application to ENSCI and, to my surprise, got in. I thought, OK, if they think I'm good enough to be a designer, then why not try it?
"I spent about four years at ENSCI. I remember those days as being very, very busy. The program was meant to be full-time, but I also had a part-time job at Studio Bouroullec, where I worked as an administrator, so time was precious.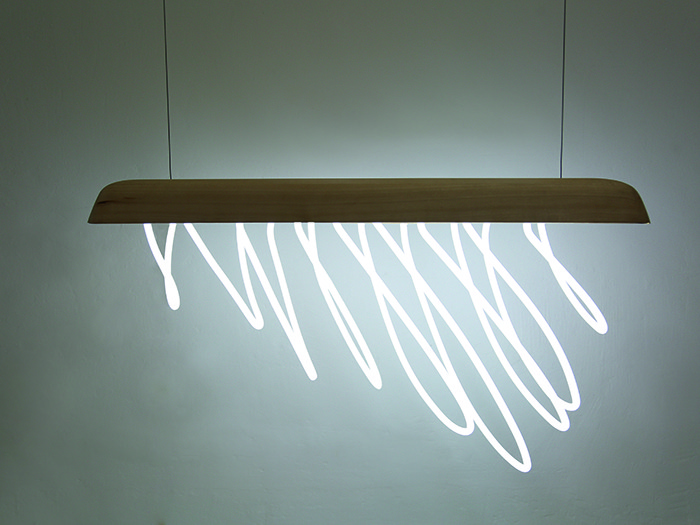 "I worked with the Bouroullecs for roughly seven years before launching on my own. I officially opened my studio in 2009, which is around the time I found out that I was pregnant with my daughter. Juggling two things at once is manageable, but three is when it becomes complicated. So, about six months after having my daughter, I left the Bouroullecs to open my studio.
"I personally didn't feel the crisis in France when I started out. It all sort of snowballed, from one project to the next. I worked hard but was also very lucky. I won some French design competitions, like the Grand Prix du Design de la Ville de Paris and the Prix du Public at Design Parade de la Villa Noailles, which got me attention in the press very early on. That helped me a lot, looking back. I was also very fortunate to have found loyal clients, who continuously gave me work.
"Light has been a focus for me since the start, it's one of the things I like most. I'm fascinated by light, perhaps more than any other type of material or object. There's something magical about it. I like the idea of sculpting it like a material, because that's what it is, an immaterial material.
"Angelin Preljocaj, the French dancer and choreographer, was one of my first clients. He'd read an article about me and asked me if I'd be interested in working on one of his performances, which was four months away. He wanted me to start immediately. I had no experience in scenography but decided to go for it anyway. I think my daughter was just three weeks old at the time.
"In addition to being my first project for the stage, it was also my first time working closely with light. Light is essential to scenography, but at the time I knew nothing about it. I didn't even know where to begin. I clearly remember the conversation I had with Angelin, when he asked me whether I thought the light was too hot or too cold. I had no idea what he was talking about. I really was a beginner at that moment. It's the basics of the basics, but I had to be taught. It's a bit like colour. I had to train my eye. When I discovered how to work with colour, I also discovered that I was able to see colour, which isn't the case for everyone.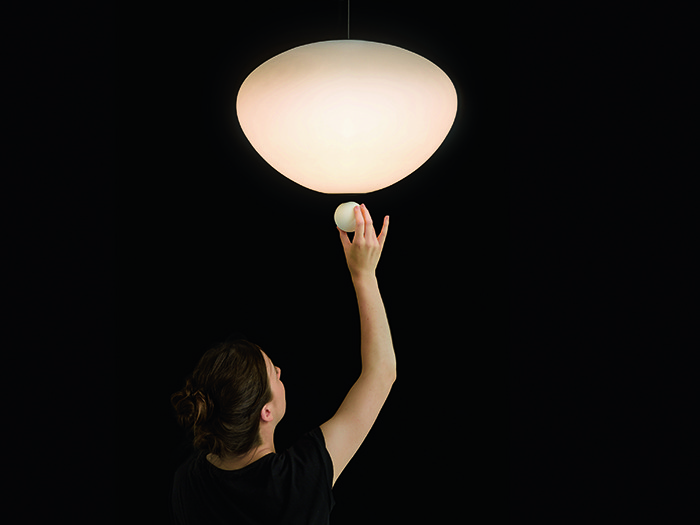 "My first object was a light fixture called Vertigo. It isn't a very good light, from a functional perspective. When you think of a good lamp, you think of diffusion and things like that. Vertigo is very simple, it's really just a light source. What makes it unique is its form, it creates a special atmosphere, like a kind of shelter. The light itself is what you decide it to be, because you pick the type of light source. It's an object that the customer can choose to use as a light.
"The concept for Vertigo came to me while working on a school project. When I launched my studio, I went around looking for someone to manufacturer it. I'd been speaking with a number of different retailers and brands that were interested in Vertigo. Many told me that it wasn't commercial enough, which is quite funny now that I think about it.
"In the end I partnered with Parisian furniture company Petite Friture. I met the owner, Amélie du Passage, and had an instant connection. She had just launched her company, so we had a lot in common, we were both just starting out. I thought that was interesting, to both be at the beginning.
"I'm a perpetual beginner, everything I've ever done has been for the first time. I've never done a project that I'd been taught how to do. Even to this day – I just started a project that is completely new, in an area where I have no previous experience. It's like an experiment each time.
"I think being a beginner is very interesting because you do things differently. It can be very exciting, but sometimes it's also important to know where your limits are. There are things that I know just aren't for me, that I simply can't do. I prefer to collaborate in these instances.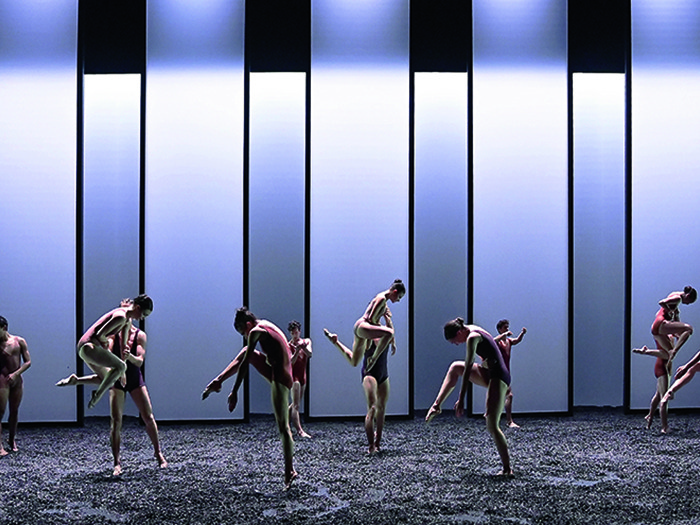 "Vertigo is very special, but out of all my light fixtures, Cape is the most important to me. It's an expression of all the things I like in terms of shape and sensuality. I also really love Angelin, which follows the same idea of something that is very generous and present. It's a real sculpture with paper.
"I also love what I'm working on now, which is a collection of lamps that will be released this spring in Milan. All I can say for now is that it's a play on tension, between something that is very soft and very strong. I think this is a common theme in my work, this search for balance and equilibrium.
"Generally, I think that people are quite open in France. I'd say that's one of the biggest benefits of working here. We have a lot of competitions and opportunities for designers. There's a lot of public work and support available. But, then again, in Sweden designers are also very supported. Honestly, there are advantages everywhere.
"Paris is still at the heart of the design industry in France, but I think Lille could be the next hub. Particularly after this year, since it's the 2020 World Design Capital. It's true that I have worked mostly in France and with French clients, but this is more of a coincidence than a conscious choice. It's always easier to work within a culture you know, but I don't have a bias for the French. I enjoy working with Italians, the Spanish, the Swedes, and so on.
"Everyone has a different way of working. We don't work the same way in France as they do in Sweden. I wouldn't say there is a big difference, though. Maybe when it comes to schedules, but even then, I think the biggest differences are between people and companies, not so much between countries.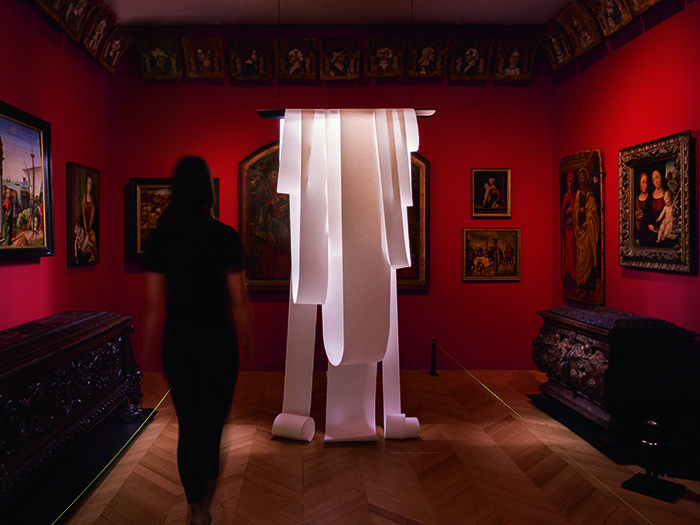 "There are a lot of great design companies in France, the ones that come to mind are Ligne Roset and Petite Friture. Amélie and her team are very energetic. There are also a lot of young design companies in France that are doing very well, Alki, for example, or family-run companies like Ibride. Things take longer with these smaller companies, but they all work very hard and really believe in their projects. Then there are larger companies like Moustache, which can take more risks. Each company is different, with its own story and spirit.
"The design industry in France is much more open than it was in the past. People are more open to design, they are expecting something that's different. When I began, people were less interested in objects. Not in the sense of possession, but in that they didn't pay attention to what they were buying. They were filling their homes with all the same things. People today are paying more attention to smaller companies and to how objects are being made.
"I think that we have a better balance between craft and industry now in France. People are interested in craftsmanship, they accept – and even look for – objects that have so-called faults. Sustainability is also more of a focus, but it's a process. We're moving in the right direction, but we're still not totally there yet. The public is ready for it, at least in France, but the manufacturers aren't. Mostly for economic reasons, but also because of laziness or habit. Change is never easy.
"Do you remember when the organic trend began? It tasted terrible, but we ate it because it was good for us. I see the same now with sustainable design. I'm not saying that all products that are sustainable are ugly, but it's more difficult to make a fantastic project using only sustainable products. Beauty and sustainability aren't totally synonymous yet.
"I try to push a lot as a designer, but ultimately it's up to the manufacturers. As designers, we need to be responsible, but there's only so much we can do. It's different if you're Philippe Starck or the Bouroullecs. People will listen. Some designers can say it's either this or nothing, but not everyone has the luxury or status to do that.
"Sometimes I will say no to a project if it really goes against my principles, but then there are times when you find yourself working with a great company, one that is making progress in terms of sustainability and recyclability, but that isn't completely there yet. Sometimes you have to accept it, that this is the best we can do right now. Not working with companies that are making real efforts but that aren't completely sustainable yet, would be a shame. We need to work together. We're moving in the right direction, we just need time."