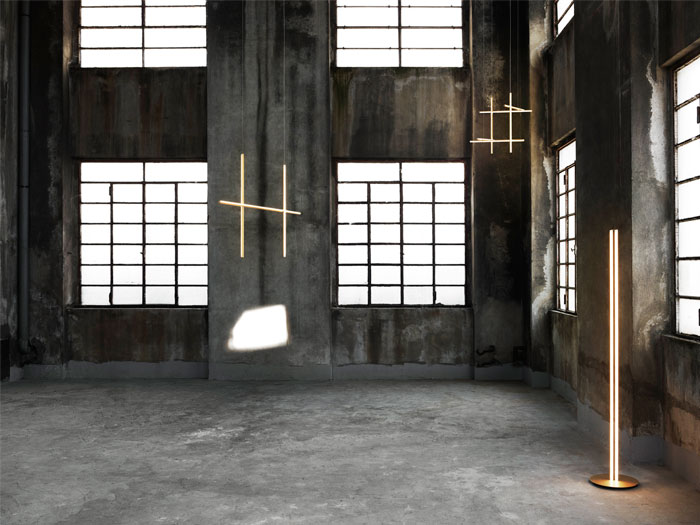 A dramatic lighting collection originally designed by Michael Anastassiades for New York's legendary Four Seasons restaurant, Coordinates features a series of interlocking linear LED luminaires that take their formal inspiration from the mathematical precision of the Cartesian grid, illuminated and expanded to three brilliant dimensions.
Coordinates comes in a broad array of set configurations, including four suspended chandeliers of different sizes and three ceiling-mounted luminaires, available in two lengths to suit both standard and high ceilings. The collection also features a repeatable module that can be suspended or ceiling-mounted, ideally suited to impressive, large-scale installations as often featured in contract projects.
The range is completed by a vertical floor lamp model featuring a simple round base and two lighting bars, which can be set at the preferred beam angle during assembly.   
Coordinates is made from extruded aluminium with a sophisticated anodised champagne finish, and an opal-white platinic silicone diffuser. Exact, elegant, and easily adaptable, this collection offers a flexible yet formally rigorous solution for a diverse range of indoor environments, providing maximum impact with a minimal touch.
"Coordinates is a lighting system consisting of horizontal and vertical strip lights that form illuminated grid-like structures of various complexities. The system can be easily adapted for different environments of varying scale," says Michael Anastassiades.
"This design evolved from a commission for the feature lighting of the main dining area at New York City's historic Four Seasons restaurant, which relocated and reopened in 2018 with the interiors designed by São Paolo-based architect Isay Weinfeld.
"In addition to the bespoke solutions, the Coordinates standard collection includes a series of pared down configurations of chandeliers that can be used in any setting.
"Something I like to explore in a lot of my Flos products, which started with String Lights, is that sense of the gesture of handing creativity back to the user. In the Coordinates, it's this idea that you can actually create all these compositions by combining different elements and creating larger units that suit your own needs. This is what people like; the opportunity to personalise something to make it theirs."