Costa Smeralda, International
Lichtvision has completed the lighting design for the new Costa Smeralda cruise ship, with an interiors masterplan by Tihany Design. Maintaining a constant lighting theme throughout the ship whilst giving each space its own identity was a key design choice.
Designed by four different interior designers (Partner Ship Design, Rockwell Group, Jeffrey Beers International and Dordoni Achitetti), under the guidance of Tihany Design's masterplan, the Costa Smeralda cruise ship presents a large variety of design aesthetics between each of its spaces. The floating mini-city offers an incredible variety of areas between restaurants, shops and entertainment. 
Lichtvision Design was brought on board to complete the lighting design schemes for numerous areas on the ship. darc spoke with Karen Ihlau, one of the lead designers on the project to find out more about the architectural and decorative lighting scheme throughout. 
"We were approached for Costa Smeralda's lighting design as Lichtvision was already involved in the lighting design of other vessels belonging to Carnival Maritime Group (Aida Cruises)," explains Ihlau. "Lichtvision has been involved with Aida since 2007 and has designed the lighting for 10 of its vessels and will be completing the second Costa vessel by end of 2021. 
"The project took around two years from start to completion and was related mainly to lighting design of front of house and public areas, both interior and exterior (all restaurants, bars, gathering areas, theatre, museum, beach club and pools, spa, casino, show lounge, sport venues, indoor and outdoor decks etc. and also typical cabins and suites). 
"The general client brief, for this Italian-themed cruise ship, was to support the masterplan by Tihany Design and ensure very different atmospheres between day and night (sun filled look at daytime and moodier and cosier at night). General lighting was used as the main connecting element throughout the ship. Dim to warm modules were widely used in order to allow for atmospheric changes, always in respect of the architectural characteristics of each area. Also, light levels were designed to be (as much as possible) equal along the ship unless this was going against the venue design and feel that was intended to provide," she continues.
"Finally, all the main architectural features specific to each area were highlighted to bring additional value and interest. Entertainment plays a big part on the cruises and lighting design that supports this was crucial."
As Ihlau explains, general lighting was used to bind the various venues together, creating pleasing transitions from one area to the next. Custom decorative fittings and highlights to architectural features have been introduced to bring out the essence of each area for a greater customer experience. However, ensuring a cohesive lighting atmosphere was achieved across the entire ship was one of the major challenges Ihlau and her team had to deal with. She explains further: "The design challenge was to create individual special atmospheres for each themed venue and at the same time maintain a cohesive lighting 'masterplan' for the entire ship.  
"Very typical for a cruise ship, ceiling heights are low and daylight is not always available. The lighting has the task of transforming the spaces to light and airy rooms and give the illusion of tall spaces.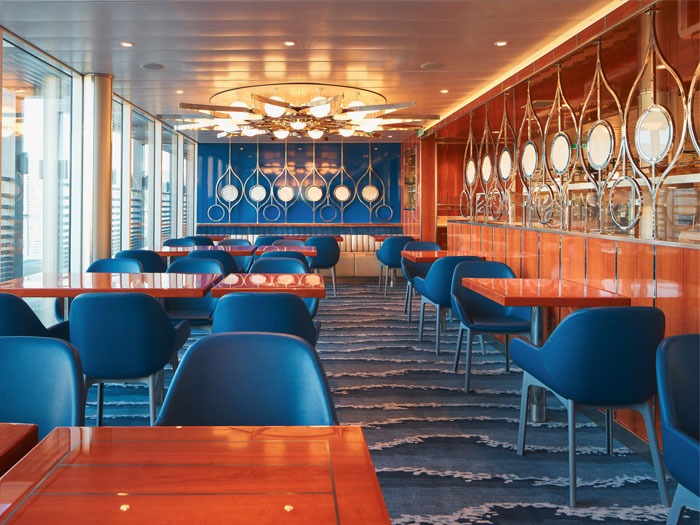 "Additionally, we identified four further challenges within this project; the integration of fittings due to very reduced ceiling cavities, cost control for both luminaire quantities and for control channels, the wide use of highly reflective surfaces that made implementation of lighting in architectural details difficult, without making fixtures visible (cove lights, furniture integrated lighting etc.), and control of overall quantity of different light fixtures specified. 
"As mentioned, we did have some structural constraints due to very reduced ceiling voids behind ceiling panels. In a ship, every centimetre counts and cavities were reduced to the minimum acceptance. This had a particular impact on the definition of cove details and for recessed fittings with more than 90mm recess depth," she says. 
Decorative lighting played a key role in all of the spaces designed by Lichtvision, particularly as each public area was working with a unique design aesthetic. "We had 33 decorative lighting situations, varying according to the interior design of each public area, within five different interior design practices," says Ihlau. "As the intention was to enhance the spirit of each of them, we didn't insist in a common language for decorative lighting. Nevertheless, we made sure, through mock-ups and samples, that all custom and non-standard decorative fittings were visually checked and approved by us and/or interior designers.
"Rutec was used as our main manufacturer for linear LED strips and fully encapsulated linears, different CCTs, tunable white, RGB and RGBW. Other manufacturers commonly used throughout were: DGA, iGuzzini, Hunza, Philips, Osram and Segula for retrofit lamps in decorative fixtures. 
"With regards to the decorative lighting, we used pieces from Chelsom, TVV Marine and Light Contract (Flos) as the main manufacturers for custom decorative fixtures. Vibia, Flos, Venini, Chelsom and Fontana Arte were the main manufacturers for standard decorative fixtures.
"Decorative lighting provided that final touch to make each space outstanding and clearly recognisable.
"Lighting allows for variation and supports the theming of the project. It provides different daytime and nighttime atmospheres and offers different visual choices, for example entertainment spaces but also quiet and relaxing spaces.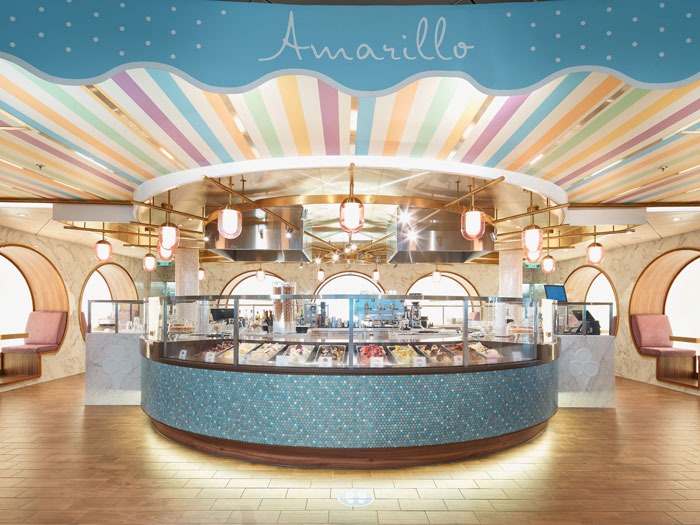 "The decorative lighting layer was part of the interior architecture, theme, look and feel of the space, (as opposed to the general lighting layer being the glue and transitions between spaces). Sometimes, visitors may have the feeling that the entire space has been designed around decorative lighting (especially for oversized chandeliers). Sometimes decorative lighting completes the design, and you may think that without that specific decorative element something would be missing."
Despite having a full portfolio of cruise ship projects under its belt, this was a first for Lichtvision's London office to design with the support of the Berlin team, as well as a first to work on a vessel along with five interior design practices, including a masterplan by Tihany Design. Luckily, the brief didn't change much for the team along the design process. However, Ihlau admits that they had to "run revisions of lighting layouts to reduce costs, especially for decorative lighting that followed the architects' design brief. The interior design was simplified together with the decorative fixtures to bring the overall design into a specific price point".
She continues: "It was exciting to be involved and experience some very differently designed spaces come together at the end, and at the same time find a visual common language that ties in all the designs. The spaces are designed to appear very different, yet they require a solid visual and detailed design strategy as well as considerations for costs, procurement and future maintenance, which of course is not visible but goes on in the background."
Adam Tihany, Creative Director for Costa Cruises, adds: "I was in charge of selecting and directing the team of designers who created the interiors of Costa Smeralda, soon to be joined by her sister ship, Costa Toscana. 
"Lighting has always been a key component to the project's success. Lichtvision worked very closely with the four commissioned design firms, creating not only dramatically lit individual venues but, most importantly, a seamless transition between very diverse spaces resulting in a harmonious and balanced project. 
"My studio designed only one venue on the ship – CoDe: Costa Design Museum, the first ever design museum at sea. The museum occupies approximately 500sqm and has a dramatic 'tunnel' made out of highly polished steel rings requiring a clever and bespoke lighting solution. Again, Lichtvision rose to the occasion and helped create a memorable experience."
In conclusion and upon reflection of the project, Ihlau says: "We would re-consider the colour temperature selection of the dim to warm range (specified was 2000K-3000K), and perhaps also consider a change to tunable white LED chip, which have that extra flexibility for different light scenes and atmospheres. Overall, the flexibility of changing colour temperatures between day and night was widely liked."