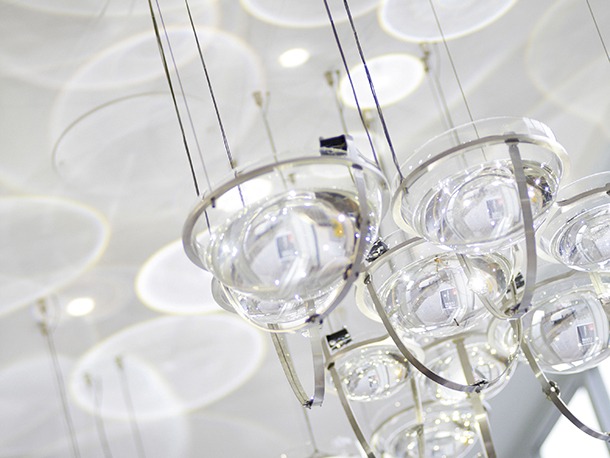 When bathroom design specialist C.P. Hart embarked on the creation of a new Chelsea showroom, they were keen to adopt a fresh approach. The in-house design team worked in partnership with retail design consultancy i-am Associates to create a space that embraces technology to deliver a dynamic, high-end experience for the Chelsea design community. Key to the completed scheme is a series of bespoke water-and-light sculptures by Jason Bruges. Comprised of clear, water-filled glass hemisphere lenses hanging from the ceiling and a hidden system of computer-controlled LEDs and fans, the sculptures magnify and refract ripples of light across the ceiling.
Since its inception in 2002, London-based Jason Bruges Studio has earned a reputation for delivering left-field installations that engage and intrigue. "We're a studio that crosses the boundaries of art, architecture and interaction design," Bruges explains. "For the C.P. Hart Chelsea project we have suspended a series of water pixels from the ceiling, which have been choreographed to animate and create auroras of light around the sculpture itself. Each of the glass bowls acts as an individual pixel and is then animated through pulse width modulated control. We see extraordinary lighting effects as a result of this animation. This has been a brilliant opportunity to explore using water as a digital medium; blurring the boundaries between natural resources and the application of digital technology is an exciting arena, and we are thrilled to have been able to create an interactive, magical space."
The showroom also features two large media walls, which have been integrated into the fabric of the showroom. The ground floor level screen plays content inspired by water and movement, also designed by Jason Bruges, whilst the consultation hub in the basement features an interactive screen that enables architects, designers and consumers to create digital mood boards for their project.
As i-am's Lead Designer James Coates notes, the combination of these various elements deliver on C.P. Hart's request for a 'next generation' showroom environment: "By deconstructing the typical 'room set', blending physical display with digital presentations, maximising product presentation in limited space and incorporating the 'water flow' sculpture, the showroom design becomes a distinctive and memorable brand statement."