D Studio – A New Design Destination in Copenhagen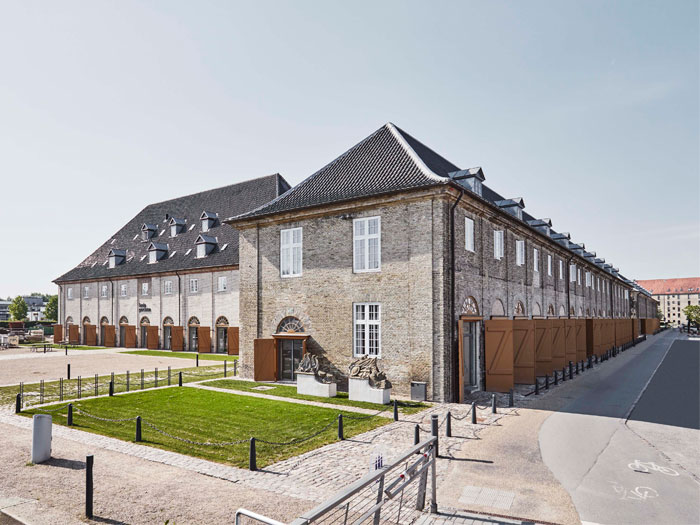 (Denmark) – Design Holding, the home of iconic brands including B&B Italia, Maxalto, Azucena, Arclinea, Flos, and Louis Poulsen, is launching D Studio, the group's first design retail destination and new, multi-brand experience to be seen internationally.
D Studio was born from Design Holding's vision to create an unrivalled design destination. For the first time, these iconic brands of contemporary furniture and lighting come together in an innovative setting, a place where design can be encountered, celebrated, and acquired together – all under one roof.
D Studio is a place to meet, collaborate and connect with the very best of contemporary design culture, a natural go-to point for design lovers and professionals.
D Studio Copenhagen's 1760-metres of combined space will allow visitors to experience the many possibilities that these distinctive and exclusive brands have to offer. From B&B Italia, a byword for contemporary design with history, to Maxalto's lifestyle collection based on craftsmanship and timeless elegance, to Arclinea, which is synonymous with highly advanced, customised kitchens; through to visionary Italian lighting manufacturer Flos, with its masterful, poetic designs and forward-thinking solutions, and last but not least: Louis Poulsen, the iconic Danish lighting brand with its unique heritage in design.
Multiple brands will be presented to multiple audiences: from private customers to professional and contract clients, from home to hotel. An interactive experience within the store will merge physical with digital, allowing for inspiration, perusal, design, discovery and beyond.
With its status as a world-renowned design capital, Copenhagen is a natural first home of this retail concept. Located within beautiful historic buildings in Holmen, which is quickly developing into an exclusive residential area, whilst at the same time becoming one of the largest creative clusters in Copenhagen, D Studio is perfectly positioned.
From one design capital to another: Following Copenhagen, D Studio will be opening in Milan and New York in Autumn 2021.
Flos Scandinavia new Showroom and Headquarters
After more than thirty years of successful business in Denmark, with offices and showrooms based in Copenhagen, Italian lighting brand Flos takes it a step further, moving its Scandinavian headquarters to this prestigious, new design complex at Holmen, which will also be the home of a stunning, new exhibition area.
The Flos showroom spreads over the entire first floor of the historical building, offering a comprehensive display of decorative, architectural and outdoor collections, and also including a bespoke area to showcase unique examples of customised lighting and tailor-made solutions for large-scale projects.
The experiential area centres on a series of inspiring visual journeys that convey the vital concepts of lighting design and illustrate the specific qualities and functions of different lighting fixtures and systems.
The 'Moments of light' journey demonstrates how light can create an atmosphere and change perceptions: quite literally. The experience includes a space to co-design in a lab-like, creative environment where visitors can discover how architectural lighting is not just a technical detail, but an integral part of any project.
Louis Poulsen – A New Hybrid Showroom at the Corporate Headquarters
A brand new, experiential and hybrid showroom has been created on the ground floor of the Louis Poulsen headquarters – the home of this iconic Danish design brand. This space elegantly blends the showcasing of Louis Poulsen's entire product portfolio with people who are working in and around the building, thanks to an exclusive canteen, an immersive Light Lab, and an informal lounge area. All is created perfectly in line with the Louis Poulsen brand and Danish design tradition, where form should always follow function.
Beautifully arranged distinctive spaces allow visitors to browse products and discuss their potential project, large or small, with the expert staff – from a decorative lamp in the living room of a private home through to an entire lighting solution for a hospitality project.
The focal point of the show room is an innovative and immersive Light Lab where Louis Poulsen expert staff can demonstrate how the principle of harmonious light and good lighting design can change our perception of the space.
Since ambience and human centric lighting are core values for the Louis Poulsen brand, an informal lounge setting, supported by an exclusive Arclinea canteen, has been created to encourage informal meetings, dialogue and inspiration. All this adds atmosphere and charm to Louis Poulsen's eminently welcoming flagship space.
Design Holding worked with multidisciplinary, Milan-based studio Design Group Italia to transform their vision into the new retail destination that is D Studio Copenhagen. By working with the same studio from strategy and identity, through to the detailed design of each brand's showroom space, Design Holding were able to ensure that the customer experience truly reflects their values.