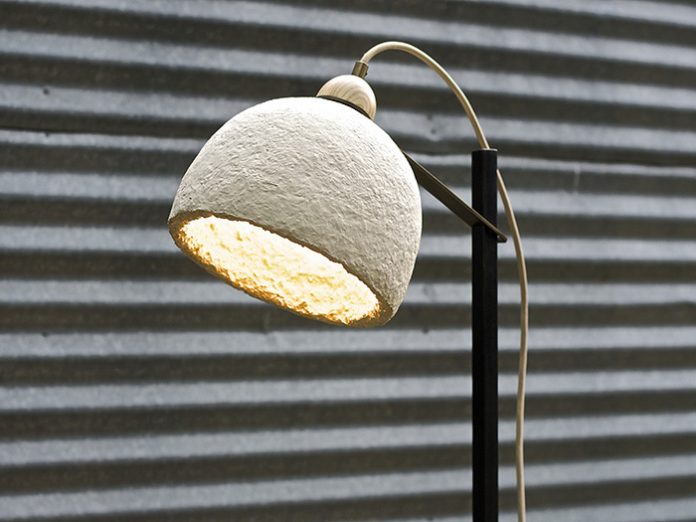 Working at the intersection of design, technology and science, Brooklyn-based design studio Danielle Trofe Design is evolving the definition of designer lighting one MushLume at a time.
In harnessing innovative technologies and material sciences to create functional and accessible design, Danielle Trofe's studio in New York, USA, aims to encourage a departure from conventional materials and production techniques in search of long-term, sustainable solutions in design.
Born and raised in Austin, Texas, Trofe lived out in the country growing up surrounded by horses and chickens. "I was outside every single day as a child," she tells darc. "I believe I owe much of my affinity for and derived inspiration from nature and my value of it is deeply embedded in my childhood."
Trofe's educational path into the design field was an unconventional one, receiving a Bachelor's degree in marketing and entrepreneurship from Florida State University and then switching gears to achieve a Master's degree from the Florence Design Academy in Italy. It wasn't until the budding designer was introduced to 3D modelling software that she realised her true calling in product design. "I'm currently studying for a Master's degree in biomimicry from Arizona State University with an aim to incorporate sustainability at an even deeper level in my practice. Biomimicry is looking at nature's form, function and ecosystems and consciously emulating these evolved strategies into human design."
While scoping out a project at materials innovation library Material ConneXion in Manhattan, Trofe came across something called Mushroom Materials, developed and produced by biomaterials company Ecovative, which grows sustainable products. "This fascinating mushroom material combines mushroom mycelium – the root structure of mushrooms – with agricultural waste – corn stalks and seed husks – to create a natural, sustainable and biodegradable material that is grown, not manufactured," says Trofe. "I knew immediately that I wanted to work with it and discover new applications within the furniture and lighting industry."
Mushroom mycelium speaks to the three pillars at the core of Trofe's studio – science, technology and design – while also taking into consideration the full lifecycle of the product. "You're starting with a waste product from the agricultural industry, upcycling it and combining it with mycelium, which is a rapidly renewable resource," continues Trofe. "Instead of adding excessive water, heat and energy used during the 'manufacturing' process, you're using only the power of nature to grow the product. Finally, at the end of its life, the material can safely biodegrade, adding nutrients back to the soil rather than pollutants. That is real sustainability!"
The gentle and nurturing impact of this fascinating material is reflected in its interaction with light when used to create decorative lighting. Trofe has primarily developed a line of lighting using the mushroom material, with explorations in planters and other decorative interior objects under development for several years. "The MushLume lighting collection creates directional lighting due to the soft, non-translucent properties of the mycelium material. The diffusing and softening, especially of harsh LED light admittance, is quite enchanting. The mycelium's natural white hue combined with the organic structure of the agricultural substrate creates a textural journey of flowing light."
In order to capture such a gentle luminosity and really harness this innovative material, Trofe has found herself experimenting with somewhat unconventional methodologies in industrial design. Yet the evolution of what the young designer has created as a retail product line depicts a more structured process. The MushLume Cup light series was developed this past year in order to create a modular version of a hanging, table and floor lamp that uses one universal shade, no-tool assembly and ships flat. The universal shade was first prototyped by 3D printing moulds in which to grow the shades. After several modifications and iterations, parts were altered or eliminated and a paired down, affordable and an eloquent series emerged.
Yet even with its successful development and enchanting luminosity, creating lights out of mushrooms comes with as many difficulties as one might imagine. "You're working with a living organism, so there are a lot of challenges that go along with the growing process," explains Trofe. "Creating proper growing conditions, eliminating sources of contamination and developing strategies that best meet the needs of each size and volume of lampshade are just a few trials when working with this material. As a designer, creating solutions along a set of parameters and solving for the unexpected can be considered normal skill sets; however designing for and with new material processes often requires a longer timeline of research and development in order to effectively evolve a prototype into a product that can be produced."
Trofe's studio is currently scaling production of the MushLume lighting collection to enable a greater retail and commercial reach. "I would ultimately like to see all the components be made either from mycelium-based materials or other natural material equivalents, thus elevating the product line to an even higher level of product sustainability. Ecovative has made some amazing advancements with their high-density line of mushroom material, Myco Board. I definitely see a future exploration of applications of this material within the interiors industry."
With sustainability at the forefront of modern invention and design discourse, Trofe's work with mycelium is a leader in its field. It goes hand in hand with the environmental implications of LEDs, and demonstrates the thoughtful and intelligent direction in which the decorative lighting industry is moving.