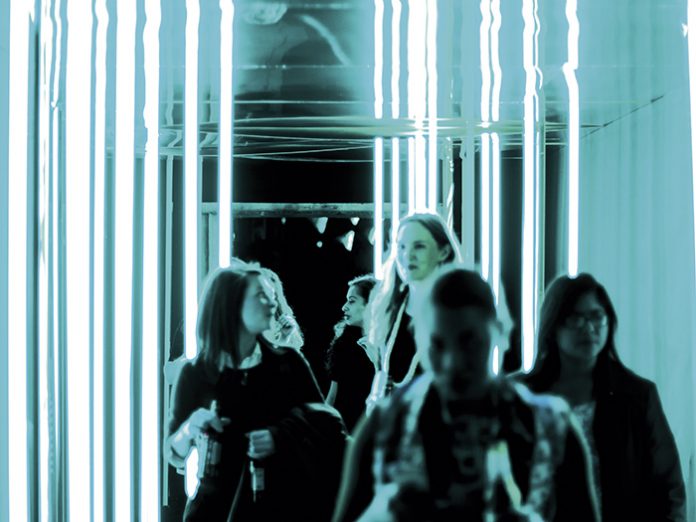 (UK) – darc and mondo*arc to launch darc awards / decorative alongside showcase of three 2.5sqm cube installations.
darc and mondo*arc magazines are teaming up to show three immersive light installations at Tent London that will first be shown at the darc awards / architectural event, darc night, on September 15th at MC Motors in London.
Tent London, under the umbrella of the London Design Fair, will take place in the Old Truman Brewery, located in the heart of East London, from September 22nd to 25th as part of the London Design Festival. Its 12,500sqm will showcase 250 independent designers and brands, 200 global brands and 15 country pavilions in ever-more creative formats.
To mark its tenth anniversary, and to accommodate continuing growth, the London Design Fair has grown to include an additional 3500sqm third floor. Over 25,000 influential retail buyers, architects, interior designers, press, designers, and design-savvy public (weekend only) attend annually.
The darc awards / architectural, organised by mondo*arc and darc magazines together with creative consultants Light Collective, is a celebration of the world's best lighting design and is the world's only peer-to-peer lighting design awards. darc night is a unique event to celebrate the winners of darc awards / architectural consisting of street food, a free bar and sixteen light installations by top lighting designers and manufacturers.
Paul James, editor in chief of darc and mondo*arc magazines and director of the darc awards, commented: "When we were approached by the organisers of London Design Fair to show some of the light installations that will be on display at darc night, the darc awards / architectural ceremony, it was an opportunity too good to miss. It will be great to showcase the creative talent of lighting designers involved in darc night to a wider audience, something we are strong advocates of at mondo*arc and darc."
"We will also use the occasion to launch the darc awards / decorative concept which will have its own event in London in May 2017," he added.
The darc night installations will be 2.5sqm cubes where the visitor will be able to walk into the space to experience and interact with the light.
The cubes will be designed by top lighting design practices in collaboration with high-end lighting manufacturers – Arup with Cooledge, Lighting Design International with KKDC and MS CHO Studio with Applelec.
The cubes will be housed within a molo softwall modular system – an innovative flexible wall designed by Stephanie Forsythe + Todd MacAllen that is part of MoMA's permanent collection in New York.
THE DESIGNERS
Lighting at Arup brings together art, science and technology. Its global team of designers create expressive, sustainable and award-winning concepts in light. It understands the interplay of structural form and lighting, and work with architects and artists to provide original conceptual designs. Its technical knowledge ensures that concepts become viable solutions.
www.arup.com/services/lighting_design

Lighting Design International has been creating Adventures in Light for 30 years. Its work covers the architectural spectrum, including hospitality, super yachts, retail, office environments, heritage buildings, residential developments, luxury private homes and corporate headquarters worldwide – multi-award winning projects that represent the ultimate in high-end lighting design. Its portfolio boasts projects of every scope and scale, from boutique chic to classic opulence.
www.lightingdesigninternational.com

Min Sang Cho, director at MS CHO Studio, is a London based lighting artist who has a strong background in craft, design and architectural lighting engineering. After graduating from Royal College of Art in 2004, he has been actively working on large and small-scale projects for various clients, from a corporate to a charity. Min sang Cho distinguishes himself from other lighting engineers and luminaire creators by taking an innovative and versatile architectural approach.
www.mschostudio.com

THE MANUFACTURERS
Cooledge is changing the way light is materialized and integrated in architectural design, offering creatives the ability to transform the environments they design in new and unexpected ways. Its evolving portfolio includes both TILE and LINE solutions that allow architects and designers to re-imagine how and where they use light. Cooledge is widely used for luminous surfaces and very low profile installations in retail, office, entertainment, and hospitality environments around the world.
www.cooledgelighting.com

KKDC is an established manufacturer, designing and producing a wide range of specialist LED lighting solutions for high-end architectural markets worldwide. Research and manufacture take place in its expanding Korean facility outside Seoul, with product design and technical marketing services from KKDC Design House in London. From the start, the success of KKDC has always been grounded in our research and implementation of complete electronic and engineering solutions in the application of LED's produced from the best performing patented materials.
www.kkdc.lighting
Established in 1998, Applelec is a northern manufacturing company renowned for the creation of bespoke lighting products including the award winning flat light panel, LED Light Sheet. Alongside in-house manufacturing, Applelec source and adapt innovative products to deliver imaginative project solutions. With two factories, a warehouse and a head office in West Yorkshire and a newly opened showroom at the Business Design Centre in London, Applelec is constantly evolving and expanding.
www.ledlightsheet.co.uk
Dedicated to an exploration of sensory experience in space making, combined with experiments in manufacturing, materials and structure, the molo studio explores overlapping realms of art, architecture and design. molo has created projects as diverse as a museum in Japan, a modular wall system and a tea set. molo's products are inspired by studies in architecture and the idea that smaller tactile objects have a real potency in the physical experience of the built environment.
www.molostore.com