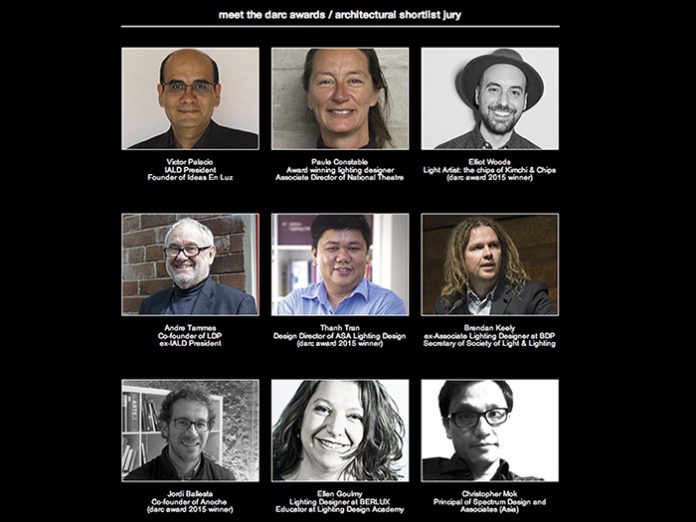 (UK) – Nine lighting design experts begin shortlist process ahead of July's public vote.
The shortlist judging panel for the darc awards has been announced and will begin work on choosing their favourite projects to go forward to the public vote this week.
This year's jury includes: IALD President and 
Founder of Ideas En Luz Victor Palacio, Award winning lighting designer
 and Associate Director of National Theatre Paule Constable, Light Artist: the chips of Kimchi & Chips (darc award 2015 winner) Elliot Woods, Co-founder of LDP
 and ex-IALD President Andre Tammes, Design Director of ASA Lighting Design (darc award 2015 winner) Thanh Tran, ex-Associate Lighting Designer at BDP and Secretary of Society of Light & Lighting Brendan Keely, Co-founder of Anoche 
(darc award 2015 winner) Jordi Ballesta, Lighting Designer at BERLUX and 
Educator at Lighting Design Academy Ellen Goulmy and Principal of Spectrum Design and Associates (Asia) Christopher Mok.
Once the jury have chosen their shortlists for the project categories, the voting is then opened up to all independent architectural lighting designers and light artists from July 4th until August 4th making this the only peer-to-peer lighting design awards in the world.It is vital that if you are thinking about entering the darc awards you do so as soon as possible. There is still time to enter but you only have a few days.
Product categories go straight to the public vote so that lighting designers can genuinely vote for their favourite products from the last twelve months.
Votes will be cast on the darc awards website, www.darcawards.com, from July 4th with the awards event, darc night, taking place in London on September 15th.
All independent lighting designers that vote will be able to attend darc night free of charge (manufacturers will be subject to a charge) turning the traditional awards ceremony protocol on its head. The awards evening will be completely different with free streetfood and drinks all night, lighting installations by lighting designers who have teamed up with the manufacturer partners, and a completely different format for presenting the evening.
Remember: public voting does not start until July 4th.
Project entries are being accepted until June 20th. Product entries are being accepted until July 4th as they are not shortlisted.