Euroluce is back and so are we…
Milan Design Week and more importantly, Euroluce are back!
April in Milan is a key date for anyone in the design and specification market looking for the very best the industry has to offer; and with the added bonus of Euroluce making it's long-awaited return, darc magazine couldn't be happier to head back to the Italian city.
As in previous years, darc magazine will be the ONLY resource designers and specifiers need for the latest lighting launches, announcements, and collaborations coming out of Milan in April; whether that's at the Fair, the Archiproducts showroom, or one of the bustling Design Districts – if you're planning to visit, watch this space for our extensive coverage!
Make sure you're featured! 
Are you exhibiting at Euroluce? Planning an event in Milan centre? Presenting an installation? Hosting a party?
Make sure darc's Editor, Sarah Cullen know's about your plans ASAP! As we move closer to the date, her diary is going to start filling up quickly and she needs to be at your event to capture that all important social media post to share with our thousands of followers. Email her with your press announcements, party invites and events (including any embargo details) on: s.cullen@mondiale.co.uk
As in previous years, the Mar/Apr issue of darc will be distributed from the Archiproducts showroom and the Euroluce Fair for the entire week. Get your brand in front of thousands of specifiers by booking an advert in this all-important issue. As a thank you for supporting the magazine, you will be able to take advantage of our dedicated editorial coverage, which includes a Printed Event Guide in the Mar/Apr issue of the magazine + dedicated Newsletter sent to our 12,000+ digital subscribers the opening morning of the Fair.
Don't fancy an advert? For just £300, you can still guarantee your editorial inclusion by booking an Enhanced Listing in the Milan Guide + dedicated Newsletter – shining a light on your product launch, party, or installation.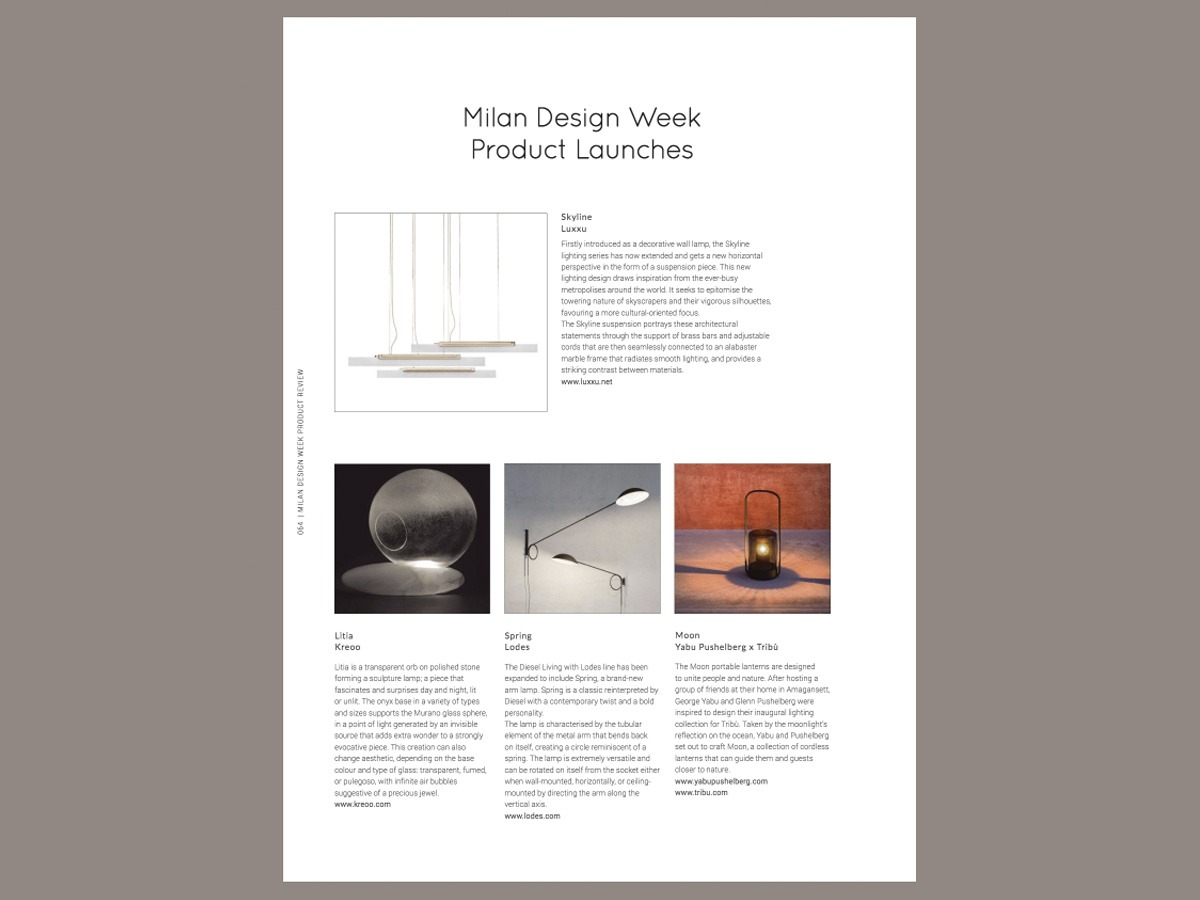 Above: Example of an enhanced listing in the Milan Guide.
For more information on all of the above, please contact Helen Ankers at h.ankers@mondiale.co.uk or Stephen Quiligotti on +44 7742 019213
The darc team is so excited to be back in one of the most beautiful design capitals of the world! We can't wait to see what everyone has in store for us…