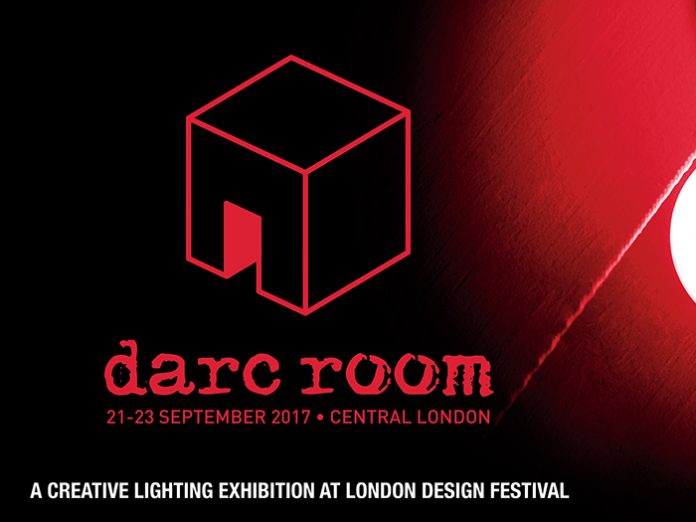 (UK) – darc room, London's creative, curated lighting specification exhibition officially part of London Design Festival on 21-23 September.
darc room has been formally accepted by London Design Festival as part of its 2017 program. The lighting specification exhibition will take place at B1, Victoria House, Holborn in central London on 21-23 September.
Paul James, director of darc room and publishing editor of mondo*arc and darc magazines, commented: "This is fantastic news for darc room and for the exhibitors. We are sometimes guilty of talking to ourselves in the lighting industry. Our goal, both in our publishing and our events, is to broaden the conversation to other designers who do not work with lighting every day but nevertheless are involved in the lighting specification process. Being involved in London Design Festival will allow us to meet a wide range of designers and specifiers, not just those in the ensconced in lighting."
darc room is organised in collaboration with design consultants Light Collective. It will offer a unique way for exhibitors to show their products and for visitors to learn about lighting with special pods made from OSB board. In addition to the exhibitors, the venue in central London offers a magnificent canvas for light installations from darc night, the darc awards / architectural event as well as some exciting examples of light art and inspirational speakers from the design community.
Exhibitors so far include Anolis, Applelec, ATEA, atelier sedan, DARK, Delta Light, EcoLED, EcoSense, Enigma, Filix, Forma, Lamp Lighting, LED Linear, Linea Light, LG OLED, Luci LED, Lumenpulse, molo, Optelma, Radiant, Reggiani, Soraa, tossB, Turnlights, WILA and Xicato.
The darc night installations on show at darc room will involve lighting designs from ACT, Arup, DPA, Elektra, Lichtvision, Lighting Design International, Michael Grubb Studio and Visual Energy.
Anyone interested in participating in darc room should contact Paul James on p.james@mondiale.co.uk.