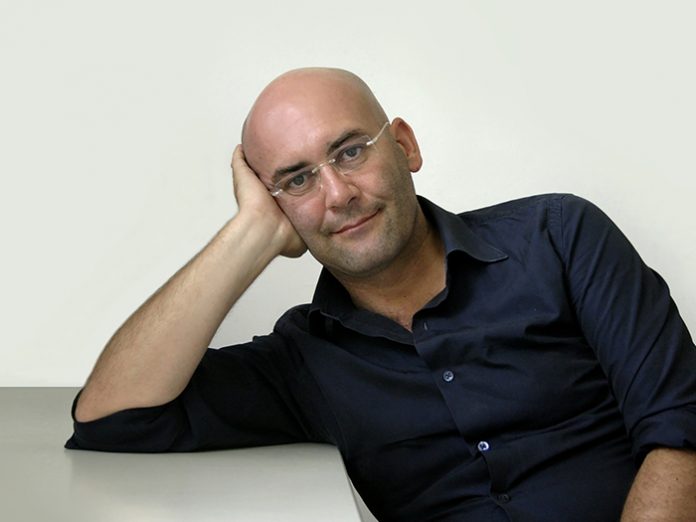 During this year's Light+Building, darc caught up with Italian lighting designer Davide Groppi to learn about how his humble beginnings that led to international success.
Davide Groppi began his journey with light during his childhood in Piacenza in the north of Italy. His father taught him to build; a telegraph, a pinball machine, and a light were amongst their first inventions together. Despite his achievements today, it hasn't always been an easy journey towards light. As his dreams continued to grow, Groppi set up his own studio 1988 in the centre of his hometown, where he experienced first-hand what it meant to get people interested in what he was doing and to sell his creations based solely on his own ideas. "The first fifteen years of my career as a lighting designer were very hard," Groppi tells darc. "I started from scratch and I was alone. I had to figure out the hard way that it's one thing to make lights, and another to set up a company that makes lights." This together with his sensitivity produced what the designer continues to promote and define as the culmination of aesthetics and meanings that make his work what it is today. From this autodidactic and ambitious beginning, Groppi's approach evolved into the modus operandi it is today.
Creative independence, passion and unconventional management have allowed him, over time, to learn and develop his own brand of original and unique products. "I always thought of my work as something that uses light to seduce and attract…I like to be the same with a little something different at the same time." His lighting designs boast simplicity, emotion and creative invention, brought about through the need to give life to something significant.
Groppi has always worked with a faithful group of collaborators who share his vision and help him to develop ideas and bring them to fruition. "My team is made up of 20 wonderful colleagues, all focussed on finding what I call the most beautiful light in the world," he says. Inspired by works of art, objects and simply the urge to play and have fun with light, Groppi has worked internationally on projects including world renowned Italian restaurant, Osteria Francescana of restaurateur Massimo Bottura. Groppi and his team have built a thorough archive of experience in developing products and shows in collaboration with companies specialising in design such as Italian furniture distributors De Padova, contemporary design brand Boffi and many more.
Groppi's passion for light can be seen in several of his projects, including some of his most notable product designs – TeTaTeT and PoPuP, two table lamps, the latter of which is also a loud speaker with a magnetic base. Commenting on these designs, Groppi said: "I was surprised by the success they achieved, not only from a commercial point of view but also in terms of usability. These are light fittings that offer light that every person wishes for. They represent the light that follows and anticipates you." Groppi's Solemio ceiling lamp shown at Light+Building is another of his products that came about by contemplating and working with natural light. It evokes the colour of blue sky and the light of the sun. Designed by Italian industrial designer Omar Carraglia, Solemio is a dimmable, adjustable suspension lamp in a metal methacrylate finish available in matte black and white.
Fascinated by light for its inconsistency, Groppi enjoys the idea of working on the non-form of light, in projects such as Nulla, Infinito and Pablo products. These three represent a sort of trilogy of light by investigating the three main expressions of light: direct, indirect and diffused light. "I like to go to the essence of things, without losing the ability to seduce and to tell the truth."
Obsessed by light and luminaires, the designer sees every meeting and discovery as a chance to think of a new solution. "I'm currently working on a few projects that take advantage of the latest in lighting technology: luminous diodes," he says. "I'm also looking into the newest and most efficient batteries. The idea is to develop projects capable of creating light without wires and putting together everything that constitutes my love for less." In achievement of these ambitions, Groppi aims to realise his dream of giving people the most beautiful light in the world anywhere at anytime.