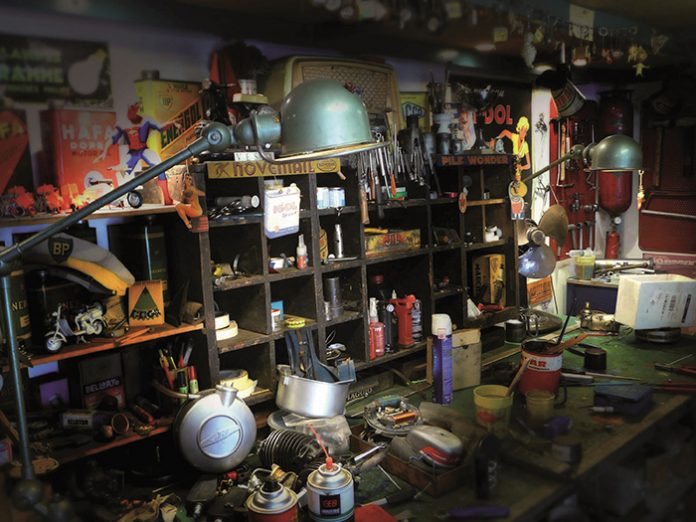 With eighteen years of lighting experience Deb Wythe started her award winning practice, Design In Progress, in 2010. Working on high end commercial and residential projects, she combines her product design skills with scheme designs and often integrates light into the fabric of the building, or creates bespoke lights for her projects.
Having played with light while studying for a degree in Furniture and Related Product Design at Ravensbourne College, she later went on to win an RSA award for a light she designed. Once graduated she completed private commissions before working for a couple of lighting manufacturers, and eventually moved to Lighting Design International, under the wing of Sally Storey, where she really learnt her trade, working her way up to Associate level. Wythe was also an Associate lecturer at Central St Martins on the BA Product Design degree course for five years whilst at LDI and last year, at the inaugural darc awards, her light art installation was voted second in the People's Choice award.
"There seems to be a renewed interest in task lights. I wonder if this is because working from home is more prevalent or perhaps, because offices have become less sterile. Is this a trend or have designers picked up on research about the relationship between lighting conditions and productivity?
Surveys have concluded that poor lighting or eyestrain are frequent staff complaints. The major advantage of an adjustable-arm task light is that the user controls the lighting in their immediate work environment. This allows an individual to compensate for fluctuations with their visual acuity, as well as for variations in ambient lighting. But with current lighting control technology and the skills of lighting designers, it makes me wonder if we actually need desk based task lights at all. I think the answer is that it's not about need but more about desire. We are, after all, talking about a light that performs several tasks. It has to provide even, glare free illumination to a workspace, local control of light levels, as well as be a beautiful piece of design on a desk. Lighting a desk can be done in many ways but when the light is something to see by as well as be seen, taste and trends play a big role in which fitting you choose or if you choose a dedicated task light at all.
Task lights have taken many forms over the years yet the functions have stayed the same – those being a light that provides a good output, low glare and an ability to move it freely into position enabling maximum control of the light level for optimal comfort.
Research suggests that if you were to just use a task light in a dark room, you would exhaust yourself more quickly. Your eyes would be constantly adjusting to the light and dark in the space causing eye strain and tiredness. It is important to have a general light in the room and on the walls so that when you look up from your task your eyes don't have to keep adjusting to the light levels.
Advancements in materials and lighting technology have allowed for new forms and scales of task lights to be played with. These lights no longer need to be a round metal shade hiding a traditional filament lamp, thus opening up new opportunities for the form of the light fitting to take. Tizio, designed by Richard Saper in 1972 for Artemide, was one of the first desk lamps to use the low voltage halogen capsule lamp. A transformer in the lamp base, powers the halogen lamp through the moveable arms of the light's form, eliminating the need for electric cables. It has a beautiful balance and form which is why Tizio has become a design classic and is still hugely popular.
Since high output LEDs have been made available, many designers have explored using a linear light source. A very elegant example of this is Vertigo Bird's Antenna. When OLEDs were launched, Amanda Levete used them for the Established & Sons sculptural Edge task light. But for some reason it seems the current most popular task lights are two design classics that have been around for decades – The Angleposie, designed in England in the 1930s and the Jieldé 'Standard', a French design from the 1950's. Both of these classics were instrumental in popularising the industrial look for domestic spaces and have been updated in recent years.
Sir Kenneth Grange redesigned the Anglepoise in 2003 and the brand has more recently collaborated with fashion designers Paul Smith and Margaret Howell who added more colourful palettes to the range. In doing these collaborations it has made the product more desirable to the domestic client, often using this light in living as well as working spaces.
When Jean-Louis Domecq developed the Standard in the 50s, creating the company Jieldé, he wanted something simple, robust and articulated in order to adapt itself to all workstations. The Standard also conducted the power through its arms and joints like Tizio but this wasn't for aesthetic reasons. Electrical wiring was often a fire hazard back then in articulating lamps. Jieldé released the Loft lamp in 1987 and the Signal lamp in 2006, variations on the original that added colour and also made the lights a little smaller in scale in order to appeal to a more domestic consumer. Ironically, Anglepoise has gone in the opposite direction, and produced Giant versions of its lamps, including an IP rated one to be used outside.
With today's technology a task light no longer needs to look like 'a task light' but people love the nostalgia of classics. If you indicate you are going to telephone someone you create a shape with your hands prescriptive of a phone designed in the 1930's. Ask someone to sketch a task light and it's likely to be something like the Anglepoise. The question is why do we do this when there have been so many different styles since its incarnation? So do we need table based task lights with today's advanced lighting control systems? I don't think so. Do we want a beautifully engineered design that provides local light on our desks? Yes!"