Decorex, one of Europe's leading high-end design shows, made its return for the 2023 edition on the 8 – 11 October. darc's newest member of the editorial team, online content creator Ellie Walton, attended the show for the first time to soak up the latest the design industry has to offer. She walks us through her full day at the event.
Upon arrival was a maze of new products and innovative brands beckoning its visitors in every direction with a spectrum of colours and materials. I was positively giddy about the innovative and stunning decorative lighting I discovered. But no need to fret if you couldn't make it, because I've cooked up a nifty highlight reel of our favourite exhibitors for darc's Instagram (you can catch it on @darc_mag).  Plus, here's a round-up of some of my favourites from the show.
Curiousa, a tribute to the allure of Vanessa Belle
Starting off strong with Decorex's trail winner is, Curiousa. Esther Patterson, founder of the British-based company, has established an iconic brand over the last 13 years.  In her lighting pieces she pursues colourful textiles and bubble-like shapes in her bone china lighting. Amongst the eye-catching glass blown pendants and lamps was the Maya collection making its debut. The collection marked Patterson's return to her ceramicist roots to create a fusion of light and ceramic in a playful and design-led collection of table lamps.
Inspired by Aztec and Mayan graphic fabric patterns and architectural motifs, the stepped geometric shapes of the Maya collection evoke the silhouette of iconic ancient Mayan temples. These shapes were translated into bone china components through a creative and organic process from clay on the wheel to slip-casting before being carefully curated with glass. The Luna lamp pieces on display at Decorex were hand painted by Esther as an ode to the Bloomsbury Group and painter Vanessa Belle, whom hand painted everything from their walls, tables, and curtains in their Sussex home, Charleston House, in a freestyle poetic way that Patterson wanted to imitate. Patterson discussed that she would be looking into selling the hand painted versions as a limited edition of the collection.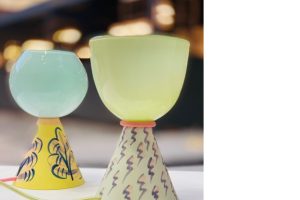 Soho Lighting's recycled sea  waste  pendants
Established in Soho London, but originally hailing from Cornwall, Soho Lighting showcased two eco-friendly collections each with compelling conservation narratives behind them. One being The Ocean Collection, which ingeniously repurposes discarded material gathered from Cornwall's coastlines. These pendants are made from salvaged or broken fishing nets and various shoreline detritus such as plastic bottles, bottle caps and straws due to beachcombing efforts involving the local community. Students are collaborating with Soho Lighting taking part in beach combing and are then tasked with designing their own lamp shade. The winners will have their design added to the collection.
Soho Lighting take plastic waste and melt it down into pallets before creating pendants via 3D printing. The resulting colours depend on what kind of plastic is salvaged from the shores – making each one-of-a-kind.  The dark green shades for instance, are especially rare as they come from waste that has made its way from India, while the teal shade is created from the fishing nets.
Soho Lighting also offered a second sustainable collection, 'The linen Collection' which was the winner of sustainable product of the Year at Decoex's. This is collaboration with Salvation Army's waste. The product was a huge success and risk for Soho as they weren't sure how the lamp would look on arrival to the show, according to one of Soho's founders Jason, however the shade created a beautiful diffusion of light and even looked like porcelain when stood further away.
Soho Lighting also offered a second sustainable range, The Linen Collection, which was the winner of Sustainable Product of the Year at Decorex. This is a collaboration with Salvation Army's waste. The product was a huge success despite being a risk for Soho as it wasn't sure how the lamp would look on arrival to the show however, the shade created a "beautiful diffusion of light" and even looked like porcelain when stood at a distance.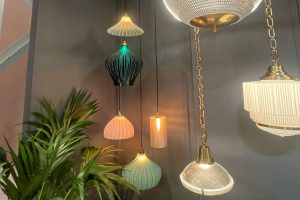 Lutron's dimmer installation
Neighbouring the Boudoir exhibition Lutron had a dreamy installation on its intelligent dimming system. Founder of Lutron, Joe Spira, is the creator of the first rotary dimmer for homes in the 1950s.  Its Decorex installation presented how Lutron controls and adapts to light whether that's artificial light or natural light from the sun through automated window treatments.
The tour featured a cluster of bubble-like pendants, all hanging at various lengths creating an almost cloud like feature. The piece demonstrated Lutron's perspective that instead of lights switching on and off, they should dim down, however not in the way where dimming simply lowers the illumination. When white tuneable lighting is dimmed just by its illumination it feels unnatural and unnerving for our bodies.  Therefore, instead the light not only dims its light but also its colour temperature to warm. The system is meant to represent the circadian rhythm of the day starting with dim warm lighting and as the day gradually progresses it glows to a brighter shade.
The Lutron system features intelligence to know where you are in the world and what time of day it is, and therefore also reflects the colour temperature and light according to that geographical daylight rhythm. Alternatively, the light can adjust to improve circadian rhythm for countries such as the UK, when the seasons change, and the days get shorter so that the body isn't subjected to harsh LED lighting but instead creates an illumination that mimics those longer and brighter days.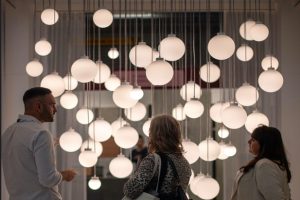 J.Adams & Co's synergy of sophistication and artistry
A notable mention goes to J.Adams & Co's Strata collection, a minimalistic yet stunning design that plays with light refraction. This remarkable product features two slender reeded glass tubes running parallel, linked by rounded brass endcaps crafting the illusion of a continuous loop. Suspended from a brass core, the 1.5-metre pendant dazzled as it hung at the centre of the exhibitor's stand above its working desk, casting inspiration for the beholders.
The reeded glass surfaces created a delicate glow complimented with a practical strip of lighting at the bottom of the pendant making it versatile for residential projects such as hanging over kitchen islands, dining tables or, for more commercial projects over bars or counter tops. The Strata pendant offers flexible arrangements in rows or grouping, with the added bonus of bespoke options in length, and it comes with four different metal finishes to choose from.
For a more subtle touch, the Strata is also available in 600mm or 900mm wall lights, illuminating a warm decorative light from a singular tube of reeded glass. This design is said to have bathrooms and bedrooms in mind for its use. According to J.Adams & Co. the Strata is already being well received especially from Decorex with interest from some exciting projects on the horizon.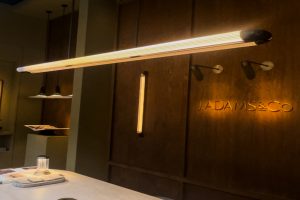 Pooky's preview's
As expected, Pooky did not disappoint those of us who love quirky lamps and chandeliers. The majority of the Pooky stand was a treasure trove of unreleased products making their debut at the show. One eye-catching piece was the Old Field Chandelier, made of crystalline clear tubular glass, creating an almost trifle-like shape. The one that caught my eye at first was in a magnificent peach colour; however, its sister came in crystal clear, offering a more neutral option. The Old Field is yet to be launched, but Pooky has hinted for admirers to keep an eye out around Christmas, with suggestions of a variety of other colours to be offered, with amber being a potential contender.
A shout-out should also go to Pooky's fabulous range of cordless portable lamps. Many featured the recent lampshade range with GP and J Baker, a design paying homage to the classic Ikat weave, in style with the Baker's recognisable touch of colour and geometry. Hiding among the lamps was an unreleased piece named the Puffer, small and aptly named with its spiky round stand. The Puffer offered a rock'n'roll edge to its mostly cutesy counterparts.