Designers With Light Forum 2014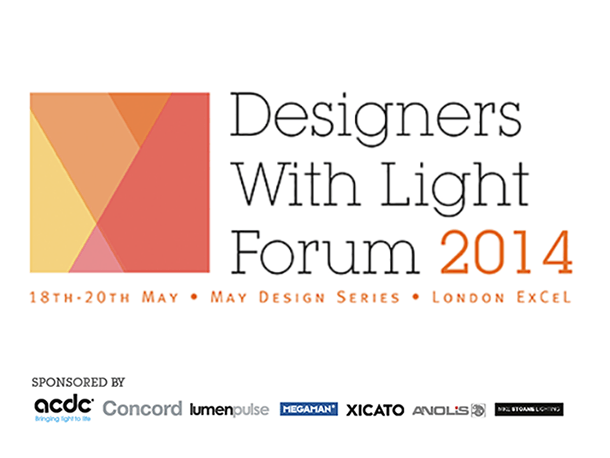 The Designers With Light Forum is a new feature taking place in a specially built seminar area on the show floor. Expanding its scope beyond that of the standard lighting conferences, the Forum will include architects, interior designers, clients and product designers all talking about how light influences their work.
The Designers With Light Forum is free to attend. Simply register for the May Design Series using the online form: www.maydesignseries.com
SUNDAY 18TH MAY 2014 
11.00am
PRODUCT DESIGNER / MANUFACTURER
Terence Woodgate / Ciaran Kiely, Project Marketing Manager, Megaman International
Differences in Design
Terence and Ciaran talk about the differences in approach between designing for yourself and designing for a company.
12.15pm
ARCHITECT / PRODUCT DESIGNER / INTERIOR DESIGNER
Joost Heremans, Associate Partner, Foster + Partners; Director, Muunlight
Learning from Architecture in Product Design
Joost will tell the story of how he gained inspiration from the architecture of the basilica in Venezay, Burgundy, France  to make the Lightcatcher, a fusion between interior design and fashion design.
1.30pm
LIGHTING DESIGNER
John Bullock, Principal, JBLD
John Bullock Plays By The Rules – A Conversation About Residential Lighting Design
More than any other field of lighting design, schemes for someone's home brings with it an intense depth of detail. As the projects roll by and the client conversations become more and more philosophical, it has become obvious that there is an underlying matrix of rules and guidelines that inform every project. Here, for the first time, John Bullock will unveil his Rules of Three…
2.45pm
INTERIOR DESIGNER / LIGHTING DESIGNER / MANUFACTURER
Emma Cogswell, IALD; Gwenda Jones, SBID; Ian Stanton, iGuzzini
Lighting for Interior Designers
A panel discussion about the specification of lighting for interior designers by professionals from the lighting design, interior design and manufacturer professions.
MONDAY 19TH MAY 2014
11.00pm
LIGHTING DESIGNER / CLIENT
Mark Major, Principal, Speirs + Major / Richard Meier, Partner, Argent Group
Light And Darkness In King's Cross Central
An approach to the lighting of public space in one of London's largest and most celebrated urban renewal projects.
12.15pm
LIGHTING DESIGNER / ARCHITECT
Farhad Rahim, Senior Lighting Designer, ChapmanBDSP / Nicholas Ling, Partner, Foster + Partners
ME Hotel, London – Hospitality Lighting Blended With Architecture
ChapmanBDSP worked closely with Foster + Partners on an integrated lighting scheme for the ME Hotel in London based on a monochromatic concept of dark and light. Here, both lighting designer and architect discuss the creative process and the challenges of using light to create volume in the public spaces throughout the hotel.
1.30pm
LIGHTING DESIGNER / MANUFACTURER
Kevin Grant, Director, LIGHTALLIANCE / Sam Woodward, Head Of Control Systems, Havells Sylvania Europe (incorporating Concord)
The Essential Guide To Retail Lighting
Kevin and Matt explain how to use modern lighting techniques and equipment, and more efficient light sources, to provide significant reductions in energy use, whilst achieving enhanced quality and improved visual appeal.
2.45pm
ARCHITECT
Jonathan Mizzi, Owner, Mizzi Studios
Fusing Architecture With Light
Architect Jonathan Mizzi explains his passion for futurism, science and love for nature characterising the studio's design ethos.
4.00pm
LIGHTING DESIGNER
Peter Fordham, Director, DHA Design
How To Light Museum Galleries – Revealing the secrets of The Mary Rose
Peter Fordham discusses approaches to modern museum and gallery lighting, including the recently opened Mary Rose Museum in Portsmouth.
5.00pm
LIGHTING DESIGNER / PRODUCT DESIGNER / MANUFACTURER
Dan Hodgson, Design Director, acdc
The Journey Of Light… inspirational product design
acdc's Daniel Hodgson will discuss his changing role within the lighting industry from Lighting Designer to Design Director and how this transition has influenced the acdc product design process in creating award winning products. Daniel will focus on where his inspiration has come from for their most recent projects, how LEDs have allowed acdc to consider new form factors in product design, the importance of prototypes, global market feedback and trying to get into the mind-set of a lighting designer in the testing phase.
6.00pm
LIGHTING DESIGN SOCIAL EVENT
Light Collective presents The Lighting Design Family Tree sponsored by Xicato
When Sharon Stammers and Martin Lupton set up Light Collective they realised that they are the bastard love child of Andre Tammes and Miles Pinniger, two of the pioneers of the UK lighting industry, with a good chunk of foster care from LightMatters and BDP. This spurred them to try and create a map of the UK lighting industry. That was back in 2011. Things have moved on from then. It's about time there was an update… a live update. With alcohol.
TUESDAY 20TH MAY 2014
11.00pm
PRODUCT DESIGNER
Eoin Billings, Partner, Billings Jackson Design
The Designer's Role In Redefining Light
The fundamental technology shift from analogue to digital light represents an extraordinary, once in a lifetime opportunity. Designers and architects are in a position to play a pivotal role in redefining the market. It is the designer's role to interpret these needs and to drive industry. It is a great opportunity.
12.15pm
LIGHTING DESIGNER / CLIENT
Maida Hot, Managing Director, GIA Equation / Will Montague, Development Executive, Chelsfield
Digital Façade Lighting For The Knightsbridge Estate
The newly completed exterior lighting installation for the Knightsbridge Estate is on one of the first steps in realising Chelsfield's overall vision for the 3.5 acre estate between Harrods and Harvey Nichols to become one of the most prominent retail assets in London.
1.30pm
TECHNOLOGY RESEARCHER
Paul Littlefair, Head Of Lighting, BRE
Selecting And Planning Lighting Controls
Paul Littlefair describes new BRE guidance on how to select controls that are appropriate to the space (daylit or non-daylit, high or low occupancy) and how it is used.
2.45pm
LIGHTING DESIGNER / ARCHITECT
Richard Morris, Lighting Designer, Arup / Charles Valla, Architect, AZPML
New Start For New Street – A Study In Façade Glare Control
Due to be completed in 2015, the redesigned Birmingham New Street train station has undergone detailed glare studies by Arup to ensure its new façade, designed by AZPML, does not dazzle train drivers and members of the public.
4.00pm
LIGHTING DESIGNER / ARCHITECT
Laura Phillips, Design Director For Lighting, Buro Happold / Patrick Arends, Associate, Mecanoo
Library Of Birmingham – The Design Challenges Of Meeting BREEAM Excellent Standards
Patrick Arends of Mecanoo and Laura Phillips of Buro Happold Lighting will take you through the design challenges and the process involved to achieve the creatively striking building, while achieving the very demanding energy targets set by Birmingham City Council.