Designers With Light Forum established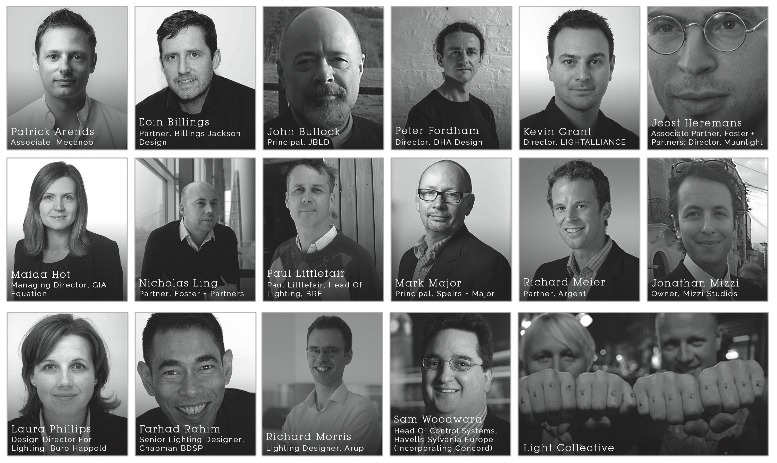 A new conference for designers who work with lighting has been established. Called Designers With Light Forum, the free-to-attend event will take place at May Design Series, the UK's largest commercial design trade show at London ExCeL on May 18-20.
The event is being organised by the publishers of darc and sister magazine mondo*arc and is being supported by IALD, SLL and SBID. It is being sponsored by top architectural lighting brands Concord, Xicato, Megaman, Lumenpulse and acdc.
The goal of the Designers With Light Forum is to combine an exceptional conference programme with a unique networking platform that brings together individuals and companies who have not previously had the opportunity to all meet in one space. The conference provides an informative schedule of highly prolific speakers which in turn brings a distinguished list of attendees benefiting everyone involved.
Speakers include two of the UK's most respected British industrial designers, Eoin Billings of Billings Jackson and Terence Woodgate; as well as high profile architects Nicholas Ling and Joost Heremans of Foster + Partners, Patrick Arends of Mecanoo and Charles Valla of AZPML. They will be sharing the floor with some of the UK's most highly respected lighting designers including Mark Major of Speirs + Major, Peter Fordham of DHA Design, Maida Hot of GIA Equation, Laura Phillips of Buro Happold, Farhad Rahim of ChapmanBDSP and Richard Morris of Arup.
The unique aspect of the conference is the fact that many of the presentations will involve both lighting designers and architects or clients discussing a project that they have worked closely on. The format will enable delegates to learn, and ask questions, about the lighting design process of some of the biggest British architectural projects in recent times.
For example, Mark Major, Principal of Speirs + Major and Richard Meier, Partner at Argent Group will be discussing the development of King's Cross Central. Farhad Rahim, Senior Lighting Designer at ChapmanBDSP and Nicholas Ling, Partner at Foster + Partners will present their collaborative work at ME Hotel in London.
Maida Hot, Managing Director of GIA Equation and Will Montague, Development Executive, Chelsfield will discuss the digital façade lighting at London's Knightsbridge Estate.
"There are many lighting conferences and seminars across the world. However, the majority appear to be by the lighting industry for the lighting industry," commented Paul James, editor of mondo*arc and organiser of the event. "The Designers With Light Forum will offer a more diverse range of presentations by reaching out to design professionals outside the lighting industry as well as within. Presenters will include Lighting Designers, Architects, Industrial Designers, Manufacturers and Interior Designers. A select band of professionals who have different experiences of working with light."
A social event will also take place on the evening of May 19th with Light Collective presenting a live update of their UK Lighting Design Tree first published inmondo*arc in 2011. Sponsored by Xicato, lighting designers will be invited to attend to add their name to the developing Family Tree of the UK Lighting Design Profession.
The Designers With Light Forum will take place in a specially built seminar area in the Lighting sector of May Design Series, the UK's largest commercial design trade show. Lighting exhibitors include iGuzzini, Xicato, Concord, Megaman, Lumenpulse, Innermost, Ebb & Flow, LED Linear, Lladro, KKDC, Swarovski, Brick in the Wall, DARK, Enigma, B.lux, Modiss, Vivid, Kreon, Radiant, Beta Calco, Exenia, Avivo, Sharon Marsten, Shane Holland Design Workshops, Compact Lighting, LED Light Sheet, Astro, Grunzell, Philip Payne, MONO, Timage, Rako and Retrotouch.
Those who wish to attend simply have to register for May Design Series (www.maydesignseries.com) and ensure they arrive at the seminar area early to secure a seat. Presentations will last 45 minutes within 75 minute slots allowiing plenty of time for Q&A sessions.
FULL SCHEDULE:
SUNDAY 18TH MAY 2014
11.00am
Terence Woodgate / Ciaran Kiely, Project Marketing Manager, Megaman International
Differences in Design
12.15pm
Joost Heremans, Director, Muunlight
Learning from Architecture in Product Design
1.30pm
John Bullock, Principal, JBLD
John Bullock Plays By The Rules – A Conversation About Residential Lighting Design
MONDAY 19TH MAY 2014
11.00am
Mark Major, Principal, Speirs + Major / Richard Meier, Partner, Argent Group
Light And Darkness In King's Cross Central
12.15pm
LIGHTING DESIGNER / ARCHITECT
Farhad Rahim, Senior Lighting Designer, ChapmanBDSP / Nicholas Ling, Partner, Foster + Partners
ME Hotel, London – Hospitality Lighting Blended With Architecture
1.30pm
Kevin Grant, Director, LIGHTALLIANCE / Sam Woodward, Head Of Control Systems, Havells Sylvania Europe (incorporating Concord)
The Essential Guide To Retail Lighting
2.45pm
Jonathan Mizzi, Owner, Mizzi Studios
Fusing Light With Architecture
4.00pm
Peter Fordham, Director, DHA Design
How to light museum galleries – Revealing the secrets of The Mary Rose
5.00pm
Light Collective presents The Lighting Design Family Tree sponsored by Xicato
TUESDAY 20TH MAY 2014
11.00am
Eoin Billings, Partner, Billings Jackson Design
The Designer's Role In Redefining Light
12.15pm
Maida Hot, Managing Director, GIA Equation / Will Montague, Development Executive, Chelsfield
Digital Façade Lighting For The Knightsbridge Estate
1.30pm
Paul Littlefair, Head Of Lighting, BRE
Selecting And Planning Lighting Controls
2.45pm
Richard Morris, Lighting Designer, Arup / Charles Valla, Architect, AZPML
New Start For New Street – A Study In Façade Glare Control
4.00pm
Laura Phillips, Design Director For Lighting, Buro Happold / Patrick Arends, Associate, Mecanoo
Library Of Birmingham – The Design Challenges Of Meeting Breeam Excellent Standards