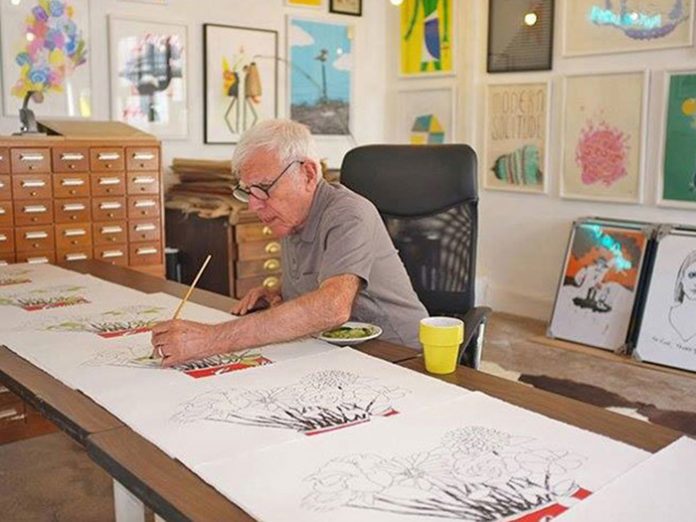 (USA) – Keynote speaker Bob Gill to open designjunction + Dwell on Design.
designjunction + Dwell on Design opens tomorrow (May 13–15, 2016) with a display of cutting-edge design and captivating conversations. Taking place within the ArtBeam venue in New York's Chelsea arts district, the event marks the first partnership for designjunction and Dwell on Design during NYCxDESIGN.
The exhibition space will feature more than 20 contemporary design brands including Buster + Punch, Muuto and Haberdashery to name but a few.
On Friday, May 13, renowned illustrator, graphic designer and author Bob Gill – who has influenced modern typography, design and graphics for more than 60 years – will headline the talks programme. Other key speakers include: Dorothy Cosonas, creative director of KnollTextiles, and Tim deFiebre, furniture designer and former assistant to Ward Bennett, who will discuss their experiences as stewards of modern design legacies.
On Saturday, May 14, architect Matthias Hollwich and Mikael Ydholm, head of research at IKEA, will discuss how architects and designers are using human-centered research to identify and address today's emerging problems. Rosanne Somerson, president of Rhode Island School of Design, will discuss the productive merits of boredom in an age of social media and how it affects our lives. Saturday will end with a talk on how architecture can engage with the public through design, where Oana Stanescu, cofounder of Family, will join Will Prince of PARC Office to introduce us to the new and imaginative ways in which architects and designers are creating works for the public user.
Sunday, May 15 will begin with a talk on the topic of online commerce with Bradford Shellhammer of eBay, Maria Molland Selby of Splacer, and Teddy Fong of Capsule discussing how digital platforms can engage with users and bridge the gap with a brick-and-mortar presence. Nina Stritzler-Levine, curator and director of the Bard Graduate Center Gallery, will discuss the work of Alvar Aalto's wife, Aino Marsio-Aalto, bringing it to the forefront of public attention. Sunday's programme will finish with Caroline Baumann director of the Cooper Hewitt, Smithsonian Design Museum, and landscape designer Margie Ruddick discussing landscape as an important discipline and aspect of design, as well as a national museum's civic responsibility to preserving green space.
As featured on issue 15 of arc magazine, exhibitor highlights will include lighting design specialists Haberdashery, who will be showing 'Leaf' in the US for the first time – a beautiful sculptural lighting product system made from delicate leaf-shaped bone china elements.
Other highlights will include London based design label Buster + Punch will exhibit its rock and roll inspired lighting collection, with influences taken from the London fashion, music and sub-culture scenes where the brand collaborates with street artists, bike builders, musicians and fashion designers to inject attitude into its crafted products.
British design brand Dyke & Dean, which fuses old school quality with a contemporary twist, will debut its new Slip Enamel range of enamelware at the show, whilst showcasing its new lighting ranges.
AARA, which designs and manufactures beautiful contemporary furniture and lighting, will show products from designers including Alexander Mueller, Catherine Aitken, Daniel Schofield, Ester Comunello and Suliman Innab.