Diffraction 6 – Franklite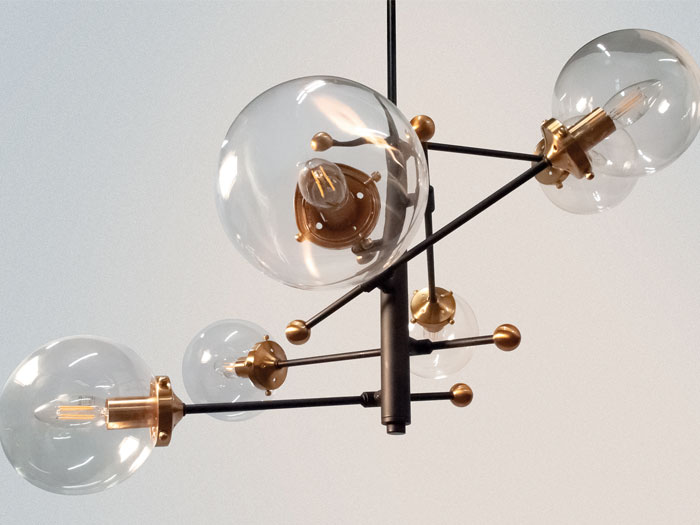 Franklite's Diffraction 6 globe pendant combines its signature glass globes with a flexible designs allowing users to create their own geometric design.
Founded in 1973 by Frank Lissauer, with his son joining the business later on, Franklite produce decorative lighting to the retail and contract markets across the UK and abroad. With three generations of passed down knowledge, the duo remains at the forefront of industry developments and continue to work closely together to create decorative lighting suitable for multiple applications.
As part of Franklite's latest Catalogue 26, which launched in early 2019, the Diffraction 6 light pendant is an extension of an already successful product range with a design influenced by the existing Attraction fittings.
The concept for Diffraction 6 was inspired by geometric shapes and industrial interior design styles, whilst the finer details of the pendant were determined through market research and audience surveys. The collection now incorporates three distinctive product ranges: Attraction, Reaction and Diffraction, all utilising the signature glass globe as a feature.
Made from steel metalwork, the lightweight six-light pendant is finished in matte black and antique gold.
The use of clear glass spheres gives users an opportunity to get creative with decorative lamps. Using high-quality LED lamps with different colour temperatures will ensure efficiency and longevity and also add to the aesthetics by creating ambiance. For ease of access, the glass globes are screwable to allow for lamp changes.
Extensive research carried out by Franklite highlighted that there was a significant interest in adaptive ceiling lights. Whilst created with high ceilings in mind, a feature that makes this pendant unique is the adjustable angled rods and height making it suitable for application in various spaces. The design and style of this pendant is popular in spaces such as hotels, restaurants and other entertainment venues.
To ensure the products undergo a rigorous testing process, Franklite uses its Rigo Goniophotometer; cutting-edge technology used for the measurement of light emitted from a fitting at different angles. "Our photometer allows the pendant to hang as it would in situ for a more realistic light output than most photometers in use today. In addition, for a more accurate measurement of the light source this machine enables us to offer complete photometric files compatible with designer's software in ELUMDAT and IESNA formats," explains Franklite. "This photometric data is also available through the DIALux software to use alongside 3D representations of the fitting. These 3D representations allow for easy visualisation of the fitting within a particular space while the photometric data shows the impact of the light output."
The Diffraction range was developed over a period of time with each individual fitting created for a specific purpose. There are numerous steps between the initial concept and final product. The design of the geometric pendant is contemporary, with clean lines and angles. The sleek industrial style and modern finishes make this fitting perfectly on trend for 2021.