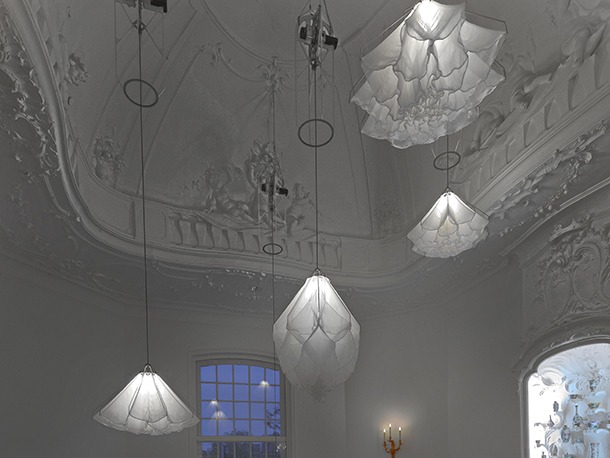 With the transformation of the Rijskmuseum Amsterdam now complete, it was time for the fully renovated Philips Wing to also reopen its doors to the public. Housing thirteen exhibition galleries, along with a separate gallery for temporary photographs shows, along with a large restaurant with sun terrace, the Philips Wing also finds itself home to five Studio Drift Shylights light sculptures.
The installation, which is seen as a performance sculpture, is the first time an installation from Studio Drift – founded in 2006 by Lonneke Gordijn and Ralph Nauta – can be seen permanently by the public in a Dutch museum. Aiming to unite the movement of industrial motors with silk chalice structures into a natural choreography, Shylight is inspired by a highly evolved natural mechanism called 'nyctinasty, which regulates that certain types of flowers close at night for self-defence purposes and to conserve their resources. This principle relates very much to human emotions, while most manmade objects and buildings have a static form, everything natural in this world (including people) is subject to constant metamorphosis and adaptation to their surroundings. With Shylight, Studio Drift explores these changes that express character and emotions in an installation of inanimate objects. Shylight descends into blossom in all its glorious beauty, to subsequently close and retreat upwards again. The goal with Shylight is to find live emotion and personality in dead material.
More than 50-metres of silk, hundreds of man-hours and precise handwork combined with refined technology is used for the realisation of the Shylight project at the Rijksmuseum. Its choreography can be programmed to an exact and graceful dance performance.