Original BTC – Drop Three
Original BTC has launched the third in its bone china Drop series that follows the journey of a water droplet. The Drop Three pendant presents the splash stage as the water hits a surface. 
The Drop Three pendant from Original BTC is the final instalment of its bone china Drop collection, which takes its inspiration from the journey of a droplet of water as it falls through the air. Previous pieces in this collection include Drop Zero, One and Two, each showing a droplet's shape from initial formation, falling in air and landing on a surface. Drop Three represents the stage of the droplet flattening after impact and remerging as it splashes upwards.
"We worked on the Drop Three back in 2001 when my father Peter first designed it, but we weren't able to produce it to the standard we wanted," explains Charlie Bowles, Director of Original BTC. "It was technically very challenging to manufacture. Then in 2002, we acquired our Stoke-on-Trent bone china factory, Staffordshire Heritage. We spent the next two decades investing in the team and the factory's production techniques and capabilities. As a result, we were able to forge ahead with the Drop Three, and we revisited the designs at the start of June last year. This time around, it took us six months to get the Drop Three absolutely perfect."
The "sculptural, organic and elegant" Drop Three pendant comprises a handmade bone china shade with a satin brass cap and cord grip, grey cotton braided cable and a matching bone china ceiling rose.
When asked about the design process, Managing Director Peter Bowles, explains that the concept originated back in 2001. "Back in 2001, I developed the concept by studying pictures and slow-motion, videos of falling water droplets – how they behave, what they look like as they take shape and fall. I sketched and drew, and then set about seeing if a series in bone china was a possibility.
"As Charlie says, we didn't have our bone china factory at the time so there was some back-and-forth with the manufacturer we were using back then. With Drop One and Drop Two there was no problem… But Drop Three was problematic. It was very fragile before it was biscuit-fired (that's the first firing in the kiln) and had to be handled incredibly carefully," explains Peter further. "With the production facilities available to us at the time, it proved to be too complex to take forward. It often didn't make it out of the kiln without collapsing. But, with the advances we've made in terms of having our own bone china factory and having the ability to really develop our techniques – that's changed everything.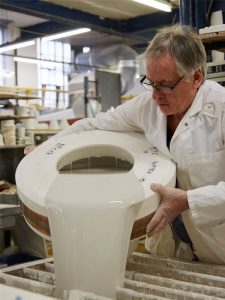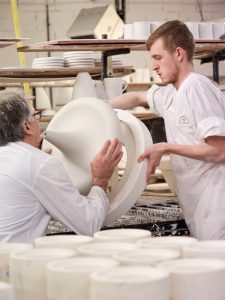 "Design-wise there's very little difference between the original and this new launch. We've slightly tweaked the depth of the well around the inside of the shade – the foundation, essentially. And of course, there's the prop and setter we've designed to achieve a consistently perfect sculptural form. The bulb is positioned higher up in the shade to illuminate the top of the Drop Three and creating a ring of ambient light through the curved lip."
Adding to these challenges, Charlie expands, adding that one of the first hurdles they had to overcome was fixing the stages using wet moulds. "The first challenge comes from pouring out the excess slip as it can get stuck in the curves. Next, was getting the shade to retain its shape after firing. Bone china is a very tricky material to work with and requires extreme care, effort and attention to detail.  We use a two-part mould for the shade – so heavy it requires four hands to lift – but we've also designed other components to hold and retain the shape of the main mould. There's a prop to hold the upward curve nicely in place, and a setter on which the shade sits to support the ring itself from underneath."
The finished product is a beautiful pendant that emits a soft intimate glow. The team also decided to leave the product unglazed (unlike its predecessors that come in matte or gloss finishes), as they believe it "emphasises the natural purity of bone china". Charlie notes it works particularly well over dining tables, providing a "flattering overhead illumination".
"We've had interest from restaurants as well as for residential projects," he adds. "Its organic, natural shape combined with its 390mm diameter make it an elegant statement piece. I think it's especially impactful in numbers. It also works well over kitchen islands, and in living spaces where its soft light is ideal for creating a cosy atmosphere that makes you feel instantly comfortable and relaxed."
Remarking on what sets it apart from other decorative lighting products, Charlies comments that its being handmade in the UK and their attention to detail allows them to stand out.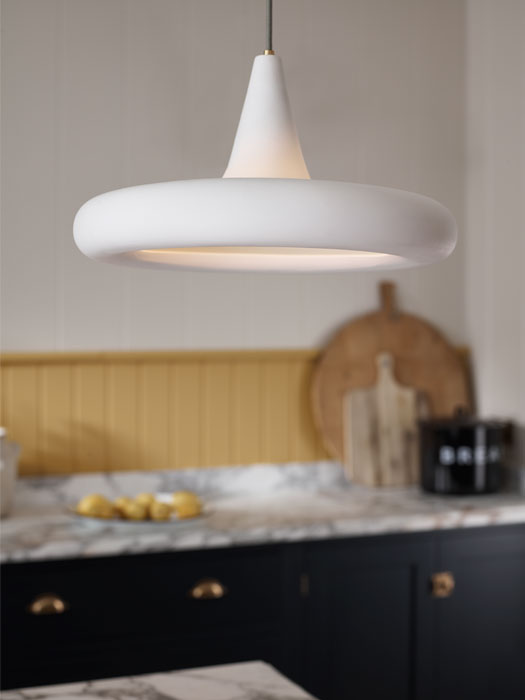 "We're very particular about designing lights that are considered down to the finest detail. The ceiling rose, for example, also has the distinctive curved lip of the shade itself. We've done this with other lights in our collection – our 'Fin' has a ribbed shade that is echoed in its rose, as does the faceted Hatton collection. We're able to design and trial as much as we want because of our production facilities – we're not bound by someone else's production schedule and can take our time to produce lights that are just as we want them, and that we are proud of.
"We're so pleased with it, we're considering if there could be a 'next stage'!"