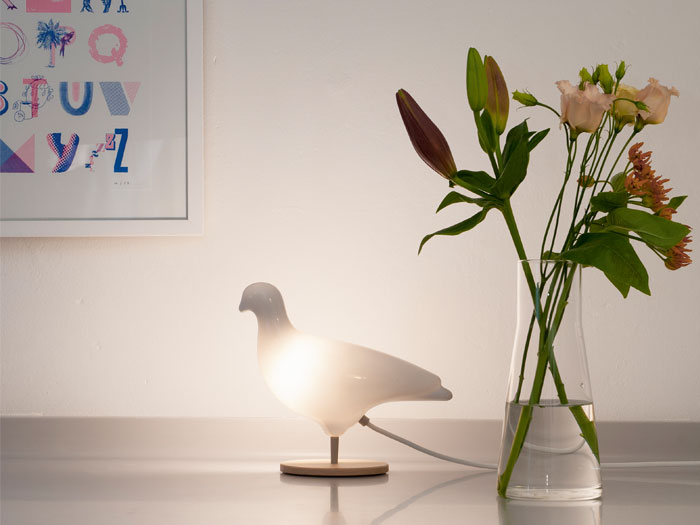 What is the concept behind the Pigeon Light?
The Pigeon Light was intended as an alternative souvenir for London; a reaction to the poor-quality products on offer in most tourist shops and also a celebration of the wildlife of London.
How long have you been working on the product for?
We've been working on the reissue on and off for about a year.
What was the most challenging aspect?
The most challenging aspect of this product was deciding how far to stray from the original. In the end we decided everything except the shape of the shell was up for grabs.
Can you describe the design process?
The original Pigeon Light mould was sculpted and shaped in clay and the whole making process after that was very hands-on. The original shells were made from acrylic (which I initially vacuum-formed myself), and an off the shelf clothes peg – it was great fun, but these materials and processes had obvious limitations in terms of strength and scalability.
When the time came to look at this again after 20 years, the industrial designer in me wanted to improve things – so we now mould the shell from a high-quality polycarbonate, which enables us to clip and snap things together without the material sheering. I also decided to drop the original clothes peg (which was somewhat controversial in the design studio) as I felt it could be improved as part of the new production process. The final thing we did was introduce a turned beech wood base, which means the light can sit on a table more easily than before.
What technologies does the product use?
We digitally scanned the original shell to insure 100% accuracy – it's still an unashamedly analogue product in spirit.
What makes this light different to other lighting products available?
It's a bit of fun executed in a paired down, simple way that we hope still appeals to a wide audience.
What kind of environments / clients is the Pigeon suitable for?
The Pigeon Light has consistently had a very wide appeal, which I've always enjoyed. A bit like a real pigeon, it feels at home in most places!
Describe the Pigeon Light in three words?
Original, Urban, Souvenir.